South Korean creditors to provide $1.4 billion support to Asiana Airlines
SEOUL (Reuters) - South Korean creditors plan to provide 1.6 trillion won ($1.4 billion) of financial support to debt-laden Asiana Airlines to address the carrier's liquidity problems, the country's finance minister said on Tuesday. Asiana Airlines' top shareholder said earlier this month that it would sell its entire stake in the carrier, bowing to pressure from creditors who had rejected Asiana's earlier request for support of 500 billion won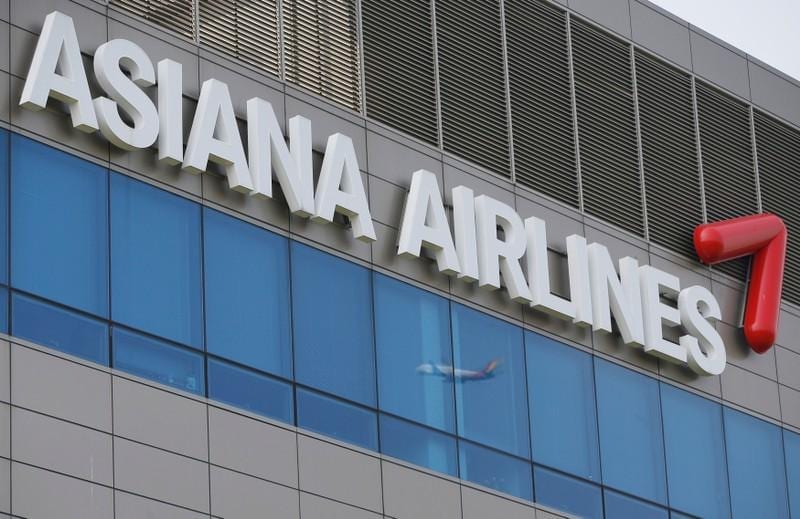 SEOUL (Reuters) - South Korean creditors plan to provide 1.6 trillion won ($1.4 billion) of financial support to debt-laden Asiana Airlines to address the carrier's liquidity problems, the country's finance minister said on Tuesday.
Asiana Airlines' top shareholder said earlier this month that it would sell its entire stake in the carrier, bowing to pressure from creditors who had rejected Asiana's earlier request for support of 500 billion won.
Creditors now offered to buy perpetual bonds worth 500 billion won and set a credit limit of 800 billion won, among others, Finance Minister Hong Nam-ki said.
Speaking at a meeting, he also said creditors were targeting the sale of Asiana Airlines, South Korea's second-biggest airline after Korean Air Lines, within this year.
State-funded Korea Development Bank, the lead creditor for Asiana Airlines, declined to comment.
($1 = 1,140.4500 won)
(Reporting by Hyunjoo Jin and Cynthia Kim; Editing by Jacqueline Wong)
This story has not been edited by Firstpost staff and is generated by auto-feed.
Business
By Stephen Nellis (Reuters) -Apple Inc on Monday said it will offer the ability to store state-issued identification cards digitally on iPhones and that it is working with the U.S. Transportation Security Administration to accept the digital IDs at airports, one of several updates to the software that runs on its devices. It also showed updates to its FaceTime video chat app, adding the ability to schedule calls with multiple attendees and making the software compatible with Android and Windows devices.
Business
LONDON (Reuters) - The bosses of all airlines flying passenger services between Britain and the United States called on Monday for the countries' governments to relax COVID-19 restrictions to reopen travel routes between the two countries. After more than a year of restrictions, the CEOs of American Airlines, IAG unit British Airways, Delta Air Lines, United Airlines and JetBlue Airways Corp said high vaccination rates in both countries meant travel could restart safely. The push for reopening trans-Atlantic routes on Monday comes ahead of meetings between U.S.
Business
BRUSSELS (Reuters) - The European Union's patience towards Britain over Brexit arrangements in Northern Ireland is wearing thin and the bloc will consider its options should Britain continue its "confrontational path", an EU official said on Monday.