Socialist legacy: India's PSU losses up 55% in a year as red ink spreads to SAIL, BHEL
PM Narendra Modi made a pledge to US investors almost two years ago and repeated this to German investors recently: the government has no business to do business. So why does India still have 235 Central Public Sector Undertakings (PSUs)?
New Delhi: India's public sector undertakings, described by many as crown jewels of our socialist legacy, are sinking deeper into losses. Some profit making PSUs have begun slipping into the red and some others have started reporting wider losses. Why the NDA government has no firm policy or intent to get out of the business of doing business is not really clear to many of us, why continue with these socialist era relics?
According to a written reply in Lok Sabha, the combined losses of 78 CPSEs rose by almost 55 percent in FY16 over the previous fiscal. So from Rs 18,485 crore in 2014-15, the combined losses of these entities climbed to Rs 28,756 crore within 12 months. That means, on an average, these companies posted a net loss of about Rs 79 crore each day of FY16 versus almost Rs 51 crore in 2014-15.
If one were to take just the top four loss makers - Steel Authority of India, BSNL, Air India and Hindustan Photo Films – these companies alone accounted for over 50 percent of the total losses in 2015-16. Why does government continue to make steel, why does it own an airline or a telephony network when the private sector has long overtaken typical bureaucratic inefficiency in each of these sectors – and is itself bleeding?
If private airlines (barring one) and private telecom companies are finding it tough to make money, what hope do inefficiently run PSUs have of making any? But just last week, the government categorically stated it has no intention of privatising Air India. Remember, while the Modi government continues to harp on a maiden operational profit posted by this airline in 2015 -16 – something the country's top auditor has not contested - the government seems in no hurry to exit telecom, steel making or aviation. Operational profits do not signal a turnaround for the airline, they were accrued largely on account of benign fuel prices last fiscal. Air India and BSNL continue to flounder, however the government couches their financial figures.
While the other three in this list are habitual loss makers, SAIL is the newest entrant in the top loss makers' club. The steel maker had reported a healthy net profit of Rs 2,092.68 crore in FY15 but slipped into the red the next year with a net loss of Rs 4,137.26 crore. Rashtriya Ispat Nigam is another steel PSU which slipped into losses last fiscal, from a net profit of Rs 62.38 crore to a net loss of Rs 1,420.64 crore. Profit making BHEL also met the same fate, posting a net loss of Rs 913.42 crore last fiscal against a net profit of Rs 1,419.29 crore.
So why are the loss making CPSEs sinking deeper and in fact adding members to this loss makers' club? Minister of State for Heavy Industries and Public Enterprises, Babul Supriyo, said in the Lok Sabha reply that "the reasons for losses in CPSEs vary from enterprise to enterprise. However, some common problems for losses in CPSEs include old and obsolete plant and machinery, outdated technology, low capacity utilisation, excess manpower, weak marketing strategies, stiff competition, heavy interest burden, high input cost, resource crunch etc."
He obviously neither spoke of specific reasons for loss making units in each business segment nor did he outline any short or long term plan of the government to exit loss making PSUs. But government's own think tank, the National Institute of Public Finance and Policy (NIPFP), has reminded us in a paper earlier this year that Prime Minister Narendra Modi made a pledge to US investors almost two years ago and repeated this to German investors recently: the government has no business to do business. So why does India still have 235 Central Public Sector Undertakings (PSUs)?
The NIPFP paper points out that PSUs in the service sector, such as Air India, MTNL and BSNL, and those providing a range of other types of services have done poorly relative to those in mining and manufacturing. "This is not surprising, given the lack of service orientation in service-sector PSUs. Not only is the performance of PSUs in service sectors worse but their presence could have also adversely affected the performance of private sector firms in those sectors......in aviation, the Director General of Civil Aviation(DGCA) has not worked as effectively in creating a level playing field and has favoured Air India. It has deliberately or unconsciously affected the performance of private sector airlines."
In fact, NIPFP has said what every other logical Indian has said before: A 10-year plan to divest at least 50 percent PSU assets is required. The business of the government is public infrastructure, not public companies. "One of the biggest disappointments of 2015 has been the inability to move forward on even the modest targets of disinvestment of Rs 69,000 crore out of the total assets of PSUs estimated at over Rs 30 lakh crore; not included here are the state banks, which have also locked in huge amounts of public capital."
Though the Prime Minister's Office has already asked the NITI Aayog to examine the viability of ailing state-owned companies and the NITI Aayog had earlier submitted two separate lists of sick and loss-making PSUs for evaluation, no final decision on these white elephants has been forthcoming from the government till now. NITI Aayog had apparently identified those loss making PSUs that can be closed down and made another list of those that should be privatised through strategic sale. Reports of eventual sell off of some of these loss makers, like Air India, keep surfacing from time to time but as of today, there is no concrete movement on any of these proposals.
India
Modi has been deemed to be one of the biggest supporters and proponents of Yoga.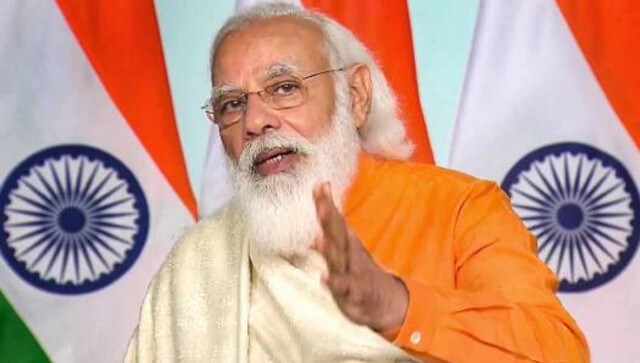 India
Huge celebrations have been planned for the occasion, with over 71,000 diyas to be lit at Varanasi's Bharat Mata temple
Sports
Thursday morning was a special one for the Paralympians who were able to experience the personal touch of the PM while he connected with them during the function