So long, Infosys: NRN Murthy, Kris Gopalakrishnan bid farewell after 33 yrs
In August this year, Infosys appointed former SAP board member Vishal Sikka as its CEO and Managing Director.<br />
Bangalore: Thirty-three years after starting Infosys, its founders NR Narayana Murthy and S Gopalakrishnan today bade farewell to the over $8 billion IT firm with the former saying he has no regrets and the latter emphasising that politics is not his cup of tea.
Seven co-founders, led by Murthy, set up the Bangalore-based firm in 1981. Murthy had the longest run of about 21 years as CEO before passing the baton to Nandan Nilekani andthen Gopalakrishnan and S D Shibulal.
Murthy returned to the the over $8 billion firm for a second stint as Chairman in June last year after Infosys hit rough waters, falling behind peers like TCS and HCL Technologies. But he left midway following a spate of senior executives leaving the company.
Murthy and Gopalakrishnan stepped down as executive chairman and executive vice chairman, respectively, on June 14. They, however, continue on the board till October 10 as non-executive chairman and non-executive vice chairman, respectively.
Addressing media persons, Murthy said he had no regrets.
"I have no regrets at all. Life is about doing certain things and not doing certain things. At the end of the day, it is the sum total of all this....so I have no regrets," Murthy said.
When asked about the high point during his stint, Murthy said it was the listing of Infosys on Nasdaq, the first Indian company to do so.
Murthy will be designated as Chairman Emeritus from October 11.
Gopalakrishnan, or Kris as he is fondly known, said he is not set out for politics.
"In my case, at least at this point, no political ambitions at all. I don't think I am set out for politics," he said when asked if he too will join politics like his formercolleagues Nilekani and V Balakrishnan.
He added that he is looking at pursuing two areas, research and entrepreneurship, in the days ahead.
In August this year, Infosys appointed former SAP board member Vishal Sikka as its CEO and Managing Director.
Sikka is the first outsider (and not part of the co-founder's club) to lead the Bangalore-based firm. He took over from Shibulal.
Talking about the transition, Shibulal said it is like any other transition at any other firm. "This is an organisation with very strong values and beliefs. It believes in speed and innovation and I hope they will continue to be preserved."
Sikka has been tasked to steer the firm, which has seen four straight years of narrowing margins. Besides, almost a dozen senior executives have left since last year when co-founder Murthy returned as chairman.
PTI
Find latest and upcoming tech gadgets online on Tech2 Gadgets. Get technology news, gadgets reviews & ratings. Popular gadgets including laptop, tablet and mobile specifications, features, prices, comparison.
Business
The IT company said its founders and board could have differing views on issues such as Sikka's compensation, the appointment of certain independent directors and the severance paid to former employees but all decisions were taken with the approval of shareholders and the necessary disclosures.
Business
Pai, who served as a board member of Infosys from 2000 to 2011, also said it was a "mistake" on the part of N R Narayana Murthy to "focus on only founders becoming leaders (CEOs)" which led many people to quit the company.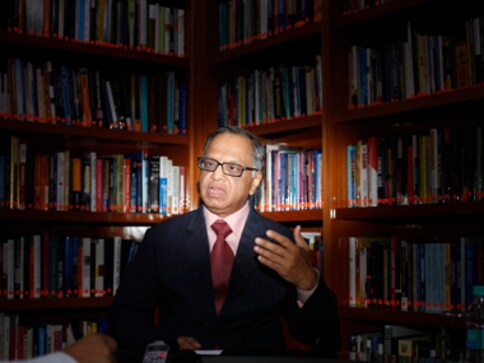 Business
Infosys founder NR Narayana Murthy has lamented dropping performance standards at the IT behemoth, saying the generous compensation given to COO Pravin Rao was improper