Snapdeal raises $200 mn more; valuation jumps nearly $2 bn in just 7 months
The company had last raised $500 million capital in August 2015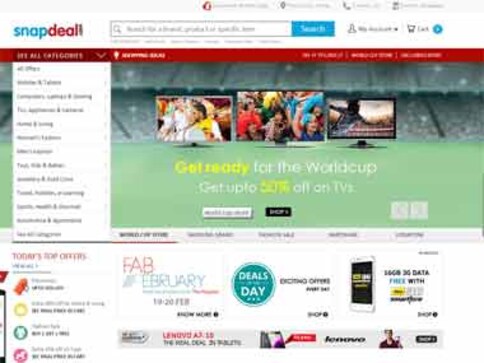 Even as signs emerge of a drying up of funds for Indian startups, Snapdeal has raised another $200 million or Rs 1,367.6 crore, just seven months after it raised $500 million.
The key investors this time are Ontario Teachers' Pension Plan, one of the largest pension funds in the world, Brother Fortune Apparel, a company based in Singapore, and Iron Pillar, a venture capital firm, media reports say.
With the latest round of funding - 11th, according to the Business Standard - the company has been valued above $6.5 billion, a steep jump up from $4.8 billion in August when it raised $500 million, says reports in the Economic Times and the BS. This makes it the second most valued ecommerce company after Flipkart, which has been valued around $15 billion.
According to the Economic Times, the total funds raised by Jasper Infotech, the company that owns Snapdeal, stands at $2 billion.
"We see these investments as a continuing endorsement of Snapdeal's strategy to build India's most reliable and frictionless commerce ecosystem. We continue to make targeted investments in building internal and external capabilities that will enable us to consistently deliver optimal experience for the millions of buyers and sellers who transact daily on Snapdeal," said Jasper CFO Anup Vikal has been quoted as saying in a statement.
According to the ET report, the company will use the latest proceeds to enhance its "technology platform, logistics, payments and back-end infrastructure".
Apart from the Ontario Teachers' Pension Plan and Brother Fortune Apparel, Bennett Coleman & Co, the publisher of The Economic Times and The Times of India, has also invested Rs 25.49 crore in the company's warrants.
The five-year-old e-commerce company has more than 275,000 sellers and over 30 million products and caters to more than 6,000 cities and towns in the country, media reports said.
The latest round of fund raising comes at a time when the government is considering permitting 100% foreign direct investment (FDI) in the marketplace format of e-commerce retailing, the model followed by companies like Flipkart and Snapdeal.
An e-commerce firm carry its business either through marketplace model or inventory based model. In the marketplace model, the e-commerce company provides an online platform for buyers and sellers. As opposed to this, in the inventory model, the company owns and keeps the goods in warehouses.
A PTI report last week citing sources said the government will soon roll out detailed guidelines on the norms on FDI in the sectors such as e-commerce, IT and ITeS.
According to these sources, the Department of Industrial Policy and Planning (DIPP) has suggested that 100% FDI should be allowed in "marketplace model e-commerce" activities.
At present, global e-tailer giants such as Amazon and Ebay are operating online marketplaces in India while homegrown players such as Flipkart and Snapdeal have foreign investments even as there are no clear FDI guidelines on various online retail models.
Corporate
Investors are committing billions of dollars to India's e-commerce sector.
Business
According to audit, tax and advisory firm Grant Thornton, the total PE/VC deal value in the e-commerce space amounted to $410 million through 32 transactions in the first half of this year
Corporate
Chinese e-commerce giant Alibaba said consumers spent a record $9.3 billion during its 24-hour shopping promotion Singles Day, cementing its position as the world's biggest online retail event.<br />