Silicon eyed as way to boost electric car battery potential
By Alan Charlish (Reuters) - The race to build a better electric car battery is turning to silicon, with several companies working to engineer types of the material that can boost driving range and cut production costs. About 500,000 electric vehicles (EVs) were sold globally in 2016, a figure that is expected to jump sevenfold by 2022, according to the U.S. Energy Information Administration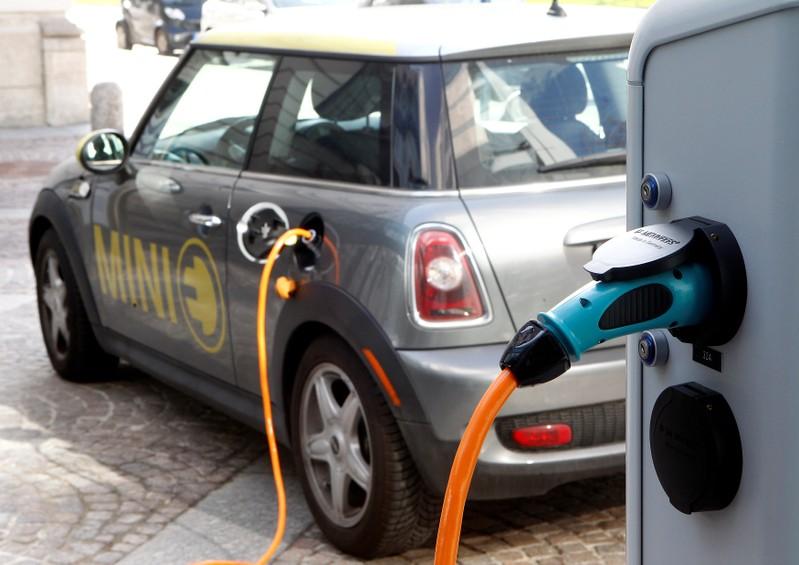 By Alan Charlish
(Reuters) - The race to build a better electric car battery is turning to silicon, with several companies working to engineer types of the material that can boost driving range and cut production costs.
About 500,000 electric vehicles (EVs) were sold globally in 2016, a figure that is expected to jump sevenfold by 2022, according to the U.S. Energy Information Administration.
That increase is forecast to be helped by government mandates to cut tailpipe emissions by banning gasoline and diesel-powered cars. But many drivers have so far been put off by the high cost of EVs and worries about driving range, which so far is limited to a few hundred miles (kilometres) before needing a charge.
But silicon could, if adopted en masse for EV batteries, help boost energy storage.
One such company, California-based Sila Nanotechnologies, aims to have its technology in over a million electric vehicle (EVs) batteries by the middle of the next decade, Chief Executive Gene Berdichevsky said in an interview.
Silicon has a higher energy density than the graphite traditionally used as part of battery anodes. Batteries are comprised of an anode and cathode, the negative and positive parts, respectively, between which electrical current flows.
Sila, which started at a laboratory at the Georgia Institute of Technology, says it has developed technology that can replace graphite entirely, helping to boost capacity and range.
Researchers at Vrije University in Brussels estimate that using silicon can cut the cost per kilowatt hour of EVs by 30 percent.
Sila, which counts BMW AG and Amperex Technology Limited <300750.SZ> - the world's largest producer of batteries for consumer goods - as key customers, aims to launch its silicon products in consumer goods next year.
"The year we have our eye on for being in the first vehicles is 2023 so we'll need to get up to many gigawatt hours of capacity to make a meaningful impact in the automotive space," said Berdichevsky, a former Tesla Inc engineer who helped design the electric carmaker's Roadster model.
While Sila's product replaces graphite entirely, Canadian graphite material producer Elcora Advanced Materials Corp is one of a number of companies working on boosting the capacity of graphite anode powders by adding silicon.
"We've had a lot of discussions with lithium-ion battery manufacturers and all of them are studying silicon sprinkled into their graphite electrodes," said Shane Beattie, Elcora's chief technology officer.
Belgian materials technology and recycling group Umicore , a leading player in nickel manganese cobalt (NMC) battery chemistries, has also started research into using more silicon in batteries.
"There is a lot of potential value for the battery industry to be gained from these developments," said Marc Grynberg, Umicore's chief executive. "That's why we want to be out there in the market."
(Reporting by Alan Charlish in Gdynia; Editing by Ernest Scheyder and Tom Brown)
This story has not been edited by Firstpost staff and is generated by auto-feed.
World
Reports suggest that they captured President Alpha Conde and dissolved the government, bust the ground situation remains unclear
News & Analysis
NEW YORK (Reuters) -The price of cryptocurrencies plunged and crypto trading was delayed on Tuesday, a day in which El Salvador ran into snags as the first country to adopt bitcoin as legal tender. Shares of blockchain-related firms also fell as crypto stocks were hit by trading platform outages. But the major focus was on El Salvador, where the government had to temporarily unplug a digital wallet to cope with demand.
News & Analysis
By Joseph White and Sanjana Shivdas (Reuters) -The head of Apple Inc's car project, Doug Field, is going to work for Ford Motor Co to lead the automaker's advanced technology and embedded systems efforts, a hiring coup for Ford Chief Executive Jim Farley.