Shift to cashless economy: Demonetisation has indeed boosted digital payments but let's not over-hype it
There are tasks ahead in India's digital journey. Mobile connectivity and seamless internet availability remain a problem in rural India
Yes, there has been notable improvement in the digital transactions across segments in last seven months. The question is how to define this spike — a revolution brought about by Prime Minister Narendra Modi's demonetisation and the government's digital push or something that would have happened anyway in the financial system even without a shock therapy?
A primary assessment of the trend in various segments shows that the demonetisation of Rs 500 and Rs 1,000 notes has certainly caused a spike in digital transactions in the immediate months (December 2016 in particular), as people rushed to alternative channels to do transactions in the wake of a sudden cash crunch and some are sticking to those channels. However, the level of usage of these channels hasn't stayed at the peak levels seen in the subsequent months of the demonetisation.
To be sure, these digital payments channels have still shown a healthy growth trend but volumes have declined while value has more or less retained pace, which means less number of people are using it. The only exception to this trend is UPI transactions, where there has been an exponential growth — mainly on account of a low base. Post the initial bump, the trend is beginning to stabilise, albeit, on a lower side. This is still an encouraging trend and more clues are still emerging.
According to the RBI data, the volume of debit card usage (perhaps the most popular non-cash instrument for common man to make payments) spiked to 415 million in December last year from just 236 million in the previous month when the demonetisation was announced. The value of transactions jumped from Rs 32,200 crore to Rs 58,000 crore in just one month. But, in the months after that the volume decline to 328 million and value to Rs 49,000 crore. In May this year, the volumes have declined from the December peak to 267 million and value to Rs 37,500 crore. So, between November to May, the increase in volume is 13 percent and value 16 percent.
Though not part of the digital family, cheque transactions — another preferred mode for transactions for a good number of Indians — rose to 130 million in volume and Rs 6.8 lakh crore in value in December from 87 million and Rs 5.4 lakh crore in November. But, in May this year, the volume and value stood at 97 million and Rs 6.7 lakh crore.
The volume trend shows that more people opted for non-cash modes when cash-shortage was at its peak, even for small transactions. Post this, a part of this group has continued to use non-cash instruments while others returned to good old cash. But such improvement has not shown any dramatic rise as seen across channels such as NACH/NEFT and PPI (see the table), if one looks at the November-May period.
Digital payment transactions in Rs billion
System
Nov-16
Dec-16
Jan-17
Feb-17
Mar-17
Apr-17
May-17
RTGS
101894
110980
100603
95267
154095
111744
113313
Cheque Truncation System (CTS)
5419
6812
6618
5994
8063
6991
6746
EFT/NEFT
8808
11538
11355
10878
16295
12156
12411
Immediate Payment Service (IMPS)
325
432
491
482
565
562
586
National Automated Clearing House (NACH)
607
627
541
654
899
972
761
Credit card usage at POS
266
311
327
287
334
331
361
Debit card usage at POS
322
580
490
358
357
375
375
Prepaid Payment Instruments (PPIs)
51
98
110
96
107
104
107
Mobile wallet
33
74
84
69
73
74
72
PPI cards
15
21
24
25
31
27
33
Mobile banking
1366
1498
1383
1280
1731
1612
2133
Total
119105
132972
122027
115390
182549
134948
136897
Source: RBI Bulletin
The big exception has been UPI that allows customer to transact between different bank accounts through same application installed on their mobile phone. Here, the volume has grown to 10 million transactions in June against 2 million in December with value jumping from Rs 706 crore to Rs 3,067 crore. Trends on digital transactions have begun to stabilise but a clearer picture will emerge only say after a period of one year when cash situations turn normal completely and small businesses come back to normalcy recovering from the note ban impact.
No doubt — there is a growth in India's digital journey and in all fairness, the demonetisation has done its part. But, the growth has not been something that should be over-hyped in the context of the demonetisation. This is a mistake some analysts are committing. A recent report from SBI economists said India has leapfrogged three years of digitisation in just seven months.
"If demonetisation had not happened, it would have taken three years more for credit plus debit cards transactions on point of sales (PoS) terminals to reach the current level of Rs 700 billion (assuming a yearly growth rate of 25 per cent)," the report stated. It further said "we believe that increasing number of PoS terminals (post demonetisation Indian banks have been able to set up 11.8 lakh extra PoS terminals) and ease of doing digital transaction will increase this level further. Clearly, India has leapfrogged three years of digitalization in just seven months," the report said.
Just that the SBI report goes with the dangerous assumption that a lasting shift in the consumer behaviour would happen by forcing them to do so, i.e. by denying access to cash overnight, instead of facilitating such a transition through an incentive-based mechanism and creating the right framework. Going by that logic, a complete withdrawal of currency from the system would have made a 100 percent shift to digital transactions possible overnight, because people simply do not have another way to transact. Hence, saying like three years of progress was made in seven months is bit of a stretch.
The idea of saying this is not to negate the progress seen across some non-cash channels or discredit the government's efforts to encourage people embrace non-cash economy. India is indeed moving towards a world of digital transactions and the Modi government deserves credit for the efforts it is making to create awareness and facilitate such a shift, but that progress will happen only gradually. Even in the case of UPI, one should remember that the current sharp growth seen in numbers is more on account of a low base. Remember, major banks began to offer UPI-linked payment services in a big way only in December last year.
There are tasks ahead in India's digital journey. Mobile connectivity and seamless internet availability remain a problem in rural India. Very recently, we saw one union minister climbing a tree to use his mobile phone during one of his rural visits to Rajasthan. If that is the plight of a union minister, one can imagine the difficulties the common man encounters to use his mobile phone internet for financial transactions. The required infrastructure needs to be built before we hope for a mega change. Yes, the demonetisation has certainly acted as a trigger to encourage more people embrace digital transaction channels and the government's efforts to create awareness is helping the drive. But let's not over-hype the progress.
Data contribution by Kishor Kadam
India
Addressing 'Modi@20: Dreams Meeting Delivery' book release event, Vice President Venkaiah Naidu said Prime Minister Narendra Modi's vision, his dreams and Mission India have been shaped by his extensive travels and insightful, experiential journey
Education
The RBI Assistan prelims exam was held on 26 and 27 March. The recruitment drive is being conducted by the bank for 950 Assistant posts in several offices of the bank in the South, North, West, and East zones.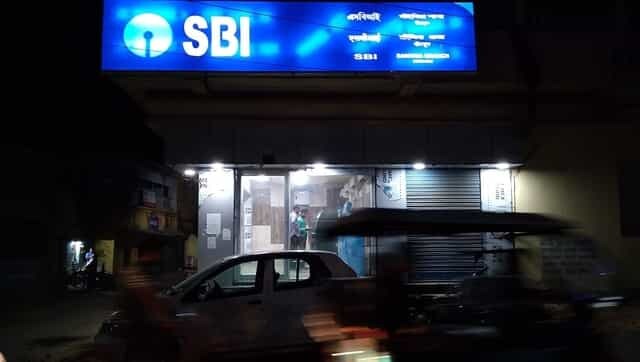 Education
SBI has shared a detailed notification regarding the recruitment process on their official website. Aspirants are advised to go through the notification and check the steps to apply below