Sensex, Nifty scale new life-time highs for sixth day in a row on corporate earnings
Market benchmark BSE Sensex rose by 157 points to close at new life-time high of 37,494.40, continuing its record-setting spree for the sixth session driven by gains in index majors like Reliance Industries and Bharti Airtel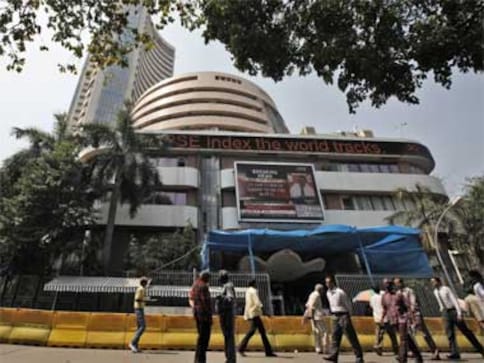 Mumbai: Market benchmark BSE Sensex rose by 157 points to close at a fresh life-time high of 37,494.40, continuing its record-breaking run for the sixth session driven by gains in index majors like Reliance and Bharti Airtel.
The broader NSE Nifty advanced 41.20 points or 0.37 percent to end at a historic high of 11,319.55, bettering its previous record close of 11,278.35 hit on Friday after better-than-expected earnings by corporates.
Reliance Industries rose by 1.78 percent to close at all-time high of Rs 1,149.70 after it reported its highest-ever quarterly net profit in April-June driven by improved earnings from retail and telecom businesses, and near doubling of earnings from the petrochemical business.
Bharti Airtel was the top gainer among Sensex scrips, climbing by 5.13 percent despite weak quarterly results.
ICICI Bank rose 4.76 percent, the country's largest lender SBI climbed 3.75 percent while Axis Bank gained 2.6 percent ahead of the Reserve Bank of India's Monetary Policy Committee (MPC) meet to decide on its policy rates.
Experts said the RBI may keep rates unchanged on Wednesday despite high oil prices, an uptick in inflation and a steep hike minimum support prices for Kharif crops.
RBI Governor Urjit Patel-headed Monetary Policy Committee (MPC) began its three-day deliberations in Mumbai on Monday to decide on the key policy rates.
Asian and European stocks, however, declined as markets took cues from declines in Wall Street's last session after investors awaited critical monetary policy decisions this week.
Bank of Japan and the US Federal Reserve will announce their monetary policy decisions this week.
Trading sentiment remained bullish on domestic markets backed by sustained capital inflows by foreign funds and widespread buying by retail investors, driven by strong earnings by some more bluechip companies, brokers said.
The 30-share index also scaled an all-time trading high of 37,533.50 before settling at 37,494.40, up 157.55 points, or 0.42 percent. The Sensex had hit previous closing record of 37,336.85 on Friday.
The gauge had gained 840.48 points in the previous five record-setting sessions. The 50-issue NSE Nifty too hit an all-time high of 11,328.10 during the day.
Among major Sensex gainers, Mahindra and Mahindra rose by 2.52 percent, Vedanta by 2.25 percent, HUL by 1.90 percent and ONGC by 1.74 percent.
Power Grid gained 1.64 percent, Sun Pharma 1.12 percent, Maruti Suzuki 0.70 percent, Tata Steel 0.57 percent, NTPC 0.55 percent, Heromotocorp 0.35 percent, Coal India 0.21 percent and TCS 0.10 percent.
Among other banking stocks, Bank of Baroda rose by 9.92 percent after impressive first quarter results. PNB gained 5 percent.
However, Infosys fell 1.56 percent, HDFC Bank 1.41 percent, L&T 1.19 percent, Adani Ports 0.90 percent, HDFC Ltd 0.80 percent, Kotak Bank 0.48 percent, IndusInd Bank 0.47 percent, ITC 0.36 percent and Wipro 0.36 percent on profit booking.
HDFC Ltd today reported 54 percent jump in standalone net profit to Rs 2,190 crore for the first quarter ended June 2018-19.
Among the sectoral index, telecom index rose the most by surging 2.85 percent, followed by PSU 2.20 percent, energy 1.32 percent, banking 1.30 percent, power 1.18 percent, oil & gas 0.76 percent, metal 0.71 percent, healthcare 0.68 percent, auto 0.49 percent, infrastructure 0.39 percent, consumer durables 0.30 percent, FMCG 0.28 percent and realty 0.18 percent.
While IT, Teck and capital goods indices were under pressure on late selling and shed up to 0.73 percent.
The broader markets also firmed up as the smallcap index rose by 0.55 percent and the midcap index by 0.30 percent.
Globally, Asian stocks declined as markets took cues from declines in Wall Street's last session, with the focus this week shifting to the Bank of Japan, which will declare its interest rate decision on Tuesday.
Nikkei shed 0.74 percent, Hong Kong's Hang Seng was down 0.25 percent, while Shanghai Composite index fell by 0.16 percent.
The Federal Reserve's Federal Open Market Committee will embark on its two-day meeting on Tuesday, with the US central bank expected to announce its decision on Wednesday.
European stocks fell as a drop in metal prices weighed on mining companies and investors awaited critical monetary policy decisions this week.
Frankfurt's DAX fell 0.25 per and France's Paris CAC was down 0.45 percent. London's FTSE declined 0.34 percent in their early deals.
Business
The top gainers at BSE were Bharti Airtel, Asian Paints and Power Grid and the top losers were Bajaj Finance, Bajaj Financial Services, Reliance, NTPC and Titan.
Business
Under sectoral indices, auto registered losses while metal, realty, media and IT were in green
Business
The top BSE gainers were Kotak Bank, NTPC, ICICI Bank, Bajaj Finance and Power Grid. The top losers were Maruti, Infosys, ITC, Reliance and L&T