Sensex falls 444 points on global sell-off, Rs 2.22 lakh cr investor wealth wiped out
Investors also turned cautious ahead of macroeconomic data -- IIP for July and inflation data for August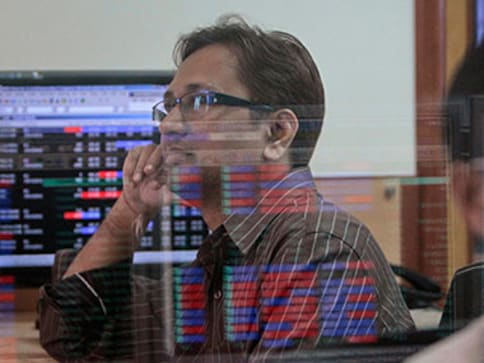 The BSE Sensex plunged by 444 points on Monday -- its biggest single-day drop since the Brexit fallout on June 24 -- to end at nearly two-week low of 28,353.54 and the NSE Nifty went below 8,800-mark, tracking global meltdown
due to heightened fears over US interest rate hike.
Market sentiment was weighed down by weakness in global markets, triggered by renewed concerns of the US Federal
Reserve raising interest rates this month.
Equity brokers said concerns inflows to emerging markets will be curtailed if the US raised interest rates, leading to fall in banking as well as metal stocks.
Investors also turned cautious ahead of macroeconomic data -- IIP for July and inflation data for August -- scheduled to be released later in the day.
The rupee depreciating by 28 paise to 66.96 against the dollar (intra-day) at the forex market also hit the sentiment.
The BSE Sensex resumed sharply lower at 28,481.09 and continued its slide to touch a low of 28,251.31 following
widespread losses on major sell-off.
It recovered to a high of 28,481.11 on value-buying in select stocks and settled the day at 28,353.54, a steep fall
of 443.71, its biggest single-day fall since June 24 when it had lost 604.51 points. Investors wealth on the BSE declined by Rs 2.22 lakh crore to Rs 109.94 lakh crore today.
The 50-share NSE Nifty after dipping below 8,700-mark to touch a low 8,699.40 points in the opening trade, recovered partially to close above the 8,700-mark at 8,715.60, still showing a fall of 151.10 points, or 1.70 percent.
However, experts are of the opinion that the correction is likely to be a short term blip.
"If we have this uncertainty evaporating in the short-term somewhere around 8,700 points, we should see the markets take a support and then move up," Sanjay Sinha, Founder, Citrus Advisors, told CNBC-TV18.
Bansi Madhavani, Analyst – Credit & Market Research, India Ratings & Research, sees the rupee facing headwinds going ahead.
"The pressure built up in global markets will have a trickle down impact on the rupee. While domestically, the currency has been anchored strongly on the back of healthy investment flows and a narrow current account deficit, sentiment in currency markets is likely to be cautious following jittery global sentiments. Additionally, ahead of Bank of Japan's and Fed's policy in the next week, risk preference is likely to stay muted," Madhavani said in a statement.
The stock market will remain closed tomorrow on account of "Bakri Id".
As many as 26 Sensex stocks closed with losses, including Tata Steel, Adani Ports, SBI, L&T, NTPC, Axis Bank, Tata
Motors, M&M, Hero MotoCorp, Bajaj Auto, ITC Ltd, GAIL, Lupin. However, Infosys, TCS, RIL and Wipro notched up gains.
Among sectoral indices, realty suffered the most by falling 5.23 per cent followed by metal 4.34 per cent, capital
goods 3.25 per cent, power 3.14 per cent, PSU 2.95 per cent, auto 2.61 per cent and banking 2.39 per cent. While IT index rose 0.87 per cent and teck gained 0.26 per cent.
The broader markets too remained under pressure, with the BSE mid-cap index slumping 2.95 per cent -- its biggest
single-day fall in six months -- and the small-cap index shedding 2.35 per cent.
Globally, Asian and European stocks tumbled, extending last week's sell-off hit by fears that the US Federal Reserve could be closer to an interest rate hike.
For the day, benchmark indices in Hong Kong, Singapore and Shanghai Composite Index lower by up to 3.36 per cent.
European markets were also in negative zone with key indices in France, Germany and the UK down by up to 2 per cent their in early trade.
Data inputs from Kishor Kadam
With PTI
Business
Among sectoral indices, except FMCG, others experienced a high today with bank, capital goods, Information Technology, PSU Bank and realty indices closing the day up by 1-2 percent
Business
In terms of sectors, PSU Bank and realty plummeted over 1 percent. Pharma was the biggest gainer, and rose over 2 percent.
Business
BSE Sensex went up by just 89 points to stop at 58,387.93 at the closing bell. NSE Nifty 50 rose by 0.09 percent to reach 17,397