Sensex crashes 2,919 points, records biggest single-day fall as coronavirus pandemic wreaks havoc on global markets; Nifty below 9,600-mark
The BSE Sensex plunged over 2,919 points on Thursday in its biggest one-day fall in absolute terms as the coronavirus pandemic wreaked havoc on global markets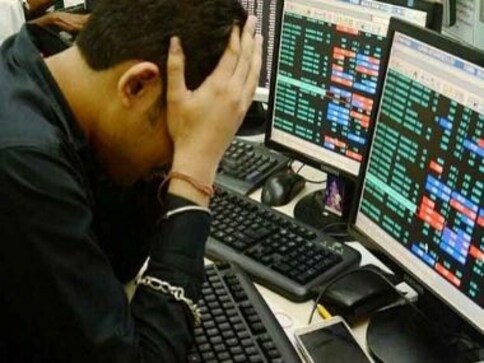 After nosediving over 3,204.30 points during the day, the 30-share index settled 2,919.26 points or 8.18 percent lower at 32,778.14

Likewise, the broader NSE Nifty gave up the 9,600 level, slumping 868.25 points or 8.30 percent to close at 9,590.15

Global markets reeled after the World Health Organization (WHO) termed the coronavirus outbreak as a pandemic, and expressed deep concern over the 'alarming levels of inaction'
Mumbai: Indian equity benchmarks suffered their biggest ever one-day plunge to crash into bear territory on Thursday as the coronavirus pandemic left a trail of red across global financial markets.
After nosediving over 3,204.30 points on across-the-board selling, the 30-share BSE Sensex closed 2,919.26 points or 8.18 percent lower at 32,778.14.
Likewise, the broader NSE Nifty gave up the 9,600 level, slumping 868.25 points or 8.30 percent to close at 9,590.15.
This was the biggest drop for the benchmarks in absolute terms, eclipsing their previous record one-day fall on Monday (9 March).
The markets have now entered bear territory -- that is more than 20 percent down from a recent high.
The Sensex and Nifty, which had hit their lifetime closing highs on 14 January this year, closed at more than 2-1/2-year lows on Thursday.
The carnage on Dalal Street eroded investor wealth worth Rs 11,27,160.65 crore, taking the total market capitalisation (m-cap) to Rs 1,25,86,398.07 crore on the BSE.
Global markets reeled after the World Health Organization (WHO) declared the coronavirus outbreak as a pandemic, and expressed deep concern over the "alarming levels of inaction".
US President Donald Trump suspended all travel from Europe, excluding the UK, to the US for the next 30 days.
Countries across the world are imposing travel restrictions, fuelling fears of a global recession, analysts said.
All Sensex components ended in the red. SBI was the top loser, crashing 13.23 percent, followed by ONGC, Axis Bank, ITC, TCS and Titan.
"Global stocks including India plunged into a bear market and oil slumped on Thursday after US President Donald Trump banned travel from Europe to stem the coronavirus, threatening more disruption to the world economy.
"Recession risk is rising and the markets do not seem to be pricing that in fully. January was the third month in a row that the three-month measure of UK GDP showed zero growth, the weakest such run since the middle of 2009. In Q1 CY20, on an annualised basis, global growth could be deeply negative - more like (minus) 1 percent," said Deepak Jasani - Head Retail Research, HDFC Securities.
All sectoral indices ended in the red, with BSE oil and gas cracking 9.82 percent, followed by realty, metal, bankex, finance, energy and IT.
Broader BSE midcap and smallcap indices followed the benchmarks, losing up to 8.72 percent.
A massive plunge in international oil prices and depreciating rupee added to the volatility, traders said.
The rupee depreciated 49 paise to 74.17 per US dollar (intra-day).
Brent crude oil futures dropped 5.50 percent to $33.82 per barrel.
Elsewhere in Asia, bourses in Shanghai dropped 1.52 percent, Hong Kong 3.66 percent, Seoul 3.87 percent and Tokyo cracked 4.41 percent.
Markets in Europe crashed up to 6 percent in early trade.
In overnight trade, the Dow fell into a bear market and futures pointed Thursday to another rout in New York and Europe.
The number of coronavirus patients in India has risen to 73 with 13 fresh cases, including nine from Maharashtra and one each from Delhi, Ladakh, and Uttar Pradesh as well as one foreign national, the union Health Ministry said.
Covid-19 has claimed over 4,200 lives and infected more than 117,330 people across 107 countries and territories.
Business
Sensex, Nifty rallied in early trade tracking firm global market trends and continuous foreign fund inflows. Buying in IT counters also added to the momentum
Business
During the day, it rallied 483.42 points or 0.76 per cent to 63,583.07, its lifetime intra-day peak
Business
The 30-share BSE Sensex gained 177.04 points or 0.28 per cent to settle at 62,681.84, its fresh record closing high. The broader NSE Nifty advanced 55.30 points or 0.30 per cent to end at 18,618.05