Section 377 verdict: Companies, executives see Supreme Court's judgment as push for equality within workforce
Supreme Court has termed part of Section 377 of Indian Penal Code which criminalises consensual unnatural sex as irrational, indefensible and manifestly arbitrary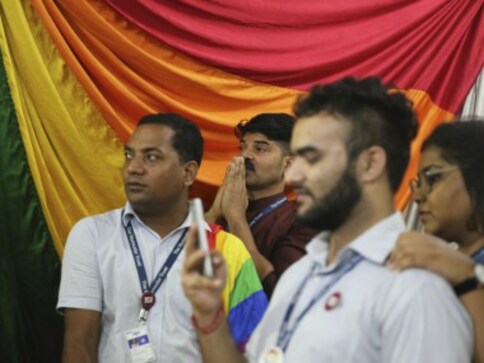 Multi-national firms feel partial scrapping of Section 377 of the Indian Penal Code by the Supreme Court liberates rights of lesbian, gay, bisexual, transgender and queer (LGBTQ) community and will push for equality among the workforce.
A five-judge constitution bench of the Supreme Court on Thursday unanimously decriminalised part of the 158-year-old colonial law under Section 377, which criminalises consensual unnatural sex.
Payroll services company Teamlease Services said Section 377 has been a challenging issue in India for a while now as Indian culture did look down upon the LGBTQ community. However, global acceptance and constant efforts of the community have pushed the judicial system as well as corporate India to have more acceptance and look at various levels of diversity and inclusion.
"Though most Indian corporate were stuck with many hassles when it came to gender diversity, now the broad aspect of diversity will eventually include regional, linguistic, physical and LGBT inclusion as well. We will see a significant cultural and societal shift which will open new avenues and employment opportunities," Ajay Shah, Head – Recruitment Services, TeamLease Services said.
Chicago-based JLL shared a story of their LGBTQ employee who was facing a problem in getting a job due to stigma and discrimination against transgender in the society and was finally hired by the company.
"We extended our diversity agenda to include transgenders because we believed that was a segment that was perhaps marginalised and disadvantaged in our society through discrimination and abuse. The top management was involved in the selection process and we would like to add that the selection of the candidate was on the basis of her abilities," Ramesh Nair, CEO & Country Head, India, JLL, said.
He said that once the selection process is done at the company, it conducts a few 'sensitising sessions' for the immediate manager and teammates.
"We are very happy with the judgment, however, it is just a step, gender inclusivity requires a lot of hand-holding and support and we are happy to make a small difference there through our organisation policies," Nair said.
The Royal Bank of Scotland (RBS) said that it has adopted global standards developed by the UN Human Rights Office.
"...they set out actions companies can take to protect the rights of LGBTI individuals. These include eliminating unfair treatment in the workplace, making sure business operations do not contribute to discrimination against customers, suppliers or members of the public, and working with business partners to address discriminatory practices up and down the supply chain," RBS said.
Here is what some industry leaders had to say on the apex court's landmark verdict:
Parmesh Shahani, Head, Godrej India Culture Lab
"I am so overwhelmed by the section 377 verdict. Not because it wasn't expected, but because of the language used by the honourable judges. From Justice Indu Sharma's call for an apology to CJI Misra's denouncement of majoritarianism, I got goosebumps as I read all the judgements. What do I feel today? I feel determined to use this as a first step in achieving equal rights for the LGBTQ community. I am so glad to be a part of Godrej, that has had inclusive policies for years and more companies need to do the same. I feel the corporate world is the grounds on which the next victories for equal rights will be won – anti-discrimination policies, same-sex partner insurance benefits, among other things are needed now. But for today, we celebrate!"
Sucheta Pal, Ambassador & Education Specialist, Zumba® Fitness LLC  and First Lady Awardee by Govt. of India (Woman Wellness)
"RIP Section 377! Love is Love. Our sexual orientation and gender expression is our Business and only our Business! One of those moments when I am proud of being Indian (among others). Decriminalising homosexuality is a landmark decision by the Supreme Court in India and it's not just a win for the LGBTQ community but for all of us and it's definitely time to celebrate our first step to a progressive India."
Rachel Goenka, CEO, The Chocolate Spoon Company
"The Supreme Court's decision has made me proud to be an Indian today. To be able to celebrate diversity and recognise that love comes in all forms is such a step forward for India. There are enough of polarising issues that paralyse our country today, and so to witness such a progressive decision is overwhelming. Joy has been brought to countless individuals who can finally celebrate their freedom to love whomever they choose."
Shweta Rajpal Kohli, Director - Public Policy & Govt Affairs, Salesforce, India & South Asia
"We wholeheartedly welcome the Supreme Court's decision on Section 377 of the Indian Penal Code. This is a huge step towards ensuring equality for all in the world's largest democracy. At Salesforce, we have always championed the rights of the LGBTQ+ community and fostered a culture where employees are encouraged to bring their whole, authentic selves to work. We truly believe that diversity and inclusion drives business success and we will continue to champion Equality for All."
Conduent, Technology-led business process services company 
"As an organisation that believes in inclusion and diversity, Conduent embraces individual differences knowing that these differences, when positively leveraged, will create a strong and accepting workforce. We believe that our policy of inclusion and diversity creates a more supportive and welcoming ecosystem for all people at our workplaces."
Celebrity chef and former Master Chef judge Ranveer Brar 
"I think it's very important for a country to move with the time, and move ahead from the stigma that stops a society from being progressive. Those very stigmas were a part of Section 377 and it is great to see our judiciary taking the right steps for us to be a progressive society and move along with the world. Everybody has the right to love and it was indeed criminal to criminalise being who you are and it's good to see that gone. I am a chef and for me, the expression is everything and if you were a part of a society which was afraid to express itself then something needed to be done "
With inputs from PTI
Opinion
One hopes the current confrontation between the executive and the judiciary proves to be a blessing in disguise and ushers in much-needed progressive reforms in the judiciary
World
When the US Supreme Court overturned Roe v. Wade last year and gave control of abortion policy to the states, it led to bans and restrictions in some states, and executive orders and laws protecting access in others
Explainers
In Italy, parents of two children appealed against the decision of a lower court which had forced the youngsters to spend time with their grandparents. Now, the top court has said that this is not an obligation