Saudi 'comfortable' with oil prices today, still targets 2023 balanced budget - finance minister
By Marwa Rashad and Stephen Kalin RIYADH (Reuters) - Saudi Arabia's finance minister said on Wednesday he was not concerned about current oil prices impacting spending plans in 2019, and the government still aims to close its budget deficit by 2023 although the target is not set in stone. Mohammed al-Jadaan told Reuters in an interview that cash settlements from an anti-corruption campaign, which generated 50 billion Saudi riyals ($13.3 billion) in 2018, would net 'not significantly less' in 2019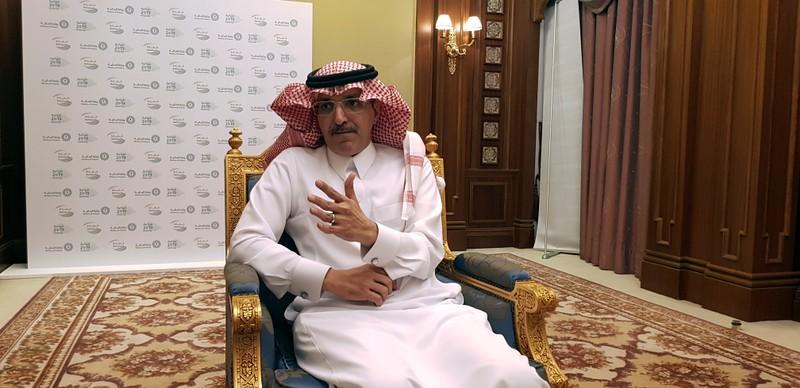 By Marwa Rashad and Stephen Kalin
RIYADH (Reuters) - Saudi Arabia's finance minister said on Wednesday he was not concerned about current oil prices impacting spending plans in 2019, and the government still aims to close its budget deficit by 2023 although the target is not set in stone.
Mohammed al-Jadaan told Reuters in an interview that cash settlements from an anti-corruption campaign, which generated 50 billion Saudi riyals ($13.3 billion) in 2018, would net "not significantly less" in 2019.
The authorities have said they expect to confiscate $100 billion overall from a purge of princes, ministers and business tycoons ordered by Crown Prince Mohammed bin Salman in November 2017.
Under an ambitious reform plan aimed at ending the top oil exporter's dependence on crude, Riyadh is seeking to balance its budget by 2023.
The government unveiled a 1.11 trillion Saudi riyal ($295 billion) budget on Tuesday, the kingdom's largest, with a seven percent increase in state spending to spur economic growth and a projected deficit of 4.2 percent of GDP.
"We are still targeting 2023, but what I'm saying is we need to realize that it is not set in stone," Jadaan said. "What's the point of having a balanced budget on 23 specifically? It could be 22, it could be 24. We want to be disciplined, we want to be efficient and pro-growth."
He said the ministry plans to borrow more locally than internationally, and would issue bonds mainly in U.S. dollar but is considering venturing into other currencies including Euro and Yen.
Asked about the impact of lower oil prices on spending, Jadaan said: "Until today we are comfortable" and "even in the worst case scenario we are still relatively comfortable" given the kingdom's significant reserves and low debt to GDP ratio.
The interview took place at Riyadh's Ritz-Carlton Hotel, where suspects in the corruption sweep were held for up to three months.
Jadaan said seized assets were being managed and valued by a ministry-owned company, Istidama, which is managed by a committee chaired by the commerce minister and has no connection to the sovereign wealth fund, the Public Investment Fund.
Construction giant Saudi Binladin Group (SBG), in which the government took a roughly one-third stake under the campaign, will soon have a "normal board" with family members and representatives of government ownership, he said.
A five-member committee charged with restructuring the company's governance "is about now to conclude," most likely in 2019, he said. "It's a transition. That committee is just a temporary supervisory committee until the governance is sorted out."
Asked about the government's seizure of shares in publicly-traded companies under corruption settlements, Jadaan said: "If it is not on Tadawul, we don't own it."
(Editing by Elaine Hardcastle, Editing by William Maclean)
This story has not been edited by Firstpost staff and is generated by auto-feed.
Find latest and upcoming tech gadgets online on Tech2 Gadgets. Get technology news, gadgets reviews & ratings. Popular gadgets including laptop, tablet and mobile specifications, features, prices, comparison.
Business
By Jessica Resnick-Ault NEW YORK (Reuters) - Oil prices strengthened on Wednesday, as OPEC and its allies were seen complying with a pact to cut oil supply in September, even as concerns loomed that recovery in fuel demand will be stalled by soaring global coronavirus cases. Early in the day crude was boosted by a bullish stock market. Even as equities whipsawed on pandemic worries, oil stayed higher, buoyed by expectations that OPEC could staunch a supply glut
Business
By Tina Bellon and C Nivedita (Reuters) - Tesla Inc will further cut the price of its Model S "Long Range" sedan in the United States to $69,420, the electric carmaker's chief executive, Elon Musk, announced in a tweet https://bit.ly/2H0JCP0 on Wednesday. The anticipated drop marks the second time this week Tesla has cut the price for the high-end sedan, following a 4% cut of the Model S's price in the United States on Tuesday to $71,990.
World
By Jeff Mason DES MOINES, Iowa (Reuters) - Under siege over his handling of the novel coronavirus pandemic, President Donald Trump on Wednesday cited what he said was his son's mild bout of the virus as a reason why American schools should reopen as soon as possible. Trump made the comment about his son, Barron, as the president swept into Iowa on a mission to shore up support in battleground states that he won in 2016 but is in danger of losing to Democrat Joe Biden barely three weeks before the election. First lady Melania Trump announced in a statement earlier in the day that the virus that struck both her and her husband had also infected their 14-year-old son