Saudi 'comfortable' with oil prices, still seeks 2023 balanced budget - finance minister
By Marwa Rashad and Stephen Kalin RIYADH (Reuters) - Saudi Arabia's finance minister said on Wednesday he was unconcerned with current oil prices impacting spending plans in 2019, and the government still aims to close its budget deficit by 2023 though the target is not set in stone.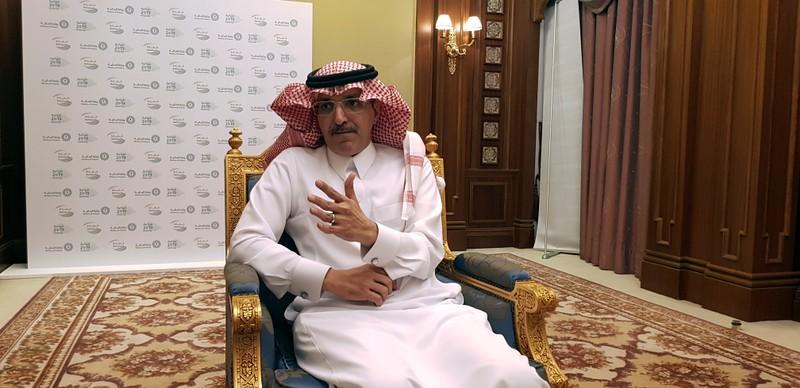 By Marwa Rashad and Stephen Kalin
RIYADH (Reuters) - Saudi Arabia's finance minister said on Wednesday he was unconcerned with current oil prices impacting spending plans in 2019, and the government still aims to close its budget deficit by 2023 though the target is not set in stone.
Mohammed al-Jadaan told Reuters cash settlements from an anti-corruption campaign, which generated 50 billion Saudi riyals ($13.3 billion) in 2018, would net "not significantly less" in 2019.
The authorities have said they expect to confiscate more than $100 billion overall from a purge of princes, ministers and business tycoons ordered by Crown Prince Mohammed bin Salman in November 2017.
"We have a figure for the budget, but I can't tell you what it is. It's what we received from the attorney general as most likely to be coming our way," Jadaan said in an interview at Riyadh's Ritz-Carlton Hotel, where suspects in the corruption sweep were held for up to three months.
For three years - ever since Riyadh ran an eye-popping deficit of 367 billion riyals ($98 billion) in 2015, threatening its financial stability - fiscal policy focused to a large extent on reassuring markets by cutting the deficit.
Under an ambitious reform plan aimed at ending dependence on crude, the world's top oil exporter is seeking a balanced budget by 2023.
The government unveiled a 1.11 trillion Saudi riyal ($295 billion) budget on Tuesday, the kingdom's largest, with a seven percent increase in state spending to spur economic growth and a projected deficit of 4.2 percent of GDP. [nL8N1YN2NH]
"We are still targeting 2023, but what I'm saying is we need to realize that it is not set in stone," Jadaan said. "What's the point of having a balanced budget on 23 specifically? It could be 22, it could be 24. We want to be disciplined, we want to be efficient and pro-growth."
He said the ministry plans to borrow more locally than internationally, and would issue bonds mainly in U.S. dollars but is considering venturing into other currencies including euro and yen.
Asked about the impact of lower oil prices on spending, Jadaan said: "Until today we are comfortable" and "even in the worst case scenario we are still relatively comfortable" given the kingdom's significant reserves and low debt to GDP ratio.
Saudi Arabia does not disclose the oil price assumptions on which its planning is based, but economists have estimated the 2019 budget implied Brent at $70-71 per barrel with oil production at 10.2 million barrels per day.
Oil stabilised on Wednesday after one of its biggest falls in years, but remained under pressure from oversupply and concern a slowing global economy would depress demand.
CORRUPTION SETTLEMENTS
Jadaan said seized assets were being managed and valued by a ministry-owned company, Istidama, run by a committee chaired by the commerce minister and with no connection to the sovereign wealth body, the Public Investment Fund.
"Some of them are liquid assets, so they liquidate them when the market is right. Some of them are more sticky assets in real estate and other private investments that they will then consider what are they going to do with," he said.
Construction giant Saudi Binladin Group (SBG), in which the government took a roughly one-third stake under the campaign, will soon have a "normal board" with family members and representatives of government ownership, according to Jadaan.
A five-member committee charged with restructuring the company's governance "is about now to conclude," most likely in 2019, he said. "It's a transition. That committee is just a temporary supervisory committee until the governance is sorted out."
Asked about the possibility of listing SBG on the stock market, he said: "A company with this kind of business you can't list for some time. It will need some time to go through restructuring, make it more business ready."
Reuters reported in September that the family-run company had ended up on a collision course with the government after chairman Bakr Binladin and his shareholder brothers resisted earlier pressure to list.
Other businessmen rounded up in the corruption sweep have ceded shares in publicly-listed companies among other settlements.
Among those detained was billionaire investor Prince Alwaleed bin Talal, who said in March he had reached an agreement with the government for his release, without disclosing details of the "confirmed understanding".
Asked about the government's seizure of shares in publicly-traded companies under corruption settlements, Jadaan said: "If it is not on Tadawul (stock exchange), we don't own it."
(Editing by Elaine Hardcastle and William Maclean)
This story has not been edited by Firstpost staff and is generated by auto-feed.
Find latest and upcoming tech gadgets online on Tech2 Gadgets. Get technology news, gadgets reviews & ratings. Popular gadgets including laptop, tablet and mobile specifications, features, prices, comparison.
World
MOSCOW (Reuters) - Russian President Vladimir Putin said on Wednesday he had noted what he called "sharp anti-Russian rhetoric" from U.S. Democratic presidential candidate Joe Biden, but that he had been encouraged by Biden's comments on arms control. Putin, in comments on state television ahead of the U.S.
World
By John Irish and Robin Emmott PARIS/BRUSSELS (Reuters) - France and Germany said on Wednesday they would propose European Union sanctions against Russian individuals after receiving no credible answers from Moscow over the poisoning of Kremlin critic Alexei Navalny with a nerve agent. Several Western governments have said Russia, which has denied accusations by Navalny that it was involved in the poisoning, must help in investigations or face consequences. The decision and speed with which Europe's two main powers agreed to push ahead with sanctions suggests a hardening of the bloc's diplomacy towards Moscow.
World
By Steve Holland WASHINGTON (Reuters) - U.S. President Donald Trump, under coronavirus quarantine in the White House and restricted from traveling, is seeking ways to put a spark back in his struggling re-election bid and get behind his desk in the Oval Office with four weeks left until Election Day.