Saudi Arabia to restore full oil output by next week - source
LONDON (Reuters) - Saudi Arabia has restored more than 75% of crude output lost after attacks on its facilities and will return to full volumes by early next week, a source briefed on the latest developments told Reuters on Monday.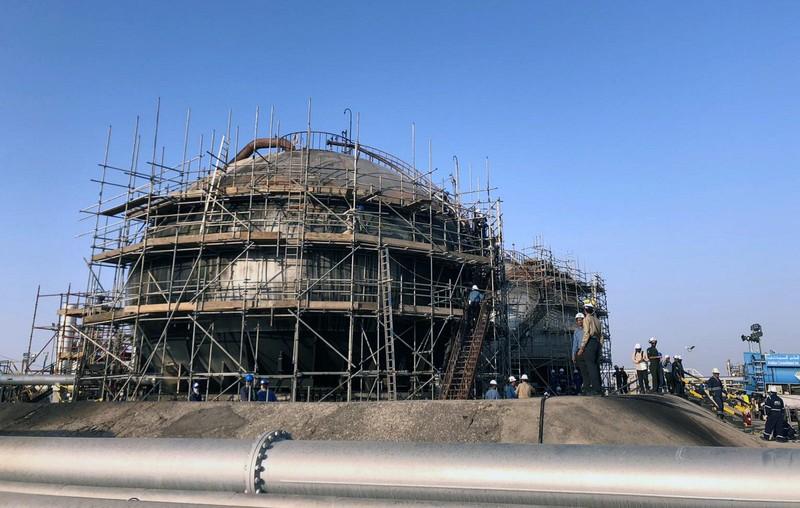 LONDON (Reuters) - Saudi Arabia has restored more than 75% of crude output lost after attacks on its facilities and will return to full volumes by early next week, a source briefed on the latest developments told Reuters on Monday.
Saudi oil production from its Khurais plant is now at more than 1.3 million barrels per day, while current production from its Abqaiq plant is at about 3 million bpd, the source said. 
The Sept. 14 attacks on the two giant plants caused raging fires and damage that halved the crude output of the world's top oil exporter, by shutting down 5.7 million barrels per day of production.
Saudi Energy Minister Prince Abdulaziz bin Salman and the chief executive of state oil company Aramco, Amin Nasser, have said output will be fully back online by the end of September.
The attacks sent oil prices up 20 percent although they came off after the kingdom pledged to bring back output swiftly. On Monday, prices stabilised at $64 per barrel, paring earlier gains, following comments by the source.
The kingdom has managed to maintain supplies to customers to the levels they were at prior to the attacks by drawing from its huge oil inventories and offering other crude grades from other fields, Saudi officials said.
Saudi said it would ensure full oil supply commitments to its customers. The kingdom ships more than 7 million bpd to global destinations every day, and for years has served as the supplier of last resort to markets.
No casualties were reported at the sites even though thousands of workers and contractors work and live in the area.
The Wall Street Journal reported on Monday repairs at the plants could take months longer than anticipated.
Thousands of employees and contractors have been pulled from other projects to work around the clock in bringing production back. Aramco is shipping equipment from the United States and Europe to rebuild the damaged facilities, Aramco officials told reporters on Friday.
Reporters were shown repair work underway at both locations on Friday, with cranes erected around burnt-out stabilisation columns, which form part of oil-gas separation units.
Saudi Arabia's ability to restore oil production quickly after the attacks, which hit at the heart of the Saudi energy industry, would demonstrate an important degree of resilience to potentially very damaging shocks, Moody's said last week.
Aramco is getting ready for an initial public offering possibly later this year. Aramco has a meeting with analysts scheduled for Wednesday at the company's headquarters in Dhahran, two sources said.
(Editing by Susan Fenton and David Evans)
This story has not been edited by Firstpost staff and is generated by auto-feed.
Find latest and upcoming tech gadgets online on Tech2 Gadgets. Get technology news, gadgets reviews & ratings. Popular gadgets including laptop, tablet and mobile specifications, features, prices, comparison.
World
By Carl O'Donnell and Jonathan Allen NEW YORK (Reuters) - The governors of New York and Florida sought to accelerate the slower-than-expected rollout of coronavirus vaccines by warning hospitals on Monday that they would reduce future allocations to those that fail to dispense shots quickly enough. In New York, hospitals must administer vaccines within a week of receiving them or face a fine and loss of future supplies, Governor Andrew Cuomo said. "I don't want the vaccine in a fridge or a freezer, I want it in somebody's arm," the governor said
World
By Michael Holden LONDON (Reuters) - A British judge ruled on Monday that WikiLeaks founder Julian Assange should not be extradited to the United States to face criminal charges including breaking a spying law, saying his mental health problems meant he would be at risk of suicide. U.S. authorities accuse Australian-born Assange, 49, of 18 counts relating to the release by WikiLeaks of vast troves of confidential U.S
World
By Steve Holland and Aziz El Yaakoubi WASHINGTON/RIYADH (Reuters) -A breakthrough has been reached in Qatar's three-year-old dispute with Saudi Arabia and three other Arab countries and an agreement aimed at ending their rift is to be signed in Saudi Arabia on Tuesday, a senior Trump administration official said. The development is the latest in a series of Middle East deals sought by Washington - the others involving Israel and Arab states - aimed at building a united front against Iran. As part of the deal, Saudi Arabia will reopen its airspace and land and sea border to Qatar as of Monday, Kuwaiti Foreign Minister Ahmad Nasser al-Sabah said on Kuwait TV ahead of a Gulf Arab summit in Saudi Arabia on Tuesday.