SAP's CEO hints to investors more margin gains on the way
By Patricia Uhlig MANNHEIM, Germany (Reuters) - The chief executive of SAP struck a confident note on the German software giant's future on Thursday, hinting that further operating profit margin gains were on the way, while apologising for corporate governance missteps in South Africa. Speaking to investors at the company's annual general meeting here, CEO Bill McDermott said SAP had made mistakes in failing to better detect corrupt practices used to win South African government contracts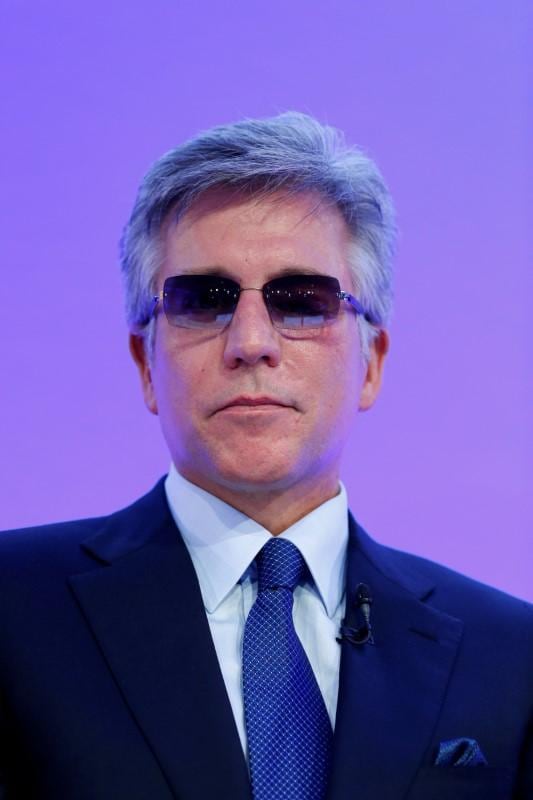 By Patricia Uhlig
MANNHEIM, Germany (Reuters) - The chief executive of SAP struck a confident note on the German software giant's future on Thursday, hinting that further operating profit margin gains were on the way, while apologising for corporate governance missteps in South Africa.
Speaking to investors at the company's annual general meeting here, CEO Bill McDermott said SAP had made mistakes in failing to better detect corrupt practices used to win South African government contracts. But he said the company had responded quickly to prevent similar practices re-occurring.
"Trust is earned in drops, but lost in buckets," McDermott said. "When we make mistakes, we admit them so we can fix them."SAP removed executives in South Africa and made sweeping changes to its global sales practices.(https://reut.rs/2INyK68) It also acknowledged that it had paid funds to firms with links to the politically influential Gupta family, which were at the heart of a scandal that toppled President Jacob Zuma.
On a more upbeat note, McDermott said its latest quarterly results showed SAP was beginning to enjoy operating margin expansion for the first time since it began investing heavily in shifting its business from up-front licensing to subscriptions.
"This is one of many reasons that momentum in our share price has been re-established over the past several weeks," he said, before suggesting further gains were on the way. "Our shareholders should continue to benefit from this momentum".
SAP's American-born CEO said Germany's most valuable stock remains committed to once again tripling its market capitalisation while declining to set any timeline for achieving the goal. SAP's share price trebled between 2010 and 2017.
"There is clearly the potential to triple the value of this company. We believe that is only a matter of time," McDermott told investors, reiterating previous comments on the target.
"While we are not giving a specific time frame, we are certainly charging ahead with this in mind," he said.
The company's market capitalisation stands at just above 118 billion euros ($139 billion). Rival U.S. software maker Oracle is valued at around $190 billion.
    At the annual general meeting, SAP asked for and received shareholder approval that sets limits on executive compensation, seeking to deflect anger in the country over McDermott's big, American-style payout, which is higher than any German peer.
(Reporting by Patricia Uhlig in Mannheim; Writing by Eric Auchard in London; Editing by Adrian Croft)
This story has not been edited by Firstpost staff and is generated by auto-feed.
Business
By Pete Schroeder WASHINGTON (Reuters) - JPMorgan Chase & Co will resume making political donations to U.S. lawmakers but will not give to Republican members of Congress who voted to overturn President Joe Biden's election victory, according to an internal memo on Friday seen by Reuters. The bank was among many corporations that paused political giving following the deadly Jan
Business
(Reuters) - Fintech company Square Inc is considering making a hardware wallet for bitcoin, Chief Executive Officer Jack Dorsey said in a tweet https://twitter.com/jack/status/1400839179513339905 on Friday. As bitcoin and other crypto-currencies have gained in popularity, many companies have emerged to serve a growing need to protect these assets from online theft. Bitcoin wallets can be stored offline or online at cryptocurrency exchanges, venues where bitcoin can be bought and sold for traditional currencies or other virtual coins.
Business
By Foo Yun Chee BRUSSELS (Reuters) -The European Commission on Friday defined the scope of revised copyright rules adopted last year following criticism from governments, including France and Poland, but EU broadcasters and internet activists said there was a danger of censorship. The revamped copyright directive, the first overhaul in two decades, aimed to provide fair compensation for the bloc's $1 trillion creative industry and its 11.7 million employees. A central provision, Article 17, backed by the creative industry, would force Google-owned YouTube, Facebook's Instagram and other sharing platforms to install filters to prevent users from uploading copyrighted materials