Samvat 2073 stock performance in charts: RIL top wealth creator, 16.6% Sensex return best in 3 years
The major highlight of Samvat 2073 is that the stock market rally was mostly fuelled by the domestic institutional investors who bought shares worth Rs 98,916 crore
The benchmark 30-share BSE Sensex gave a return of 16.6 percent during the Samvat 2073, with investors' wealth on the bourse soaring by a whopping Rs 25.70 lakh crore to Rs 139.33 lakh crore. From the returns perspective, this is the highest the index has given in the last three years, an analysis of the data has shown.
The Nifty also gave slightly higher return of 18.2 percent during the period.
The BSE Mid-cap and Small-cap indices outperformed the Sensex and rose 20.4 percent and 27 percent during the year.
The major highlight of the Samvat 2073 is that the stock market rally was mostly fuelled by the domestic institutional investors who bought shares worth Rs 98,916 crore. In comparison, foreign institutional investors sold shares worth Rs 54,151 crore.
It has to be remembered that the performance of the stock exchange is despite two disruptive steps taken by the government during the course of the year - demonetisation of high value currencies on 8 November 2016 and goods and services tax rollout from from 1 July 2017.
Both the moves have significanlty eroded the confidence of the small scale sector players and even resulted in a economic slowdown as is seen in the GDP growth of 5.7 percent, which is the lowest in three years, registered for April-June this year.
On the last day of Samvat 2073, the BSE Sensex is trading at 32,584.35, down 24.81 points or 0.08 percent from Tuesday. The NSE Nifty is trading lower at 10,210.85, down 23.60 points or 0.23 percent.
Here's an analysis of the stock market performance in Samvat 2073 as investors ring in Samvat 2074 in Thursday's Muhurat Trading between 6:30 pm and 7:30 pm:
Over the past 10 Samvat years, the best Sensex return was in 2065 when the benchmark vaulted by 103.6 percent. In the previous Samvat, the index had declined 55.4 percent. The second best return in the past 10 years came in 2070 as the Sensex rose 26.4 percent during that year. In Samvat 2071, the Sensex declined 3.9 percent and the following year it gained 8.5 percent.
Sectorally, consumer durable sector gained the most with a 43.9 percent return. The BSE Metal index came in second with 43 percent, followed by realty (up 40.3 percent), oil and gas (29.8 percent) and banking (21.7 percent). Among major sectors, only pharma emerged as the loser with index declining 13.2 percent during Samvat 2073.
In Samvat 2073, among 50 Nifty stocks, Hindalco emerged as the top gainer with 84.3 percent rise in share price from Rs 149.60 on 28 October 2016 to Rs 275.70 on 18 October 2017. Another metal company Tata Steel came second with 75.9 percent gain. This is followed by Bajaj Finance (up 74.5 percent), Reliance Industries (up 73.6 percent) and Vedanta (up 64.7 percent).
Three pharma companies were among the top Nifty losers in Samvat 2073. Lupin was the top loser as its price fell 29.1 percent from Rs 1,490.30 to Rs 1,056.65. Dr Reddy's Laboratories witnessed a 28.8 percent fall and Sun Pharma 27 percent. Tata Motors' declined by 20 percent and Coal India 10.6 percent.
Oil and gas major Reliance Industries emerged as the top wealth creator in Samvat 2073. The company's market capitalisation surged by a whopping in Rs 2.37 lakh crore from Rs 3.42 lakh crore to Rs 5.79 lakh crore. HDFC Bank comes second with an increase of Rs 1.59 lakh crore in m-cap, followed by Hindustan Unilever (up Rs 91,756 crore), Vedanta (up Rs 63,825 crore) and HDFC (up Rs 60,319 crore).
Tata Motors was the top wealth destroyer among 50 Nifty stocks during the period. Its market capitalisation declined by Rs 48,373 crore, followed by Sun Pharma (down Rs 48,229 crore). Axis Bank saw its market value fall Rs 42,824 crore, ONGC Rs 23,528 crore and Coal India Rs 21,291 crore.
(Disclosure - Reliance Industries Ltd. is the sole beneficiary of Independent Media Trust which controls Network18 Media & Investments Ltd)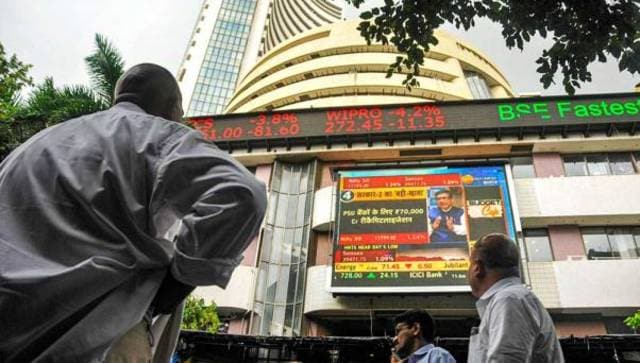 Business
While BSE Sensex declined by 127.31 points to end the day at 58,177.76, Nifty 50 suffered a loss of 13.95 points to end at 17,355.30.
India
The top BSE gainers were HDFC, Bharti Airtel, IndusInd Bank, ITC and Ultracem Co while the top NSE gainers include Bharati Airtel, HDFC, GRASIM, IndusInd Bank and ITC
Business
The Sensex rose 0.29 percent to end the day at 58,296.91, while, Nifty 50 ended the day in green with a growth of 0.31 percent or 54.20 points