Sahara's Subrata Roy is planning a comeback and high on his priority is online education
It will be offered at a minimal cost to millions of subscribers in small towns and villages, the sources said.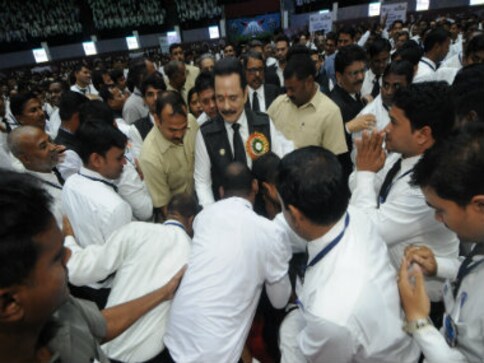 The Sahara group's Chief Managing Worker Subrata Roy is scripting a comeback, and this time his plans include a foray into education, sources say. The target audience will be the poor, as was the case with his earlier controversial ventures.
The move comes as his contentious court cases with Securities and Exchange Board of India (Sebi) is seen considerably slowing down growth of his Lucknow-based conglomerate.
Towards this end, Roy has put in place a team, drawn from some of the top universities and colleges across India and even abroad. This team has designed an online education business totaling 14,000 hours of edited software for school and college students. It will be offered at a minimal cost to millions of subscribers in small towns and villages, the sources said.
Insiders say Roy is confident that his online programme that will be easy to operate and boost the education standards in the country's hinterland.
KPMG and Google jointly estimate India's online education to be a $1.96 billion industry by 2021. Their report said the paid user base will grow from 1.9 million in 2016 to approximately 10 million by 2021. India's education market is now pegged at a little over $25 billion with a 22 percent annual growth. The online market is pegged at $2 billion.
On a balmy Monday morning, 15 October 2017, Roy emerged from a private jet at Raipur to a tumultuous welcome, with thousands of workers offering ancient Greek salutes by crossing their hearts with right arms - a tradition in Sahara India - to greet each other. Others waved festoons and fired confetti cannons.
Those who could not make it to the airport stood in blistering sun on both sides of the highway, holding placards. At least on two occasions, Roy was forced to alight from the car for quick shot felicitation ceremonies, organised by the local legislators and Sahara workers.
Holding a portable microphone, Amit Kumar, a Sahara employee, greeted Roy: "Our patriarch has held his head high. He has spent over two years in jail, paid huge sums of cash to the government, unlike others who ran away to London with cash from Indian banks." The crowd responded with cries of "we are with you".
Roy pacified the crowd, saying: "Sahara is your Sahara (hope), I am here to assure you that we will soon bounce back. We are going through troubled times, testing times. But do not lose hope. We are world's largest emotionally bound family. "
Roy, claimed Sahara insiders, is regaining their confidence by holding meetings in 18 cities, now continuing for almost a month across India. Before Raipur, he was in Guwahati, Kolkata, and the holy town of Tirupati and Hyderabad. Next, he will be in Lucknow - his headquarters, Nagpur, Ahmedabad, Jodhpur, Jaipur, Ranchi, Muzaffarpur and Patna, and so on. In each city, his meetings - which are held in indoor stadiums or huge pandals, are attended by an average 10,000 Sahara workers and well-wishers.
"As a chief guardian of the family of more than 12 lakhs Sahara India Pariwar (family) it is my duty to protect your interest and future as your father. I am with you, even in jail I thought about you, I am always thinking about you. I have been to jail, as I am paying happy tax for being a guardian," said Roy. The crowd roared in deafening approval.
Sahara India is currently embroiled in a tumultuous litigation with capital markets regulator Sebi, with the latter arguing that two of Sahara's companies have taken deposits without its consent. Sahara India has denied the charge, saying that it had taken approval from Registrar of Companies, which comes under the Ministry of Corporate Affairs and Sebi is not its regulator. Sahara has been forced to submit a little over Rs 14,000 crores to Sebi, which has now swelled to a little over Rs 19,000 crores (including interest).
But the market regulator has argued in the Supreme Court that Sahara has to pay more, approximately a total of little over Rs 24,000 crore. The Supreme Court had in August 2012 ordered the group to pay back the amount raised from investors through Sebi. However, the case has dragged on and the amount is now much higher as the interest component builds up even as the group claims it has no money to repay. The Supreme Court has ordered the auctioning of Rs 39.000 crore Aamby Valley City, a township developed in the outskirts of Mumbai, spread over more than 10,600 acres.
Roy, claim Sahara insiders, is trying hard to sell the properties as there are no takers for Aamby Valley. The real estate market in India is experiencing one of its worst lows and despite advertisements in national dailies by the official liquidator appointed by the apex court, only two bidders downloaded the KYC forms. And then, they have not moved ahead after that, said a Sebi official on conditions of anonymity.
A person aware of developments within the group says Roy is giving finishing touches to a host of new plans, apart from education. "These will also include setting up hospitals and low cost housing for the poor, which are in high demand across India." Despite selling some of the real estate parcels as part of Sebi's litigation, Sahara continues to have significant land bank across India.
Roy has also shown keen interest in aviation. Industry insiders claim it would be wrong to presume he would handover all his private planes and the license and not want to expand. Sahara's non-compete agreement with Jet Airways will end in October, 2018. There are enough indications that Roy has started planning some serious moves, seeking advice from former airline honchos.
Sahara India has also renewed its focus on media, recalling its former news channel head to ramp up the operations and numbers in the Hindi heartland. The move has to be seen in the context of the reported keenness of the ruling NDA to advance the to 2018. Roy has already spruced up his media company and hired some seasoned editors and anchors.
"He is on the bounce-back mode," smiles the Sahara insider.
At a meeting with his managers at Raipur, Roy is learnt to have expressed his hope to resolve the biggest crisis currently the group is in. "I love my country and will be here to resolve this crisis. There is a sense of pride in me as an Indian," he is learnt to have said. The game plan seems to be to cash in on the increasing nationalistic jingoism, like many other media groups are accused of doing in India.
However, first Roy must resolve his case with Sebi.
The veteran industrialist is trying hard to make everyone hear his side of the story. He wrote books in Tihar Jail, one on human values and another on problems the country is facing along with elaborate solutions suggested by him. Now, an advertising campaign of Sahara India shot by Pradip Sarkar of Parineeta fame is making many sit up and take note. The campaign, shot across a wide canvas with booming drums, men and women dressed in black and white like lawyers running across expansive flyovers, eventually ends with Roy appearing in the frame.
Interestingly, there is one question not many have found answers and if the answers do not come on time, there are high chances of another rigorous court battle between Sahara and Sebi. And this revolves around Rs 19,000 crore plus which Sebi has in its kitty (along with interest) to be given to Sahara consumers.
The flip side of the story is equally intriguing. Despite its repeated claims that Sahara's consumers were not paid, the market regulator has been able to distribute some Rs 64-odd crores in the last five years to those who came forward with claims.
That is not good news for the market regulator, whose basic premise of cleaning Sahara revolved around the billion dollar argument of protecting the investors' interest. Interestingly, there has been no complains from any of the 3 crore investors of the two Sahara companies whose operations have been banned by the market regulator.
But Sebi is firm on its demand that Sahara must pay cash upfront and then argue. A Sebi spokesperson told Firstpost that all of its concerns have been conveyed to Sahara and to the Supreme Court. The spokesperson refused to comment on some of Sahara's charges, especially the one relating to the veracity of consumers, saying the matter is sub-judice.
Sahara lawyers have repeatedly argued in court that the answer to why the cash was not distributed to the millions of unpaid customers of Sahara must come from Sebi. Sahara has claimed that it has already paid this Rs 19,000 crore despite the fact that they have already repaid 95 percent of its OFCD investors and this payment is a double payment of single liability.
The market regulator has hired a warehouse to store truckloads of documents (in original) sent in by Sahara proving the repayments made. Senior advocate Arvind Dattar, counsel for Sebi, is on record saying all forms have not been evaluated and a large number of advertisements in both big and small dailies failed to elicit any worthwhile response from the market. Around 4 years after the apex order, the regulator, however, is yet to start personal verification of Sahara investors to conclude who has got refund.
On the other hand, Sahara has paid Rs 725.97 crore as TDS (tax deducted at source) to the Income Tax Departments on the interest which along with investment was repaid to 95 percent of the investors, between 2009-10 and 2012-13. The income tax authorities had found that the beneficiary investors were existent and accordingly confirmed the repayments made in those particular years.
One of Sahara's arguments in the apex court revolves around the fact that if one government body has found investors, why can't the other.
And it is in this hope Sahara is building its current dreams: Payback cash from Sebi. But for that, Roy has to win the big legal battle with the regulator.
Business
In an order passed last week, the Securities and Exchange Board of India (Sebi) had asked Sahara Mutual Fund to wind up all its schemes.
Business
Sahara chief Subrata Roy has faced court's wrath earlier also over auction of Aamby Valley in Pune
Business
SEBI found that Sahara India Commercial Corporation (SICCL) had made an offer of OFCDs in financial years 1998-2009 and raised an amount of at least Rs 14,106 crore from 1,98,39,939 investors.