Ryanair says biggest-ever strike to ground 600 flights next week
By Graham Fahy DUBLIN (Reuters) - Ryanair is to cancel more than 12 percent of its flights for two days next week in its biggest-ever strike as cabin crew escalate a staff revolt that began among disaffected pilots last year. The Irish airline, Europe's largest by passenger numbers, said in a statement it expected disruption to the travel plans of almost 50,000 customers traveling to and from Belgium, Portugal and Spain, as it would cancel up to 300 flights per day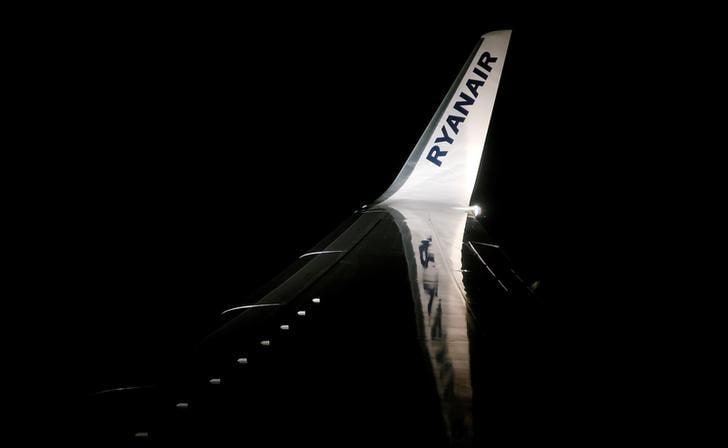 By Graham Fahy
DUBLIN (Reuters) - Ryanair is to cancel more than 12 percent of its flights for two days next week in its biggest-ever strike as cabin crew escalate a staff revolt that began among disaffected pilots last year.
The Irish airline, Europe's largest by passenger numbers, said in a statement it expected disruption to the travel plans of almost 50,000 customers traveling to and from Belgium, Portugal and Spain, as it would cancel up to 300 flights per day.
"These strikes are entirely unjustified and will achieve nothing other than to disrupt family holidays," the airline said in a statement.
In the company's largest previous industrial action, Ryanair canceled 30 flights on July 12 when some pilots in Ireland held their first strike. Ryanair said it will cancel 24 flights on Friday during the second of three strikes planned by the pilots.
Cabin crew from across Europe earlier this month published a list of 34 demands on July 4, including "a fair living wage", improved sick pay and employment contracts in their own language, based on local rather than Irish law.
Cabin crew have complained that they have to pay for drinking water during flights and must physically report to work when sick to provide written details of their symptoms.
Ryanair, which published a list of cabin crew benefits on Twitter on Wednesday, including pay of up to 40,000 euros per year, said its staff has some of the best conditions in Europe's low-cost airline sector.
"We think are crew are well paid and we think their terms and conditions are good," chief marketing officer Kenny Jacobs told Reuters. "But we will sit and meet with them see what issues they have and consider them. We will keep an open mind."
The airline will consider issues including demands for local contracts by some staff, but the airline needs to maintain its "low-cost, high-efficiency" model, he said.
Ryanair, which flies in 37 countries and carried 130 million passengers last year, averted widespread strikes before Christmas by deciding to recognise trade unions for the first time in its 32-year history.
But it has since struggled to reach agreement on terms with several of them.
German Union Verdi earlier on Wednesday announced it had signed a union recognition agreement for Ryanair cabin crew.
Ryanair decided to cancel flights seven days in advance because it saw little prospect of the unions calling off strikes and wanted to give passengers a chance to rebook, Jacobs said.
The airline, which is due to release financial results for the three months to June 30 on Monday, posted a record annual profit of 1.45 billion euros in the year ended March 31. But it warned profit was set to fall due to higher fuel and staffing costs and flat fares.
(Reporting by Graham Fahy; additional reporting by Conor Humphries; Editing by Edmund Blair and Jan Harvey)
This story has not been edited by Firstpost staff and is generated by auto-feed.
Find latest and upcoming tech gadgets online on Tech2 Gadgets. Get technology news, gadgets reviews & ratings. Popular gadgets including laptop, tablet and mobile specifications, features, prices, comparison.
World
OTTAWA (Reuters) - Canadian Prime Minister Justin Trudeau on Friday said he will continue to stand up against China's "coercive diplomacy" and its human rights abuses in Hong Kong and Xinjiang after being rebuked by Beijing for similar comments earlier this week. "We will stand up loudly and clearly for human rights all around the world, whether it is talking about the situation faced by the Uighurs, whether it is talking about the very concerning situation in Hong Kong, whether it's calling out China for its coercive diplomacy," Trudeau said in a news conference. (Reporting by Steve Scherer and Julie Gordon, Editing by Franklin Paul)
World
By Caroline Pailliez PARIS (Reuters) - Solene Tissot, a 19-year-old student in Paris, will obey the curfew imposed to fight COVID-19, but she has one request for her country's leaders: don't blame young people for the second wave of the virus. "There's been this kind of assigning guilt to young people," she said on Friday, hours before the new curfew was to come into force in Paris and major French cities. "I reject that." After a lull over the summer, the rates of transmission of coronavirus are going up in many parts of Europe and officials have identified social interactions between young people as a source of the resurgence.
World
By Adrian Portugal and Eloisa Lopez MANILA (Reuters) - Jailed Philippine activist Reina Mae Nasino wanted to hold her three-month-old daughter for the last time before she was laid to rest on Friday but she could not. Heavily armed prison officials guarding her refused to uncuff her despite pleas from her family and human rights supporters, who have decried what they described as inhumane treatment of Nasino and other mothers in Philippine jails.