Ryanair CEO says he wants another Boeing order within 18 months
DUBLIN (Reuters) - Ryanair hopes to agree another large order of the 737 MAX jets with manufacturer Boeing over the next 18 months and expects to be flying the 230-seat MAX 10 by 2025, Group Chief Executive Michael O'Leary told Reuters in an interview on Thursday. 'I would like to see a follow-on order some time over the next 12 or 18 months,' O'Leary said in a phone interview after signing a deal for 75 additional 197-seat MAX 200 jets. 'Very much part of the agreement we announced today is that Ryanair are going to be at the front of the queue when Boeing are able to price a MAX 10 order and put together a delivery programme,' he said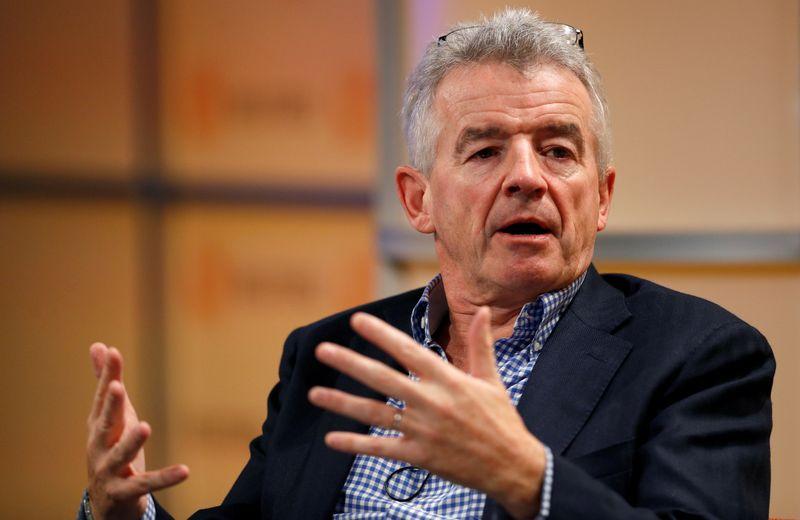 DUBLIN (Reuters) - Ryanair hopes to agree another large order of the 737 MAX jets with manufacturer Boeing over the next 18 months and expects to be flying the 230-seat MAX 10 by 2025, Group Chief Executive Michael O'Leary told Reuters in an interview on Thursday.
"I would like to see a follow-on order some time over the next 12 or 18 months," O'Leary said in a phone interview after signing a deal for 75 additional 197-seat MAX 200 jets.
"Very much part of the agreement we announced today is that Ryanair are going to be at the front of the queue when Boeing are able to price a MAX 10 order and put together a delivery programme," he said.
O'Leary said he was in active discussions about the MAX 10 but also said that the delivery timetable of the MAX 10 programme looked likely to slip.
"Boeing are busy having design issues, there are still some regulatory issues they are working their way through with the regulator on the MAX 10."
"I think regulators are looking for some further design work to be done so I think the delivery of the MAX 10 is going to slip back maybe 12-18 months," he said.
(Reporting by Conor Humphries; Editing by Elaine Hardcastle)
This story has not been edited by Firstpost staff and is generated by auto-feed.
Find latest and upcoming tech gadgets online on Tech2 Gadgets. Get technology news, gadgets reviews & ratings. Popular gadgets including laptop, tablet and mobile specifications, features, prices, comparison.
World
By William James LONDON (Reuters) -British Prime Minister Boris Johnson said on Sunday tougher lockdown restrictions were probably on the way as COVID-19 cases keep rising, but that schools were safe and children should continue to attend where permitted. COVID-19 cases in Britain are at record levels and the increase in numbers is fuelled by a new and more transmissible variant of the virus
World
By Maher Nazeh BAGHDAD (Reuters) - Tens of thousands of supporters of Iranian-backed Iraqi paramilitary groups chanted anti-American slogans in central Baghdad on Sunday to mark the anniversary of the U.S. killing of Iranian general Qassem Soleimani and an Iraqi militia commander.
World
By Nathan Layne and Joseph Ax CUTHBERT, Ga. (Reuters) -Control of the U.S. Senate – and with it, the likely fate of President-elect Joe Biden's legislative agenda – will be on the ballot on Tuesday when voters in Georgia decide twin runoff elections