Russia's Rostec unit ready for out-of-court deal with Boeing on 737 MAX order
By Gleb Stolyarov and Tom Balmforth MOSCOW (Reuters) - A unit of Russian conglomerate Rostec said on Tuesday it was ready for an out-of-court settlement with Boeing over its order for 35 Boeing 737 MAX jets, a spokesman for Rostec's subsidiary Avia Capital Service told Reuters. Boeing MAX 737 jets have been grounded worldwide and airlines are cancelling multimillion contracts following crashes in October and March that killed 346 people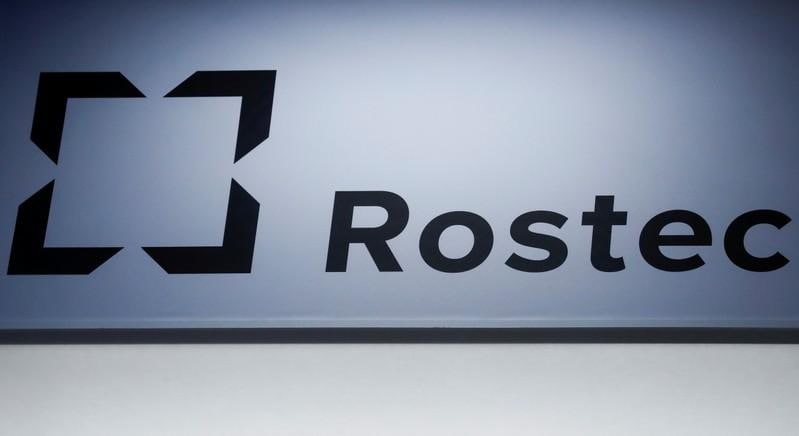 By Gleb Stolyarov and Tom Balmforth
MOSCOW (Reuters) - A unit of Russian conglomerate Rostec said on Tuesday it was ready for an out-of-court settlement with Boeing over its order for 35 Boeing 737 MAX jets, a spokesman for Rostec's subsidiary Avia Capital Service told Reuters.
Boeing MAX 737 jets have been grounded worldwide and airlines are cancelling multimillion contracts following crashes in October and March that killed 346 people.
Earlier on Tuesday, Rostec said its unit had filed a lawsuit in the United States to cancel its order for the 35 MAX jets. The Financial Times, which first reported the move, said Avia Capital Service gave Boeing a cash deposit of $35 million.
A spokesman for Avia Capital Service told Reuters that delivery of the jets was first scheduled for October 2019 but was moved to March 2022. The Rostec unit had paid Boeing a deposit and was suffering losses from non-delivery, he said.
"If Boeing executives show a good will, we are ready to hold talks and find a mutually-beneficial out-of-court settlement for compensation of the losses we have suffered," he said.
He added that the jets were ordered for a number of Russian air companies, including domestic low-cost firm Pobeda, a unit of the state carrier Aeroflot.
Russia is mainly using Boeing and Airbus jets for passenger flights, with a number of domestic airlines also adding Russian-made regional Sukhoi Superjet aircraft to their fleets.
The Rostec subsidiary now wants the deposit to be returned by Boeing with interest, along with $75 million in "lost profit" and about $115 million in compensatory damages, plus "several times the amount" in punitive damages, the FT said.
Rostec declined to provide further details about the lawsuit.
(Reporting by Gleb Stolyarov; writing by Anton Kolodyazhnyy and Tom Balmforth; Editing by Sherry Jacob-Phillips/Katya Golubkova and Emelia Sithole-Matarise)
This story has not been edited by Firstpost staff and is generated by auto-feed.
Find latest and upcoming tech gadgets online on Tech2 Gadgets. Get technology news, gadgets reviews & ratings. Popular gadgets including laptop, tablet and mobile specifications, features, prices, comparison.
World
By Crispin Kyala KAMITUGA, Democratic Republic of Congo (Reuters) - Kinyenye Furaha passed out from shock when he realised a mine collapse in eastern Congo had buried more than 50 fellow miners including his brother, he said on Sunday, as the hunt continued for bodies two days after the disaster. Miners searching the site near the town of Kamituga in Democratic Republic of Congo have so far recovered 18 bodies, after heavy rains on Friday caused the artisanal gold mine to cave in, burying those working below ground.
World
By Tom Balmforth and Maria Tsvetkova MOSCOW/TOMSK (Reuters) - The ruling United Russia party looked set for an array of local election wins on Sunday, but was also on course for some setbacks as stricken Kremlin critic Alexei Navalny's supporters made rare gains in city politics in Siberia. The local elections were closely watched for signs of protest voting against the ruling party that backs President Vladimir Putin amid frustrations over years of falling wages and the government's handling of the pandemic. The votes also followed the suspected poisoning by a rare nerve agent of opposition politician Navalny who had promoted a tactical voting strategy to hurt United Russia and fielded dozens of candidates for city councils in Siberia
World
By Linda Sieg TOKYO (Reuters) - Japanese Chief Cabinet Secretary Yoshihide Suga, a longtime loyal aide of outgoing Prime Minister Shinzo Abe, was poised to win a ruling party leadership election on Monday, virtually ensuring that he replaces Abe this week in the nation's top job. Suga, 71, who has said he would pursue Abe's key economic and foreign policies, is expected to get the bulk of votes from 394 Liberal Democratic Party (LDP) lawmakers and is likely to win a majority of 141 votes from the party's local chapters.