Rupee losses widen, down 6 paise at 72.69 against US dollar on sustained demand for American currency amid soaring crude prices
It was a highly volatile day on the forex market as wide swings in the currency value kept investors on edge and precluded the emergence of a clear trend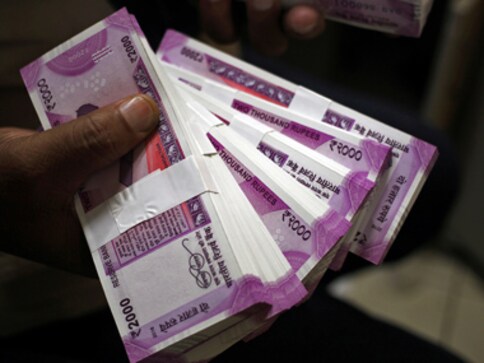 Mumbai: The rupee Tuesday weakened further by 6 paise to close at 72.69 to the US dollar on sustained demand for the American currency amid soaring crude prices.
It was a highly volatile day on the forex market as wide swings in the currency value kept investors on edge and precluded the emergence of a clear trend.
A further sharp spike in international crude oil prices due to a combination of factors and bullish dollar overseas trend ahead of Federal Reserve's two-day policy meet kept trading sentiment little shaky.
The Indian currency dangerously slipped to a low of 72.96 in early trade -- within striking distance of its life-time low of 72.99 hit last week but managed to pare some losses on likely intervention from the central bank.
It briefly touched a high of 72.57 in mid-afternoon deals. The rupee has lost 49 paise in last two days.
Heavy dollar selling by banks and exporters along with greenback's weakness against some currencies overseas largely supplemented the recovery momentum.
A spectacular bull back rally in domestic bourses after five straight-day pounding on the back of value buying in beaten-down key stocks and hectic short-covering ahead of expiry also helped in propping up the currency.
The currency markets worldwide are rattled with over-lapping geopolitical factors rubbing shoulder against each other and also underpinned by the divergent monetary policy outlooks against major global central banks, a forex dealer commented.
The US Fed is likely to stay on course and hike interest rates by 25 basis points (bps) tomorrow.
The benchmark 10-year sovereign yield held also stable at 8.1258 percent buoyed by the RBI decision to conduct open market operations (OMO) Thursday to purchase government bonds to infuse liquidity of Rs 10,000 crore.
Meanwhile, crude prices rose to four-year highs near $82 a barrel after global producers decided against further output increases, despite pressure from US president Donald Trump for renewed action to cool prices.
Brent crude futures were at $81.79 per barrel in early Asian trade - the highest level since November 2014.
At the inter-bank foreign exchange (forex) market, the rupee opened sharply lower at 72.89 from overnight close of 72.63 on sustained dollar demand.
It later drifted sharply to hit a low of 72.96 before staging a recovery.
The home unit picked up the pace in the second half of trade to touch day's high of 72.57 before ending the day at 72.69, revealing a loss of 6 paise, or 0.08 per cent.
The Financial Benchmarks India private limited (FBIL), meanwhile, fixed the reference rate for the dollar at 72.8134 and for the euro at 85.6237.
In the cross-currency trade, the rupee lost further ground against the British Pound to settle at 95.65 per pound from 95.41 and also slipped against the euro to end at 85.63 from 85.43 on Monday.
However, the local currency recovered against the Japanese yen to finish at 64.46 per 100 yens from 64.50.
On the global front, the dollar carved out small gains against the euro and yen on Tuesday as investors looked to policy clues from the U.S. Federal Reserve, which is widely expected to hike rates this week, and as the Sino-US trade dispute kept markets cautious.
Against a basket of other currencies, the dollar index is down at 93.72.
In the forward market, the premium for dollar edged lower owing to mild receiving from exporters.
The benchmark six-month forward premium payable in January 2019 softened to 114-116 paise from 114.50-116.50 paise and the far-forward July contract moved down to 274-276 paise from 276-278 paise earlier.
Business
At the interbank foreign exchange market, the local unit opened at 81.84 and later witnessed an intraday high of 81.74 and a low of 81.91 during the session
Business
At the interbank foreign exchange market, the local unit opened up at 81.59 and later erased all its early gains. During the session, it witnessed a high of 81.52 and a low of 81.78
Business
At the interbank foreign exchange, the domestic unit opened at 81.69 against the dollar, then gained ground to touch 81.54, registering a rise of 16 paise over its previous close