Rs 500, Rs 1,000 notes banned: Market watchers praise move, but warn about counter measures
Market watchers have lauded the Centre for invalidating currency notes of Rs 500 and Rs 1,000 denominations, but have also warned the government of possible counter measures by black-money hoarders
Market watchers have lauded the Central government for invalidating currency notes of Rs 500 and Rs 1,000 denominations, saying the moves will curb black money. However, they have also warned the government of possible counter measures by black-money hoarders.
Bimal Jain, chairman of the Indirect Tax Committee of the Punjab Haryana Delhi Chambers of Commerce told Firstpost, "This is definitely a masterstroke to curb black money and counterfeit currency. But precautionary steps to counter possible moves made by black-money hoarders to make it white should also be taken."
He added that there should be measures to monitor if black money is converted into gold, foreign currency, or loans and advances.
A market source, who did not wish to be named, said the unofficial price of gold has shot up to Rs 45,000 per 10 grams after the Prime Minister declared currency notes of Rs 500 and Rs 1,000 denomination as redundant.
The price of 22k gold was approximately Rs 28,700 per 10 grams on Tuesday. Sources say that the same gold was sold at Rs 45,000 on Wednesday, after Narendra Modi's address to the nation. "But this jump in gold rate is hardly recorded in the books," the source said.
While the unofficial rates of gold shot up drastically, even official gold prices have increased overnight, Jain said. "As per media reports, gold prices have increased by Rs 175 per gram in the first half of the day," he said.
However, some other experts have said it's not PM Modi's announcement that is causing the surge in gold prices, but Donald Trump's victory in the US Presidential election that is doing so.
RS Joshi, an office bearer at the Federation of Industries of North Eastern region, said the window for people to convert black money into white was very short, since the declaration about notes becoming redundant came at a very short notice. But he said that if anybody could substantiate that his/her money was earned through legal means, it would definitely be possible for them to get away with it.
Cases are still being heard on the issue at the Central Bureau of Investigation (CBI). The country's NorthEast region has seen several cases of black money disrupting the economy, while crores of rupees were shown as expenditure against various schemes, and were allegedly handed over to terrorist organisations.
Cases against a number of government officials and terrorist organistions are being heard in the courts of National Investigating Agency (NIA) and CBI as well.
Joshi said such a move by the government was always required in the region and will definitely meet its goals. Modi, in his address to the nation on Tuesday night, had mentioned that black money was being used in purchasing weapons by terrorist groups.
The Delhi Chambers of Commerce's warning and the parallel rise of gold prices at the same time gives one a clear indication of how there could be elements at work still trying to work out counter measures and convert black money into white or into other forms of investment.
Sources said that groups of intermediaries may crop up to convert black money into Dollars, gold or loans and advances since there is still more than one months time to convert the money into new currency notes.
India
The prime minister has closely monitored the Kedarpuri reconstruction projects worth Rs 250 crore in Uttarakhand.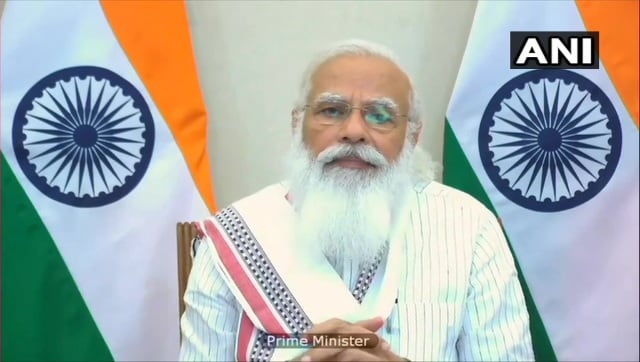 India
Modi cited the government's success in privatising loss-making public airline Air India to assert that this shows its commitment and seriousness.
India
Modi tweeted, "I pray for the good health and speedy recovery of Dr. Manmohan Singh Ji."