Rs 500 and Rs 1,000 note ban: Theatrical action can't substitute meaningful steps against black money
Prime Minister Narendra Modi took the entire nation by surprise with his announcement of announcement of phasing out of the existing Rs 500 and Rs 1,000 notes
Prime Minister Narendra Modi took the entire nation by surprise with his announcement of announcement of phasing out of the existing Rs 500 and Rs 1,000 notes. A stunned nation admired the initiative as a landmark step for effacing the scourge of black money. I too joined the ranks of those who marvelled at the sheer audacity of the measure. But now that the initial euphoria is behind us, the massive chaos the move has spawned more clearly perceptible and being wiser from a more nuanced analysis, I feel obligated to make amends for my initial cheerleading of the move.
So here are important problems with the move that should make us all reconsider our exuberant celebration of it:
Poor bleeding
The abrupt phasing-out has led to widespread panic as people are running helter-skelter to get rid of their stock of such notes. The worst victims of such panic are the poor and the marginalised.
First, taking advantage of their panic and information asymmetry, many unscrupulous elements are shortchanging them. Reports are pouring in how people are being fooled into exchanging Rs 1,000 notes for Rs 100 notes worth a much lower value as the demand of Rs 100 notes outstrips supply. I myself came across many such poor vendors in the market who had agreed to bad deals due to the panic.
Second, there are long lines at the banks with workers and daily labourers — who are losing out on their day's wage — just waiting in these long lines to have their turn. Such an inconvenience is being faced most by those who are poor and lack any connections to avoid the queue whereas the powerful just have to tap into their connections. Since my father is a civil servant, I can tell from personal knowledge that in this circle, getting the notes changed is just a phone call's work.
Third, those who live in remote places with no access to banking facilities and no bank accounts, have been the worst hit. Many of these places are so remote and disconnected that their residents will have to spend days worrying about getting rid of these notes.
Fourth, many poor people who have saved large amounts in Rs 500 and Rs 1,000 notes for events such as marriages are feeling trapped. Since the government has imposed restriction on amounts that can be changed in a day, they will now be forced to make multiple trips or be burdened with producing proofs of income (most people in informal employment have no income documentation).
Finally, the poorest of the poor, the most marginalised, who have no ID proof, will pay the highest price as they can't exchange their lifelong savings in these notes through banks and thus are left high and dry.
The fact that the move was painful was also foreseen by Modi when he implored the public to bear the pain for the greater good.
But even the prime minister could not have predicted it would be this painful and part of the blame lies with him as he could have made the system better equipped to deal with the load and taken steps to address impact on financially excluded sections on the margins of the society.
But a number of shopkeepers, vegetables vendors and traders with whom I interacted, even while making the above observations, were actually appreciative of the step as they hoped that the hardships that they faced were worth it as the move may benefit the nation.
But even if the selfless poor of our nation are ready to bleed in the cause of common good, it does disconcert me that it is always the poor who are asked to suffer for the greater good.
Besides, even the belief that it serves the common good merits greater scrutiny.
Economic activity disrupted
The sensational style — characteristic of Modi — in which the announcement was made and then legends spun around it has had the adverse effect of generating chaos that has disrupted economic activity. 
First, the workforce, that is frittering its time in long ques at the banks, is an economic loss, as so many productive hours are lost and production adversely affected.
Secondly, the withdrawal of the the larger denominations has made transactions in the markets more difficult and adversely affected economic activity there.
Finally, it is a chapter from Economics 101 that stability, continuity and predictability in public policy facilitate economic growth. But when there is already so much uncertainty due to a fragile global environment, the government has injected more uncertainty through its decision. The prices of gold, commodities and real estate are swinging like crazy. Such wild fluctuations are detrimental to investment and growth, and will depress investments when we need them most.
Black money will be unaffected, may even prosper
Despite the economic cost as well as the burden falling most on the poor, the policy will fall far short in its touted aim of handing a deadly blow to black money due to multiple reasons.
First, most of the black money is with the top quartile of the population. They keep it in non-cash assets such as property, stock markets and real estate. Also the big fish have a substantial portion of their black money in foreign accounts which again won't be affected by this.
Second, the small portion of black money that is in cash in these denominations can easily be converted to smaller denominations. For example, under the conditions imposed say one person converts Rs 2 lakh with a simple ID proof, to convert Rs 2 crore of black money, only 100 employees are needed.
Thirdly, many bureaucrats in the railways, postal services and other government departments, where the denotified currencies are allowed in their public dealings, are getting their currency changed from these offices without even requiring IDs.
Fourth, the panic that has spread is, in fact, allowing many of the bank employees to earn black money. For instance, they can simply adjust who is exchanging above the specified limit against others who have exchanged below the limit specified and demand a cut for doing so, thereby increasing black money generation.
Finally, the claim of the move reducing black money in the political economy suffers from serious flaw. Political parties don't declare donations below Rs 20,000. So all they have to do to convert their larger denominations to show them as donations from smaller anonymous donors and then they can convert as much as they like, as it will become their legal money.
Lessons from the past
As a sum of all that has been discussed above, India's three experiments with demonetisation in the past were giant failures. They had no significant impact on black money which continued to thrive.
It's said those who forget the past are condemned to repeat it and thus our amnesia is making us embrace the same measure that has failed in the past.
The wise are not so forgetful. This is why former RBI governor Raghuram Rajan has not joined the chorus of celebration around the move.
It is human nature to believe that things are improving and so, we are hoping that this chaotic move — which gives the appearance that at least something is being done to curb black money — will prove to be the panacea. But make-believe theatrical actions cannot become a substitute for real meaningful steps that tackle the root problem of black money generation.
The sooner we realise it, the faster we will attain the aim, that we are falsely assuming to be achieved through this decision.
India
The project aims to synchronise activities relating to infrastructure building in an area to help Central and state agencies, urban local bodies and the private sector effectively coordinate
India
Modi tweeted, "I pray for the good health and speedy recovery of Dr. Manmohan Singh Ji."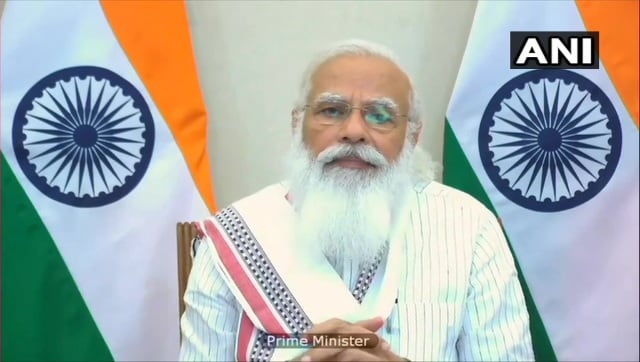 India
Modi cited the government's success in privatising loss-making public airline Air India to assert that this shows its commitment and seriousness.