By Prasanna Deshpande and Kishor Kadam
India's state-run banks, on the verge of a crisis on account of escalating bad loans and capitals scarcity, are witnessing sharp erosion in their share values. Even Government's much-hyped revival package for these banks, Indradhanush, has failed to impress investors as evident from the decline in market capitalisation over last six months.
Shares of PSU banks have dropped by an average 30 per cent ever since the Indradhanush scheme was launched on 14 August 2015. To be sure, the overall investor pessimism in equity markets too have contributed to this fall.
Indian banks are sitting on a ticking timebomb of stressed assets as analysts caution on further bad news in the sector. At this stage, about 12 per cent of the total loans given by Indian banks are in the stressed category.
Stock market participants continue to dump PSU banking stocks, as disappointing quarterly earnings from several government-controlled banking entities coupled with rising bad loans and lack of pick-up in credit growth prompted them to pare their holdings.
While key equity benchmark indices, Sensex & Nifty, have fallen by nearly a percent tracking weak global cues in early trades, banking index in fact has taken a much bigger hit on the bourses with BSE Bankex tumbling 2.1 percent to 16507.71.
Among the major banking laggards on BSE, shares of Central Bank of India tanked 11.16 percent to Rs 54.95, Allahabad Bank plunged 9.02 percent to Rs 46.40, UCO Bank slumped 7.84 percent to Rs 31.75, Dena Bank dropped 7.68 percent to Rs 28.85, Indian Overseas Bank shed 6.6 percent to Rs 23.35, Punjab National Bank lost 6.32 percent to Rs 82.30, Oriental Bank of Commerce declined 6.19 percent to Rs 97, Union Bank of India eased 6.04 percent to Rs 121.30, Bank of India dipped 6 percent to Rs 90.40, Bank of Baroda faltered 5.93 percent to Rs 116.65 and Andhra Bank slipped 5.11 percent to Rs 48.40.
Nervousness amongst the investors is evident over the past few sessions, especially after the December quarterly results of public sector banks (PSBs) such as Punjab National Bank, Central Bank of India, Allahabad Bank and Dena Bank came worst than expected.
Yesterday, Punjab National Bank (PNB), India's second largest state-run bank, logged a significant fall in its profit. The bank reported gross non-performing assets of 8.47 percent for the December-quarter. This is the highest level of bad loans the bank has recorded at least in 11 years. As result, the net profit of the bank plunged 93.4 per cent to Rs51 crore in the third quarter, compared with Rs 775 crore in the corresponding period in last year. This is arguably one of the worst quarterly results of PNB in recent years.
Similarly, Central Bank of India logged a loss of Rs 836.62 crore for October-December 2015-16, against a profit of Rs 137.65 crore in the third quarter of the previous fiscal with its GNPAs rising to 8.95 percent of the gross advances during the quarter, as against 6.2 percent year ago.
Also, Dena Bank reported a loss of Rs 662.85 crore for the third quarter as against net profit of Rs 76.56 crore in the same quarter last year, after it witnessed its GNPAs jumping to 9.85 percent from 5.61 percent in the year-ago period. Allahabad bank's loss stood at Rs 486.14 crore for the third quarter, hit by 6.40 percent GNPAs (from 5.46 percent) and subsequent provisions.
In fact, PSU banking stocks have been the worst performers on the bourses compared to their private listed peers over the past six months when Finance Minister Arun Jaitley on August 14 (2015) had launched a seven pronged plan - Indradhanush - to revamp the functioning of public sector banks.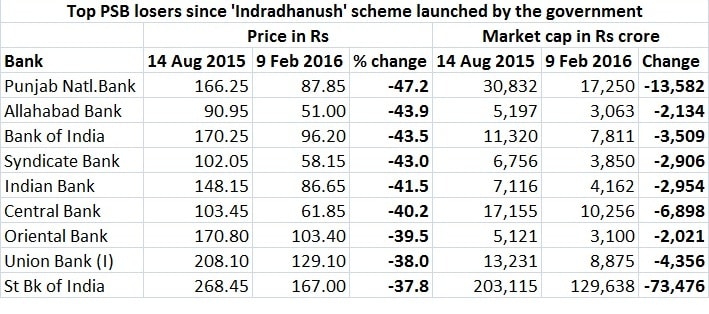 However, no let-off from the rising bad loan menace and persistent slowdown in credit growth fueled wide-spread correction in these stocks. Hence, the resultant investor exit has wiped out aggregate market-cap of Rs 136,661 crore from a total of 23 listed PSU banking stocks in nearly six months period.
As Firstpost pointed out in a recent article, it wouldn't be an exaggeration if one says that India's state-run banks are on the verge of a crisis.
Firstpost is now on WhatsApp. For the latest analysis, commentary and news updates, sign up for our WhatsApp services. Just go to Firstpost.com/Whatsapp and hit the Subscribe button.
Updated Date: Feb 10, 2016 18:31:39 IST