Rotten food on railways: Why improving passenger amenities should be of a priority than train speed for Prabhu
The audit by C&AG found contaminated, recycled and shelf-life expired foodstuff, unauthorized brands of water bottles and much more being sold in trains and at stations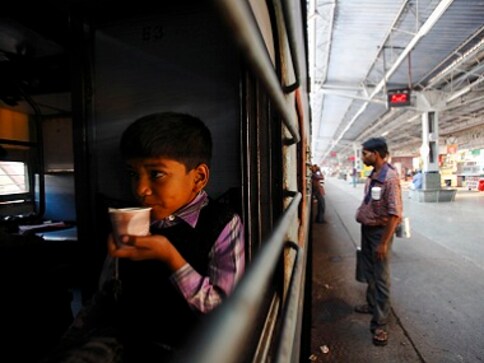 New Delhi: Food from the pantry on long distance train journeys has at best been a forgettable affair for most of us. Many have this vague suspicion that not everything is right with that cutlet and perhaps the piping hot tomato soup the attendant is offering before dinner tastes a bit off. Now, there's proof. According to a scathing audit report by the country's chief auditor, foodstuff "unfit for human consumption" was being sold at 26 stations/trains spread across the country during an audit. That soup was probably made from train water, not purified or filtered water as mandated - the audit found unpurified water being used to make beverages. It also found rats and cockroaches in the pantries, uncovered food lying around and much more. Much of the blame has been laid at the door of unscrupulous catering contractors hired by the Railways, its inability to provide all long-distance trains with pantry cars and frequent changes in the catering policy.
The audit by the Comptroller & Auditor General (C&AG) found contaminated, recycled and shelf-life expired foodstuff, unauthorized brands of water bottles and much more being sold in trains and at stations. At Bokaro Steel City station, the shelf-life of the flavored milk sold had expired; at Agra, catering units were selling 'petha' which later tested positive for fungal growth. Deficiency in quality of malaipaneer, dressed broiler chicken and refined oil were found at another station; a 100 pieces of unsold paranthas – obviously for reuse - were found in the base kitchen of Zonal Railway for catering in train no.12033-34 (Kanpur – New Delhi – Kanpur).
These shocking findings of the 'Performance audit on Catering Services Reports in Indian Railways' by C&AG, was laid in the parliament's ongoing monsoon session. Will the Railways proactively improve the rotten food served on trains and at stations? Will it introduce effective checks and controls for food serving size, quality and availability? Remember, the Railways is now competing with airlines for passengers – with the regional air connectivity scheme UDAN offering attractive fare caps and connections to the hinterland, there is every reason to believe that traditional rail passengers will see merit in flying instead. At a time when its popularity could indeed be under threat, it would be wise for the Railways to quickly improve passenger amenities. The topmost priority should be ensuring the quality of food served at stations and in trains.
In the same report, the C&AG says not only was food sub-standard and hazardous for passengers' health, its audit also found numerous instances when the weight of the food item was less than prescribed. Basically, passengers were charged more for less quantity. Standalone, one may not find a discrepancy of 5 or 10 gram disturbing. But remember, the Railways caters to over 22 million passengers on a daily basis. If even half of this travelling public is eating off the Railway kitchens or at the stations, imagine the kind of money being siphoned off by the unscrupulous contractors, vendors and staff by reducing minimal weight of food items!
As per Para 2806 Indian Railway Commercial Manual, the quantity of cooked rice, rotis, vegetables etc. served should be according to the standard measurement prescribed by Railway Board/Zonal Railways and the price list given out before meals are served on a train indicates the measurement (gram for solid food stuff and ml for beverages like coffee, tea and soup) per unit.
So what did the audit find during inspections between July and October 2016? Food stuff served was less than the prescribed scheduled quantity. So the weight of a piece of paneer was found to be 3 gram against the prescribed standard of 5 gram in one train, a reduction of 40 percent; In the Food Plaza of Gwalior station (NCR), against the scheduled weight of 175 gram, the actual weight of Poori was only 130 gram;  a vegetable sandwich was lighter by 25 gram at all the six stalls of licensee at Agra Fort; 10 gram had been lopped off from dhokla and bread pakodas sold at Gwalior station. Quantity of ice cream (Vadilal) served was 90 ml instead of contractual quantity of 100 ml, ditto for curd. A sachet of 10 gram tomato ketchup was served instead of 15 gram. A new catering policy will now be implemented by the Railways, says a NDTV report. It is another matter that the same assurance has been given in Lok Sabha months back, by Rail Minister Suresh Prabhu. In a written reply in March 2016, the minister told the house:
1) Rail Budget 2016-17 envisaged that Indian Railway Catering and Tourism Corporation (IRCTC) would begin to manage catering services in a phased manner. The minister also said that that IRCTC would unbundle catering services by creating a distinction between food preparation and food distribution.
2) There will be an addition of 10 IRCTC operated, mechanized and sophisticated base kitchens, extension of e-catering services from existing 45 large stations to all 'A-1' and 'A' class stations, introduction of multi-purpose stalls at stations and exploring the possibility of making mandatory catering services optional in trains.
3) To ensure the desired level of quality in catering services, third party audit has been mandated in the Budget pronouncement. The Budget also provided for availability of children's menu items including baby food, hot milk and hot water in trains as well as at stations.
4) In the same reply, the minister had said 4,969 complaints related to catering services in long distance and premium trains were reported in calendar year 2015. A warning was issued in 1,203 cases, fines were imposed in 2,321 cases and contracts terminated in just one case.
5) Prabhu also spoke of introduction of station-based E-Catering at all A1 and A category stations, introduction of pre-cooked food ('ready to eat' meals) etc.
Not just food, even the linen the Railways provides to its premium passengers is, well, dirty. As per Railway Board instructions, linen provided on trains should be washed after every single use while blankets need to be dry cleaned at least once in two months. During the period of the C&AG review (2012-13 to 2015-16), it was seen that in 14,170 selected coaching depots of nine Zonal Railways, no blankets had been dry washed. Further, except 171 depots of five Zonal railways, even linen had not been sanitized in any of the selected depots.
Perhaps the Railways under Suresh Prabhu needs to get away from its obsession about high speed and bullet trains and also focus on urgently improving passenger amenities in existing trains. After all, more than 22 million Indians use the Railways to reach their destinations daily.
India
A report by the Comptroller and Auditor General of India (CAG) on the Salinity Ingress Prevention Scheme (SIPS) was tabled in the Gujarat Legislative Assembly on Wednesday.
Politics
The performance audit report of the Comptroller and Auditor General of India on capital acquisition in the Indian Air Force pertaining to the purchase of 36 Rafale aircraft by the Indian government from the France government, was tabled at last in the Parliament on Wednesday.
India
Public accounts watchdog CAG on Friday pulled up the Defence Ministry on the issue of ammunition management in Army.