Rollback of China tariffs faces fierce opposition in White House
By Heather Timmons and Jeff Mason WASHINGTON (Reuters) - An agreement between the United States and China to roll back existing tariffs as part of a 'phase one' trade deal faces fierce internal opposition in the White House and from outside advisers, multiple sources familiar with the talks said. The idea of a tariff rollback was not part of the original October "handshake" deal between Chinese Vice Premier Liu He and U.S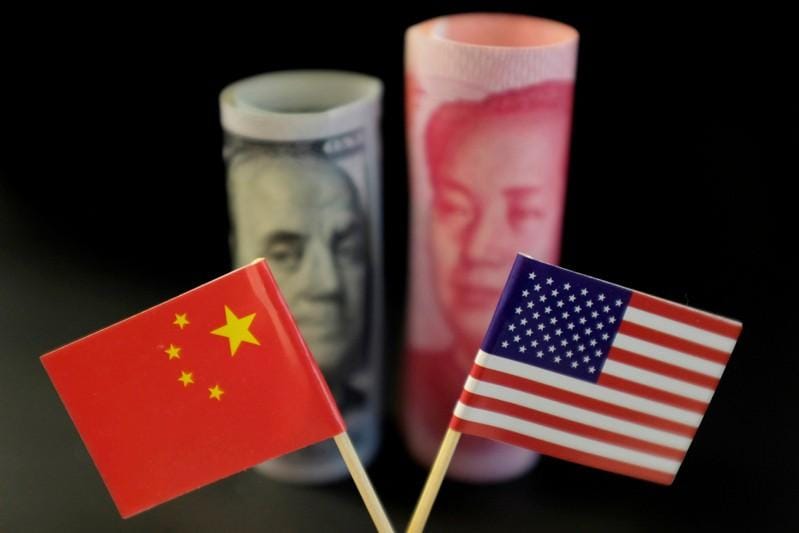 By Heather Timmons and Jeff Mason
WASHINGTON (Reuters) - An agreement between the United States and China to roll back existing tariffs as part of a "phase one" trade deal faces fierce internal opposition in the White House and from outside advisers, multiple sources familiar with the talks said.
The idea of a tariff rollback was not part of the original October "handshake" deal between Chinese Vice Premier Liu He and U.S. President Donald Trump, the sources said.
Chinese officials said earlier on Thursday that tariff reductions had been agreed, and a U.S. official confirmed that was the case early Thursday afternoon.
But there is a divide within the administration over whether rolling back tariffs will give away U.S. leverage in the negotiations, current and former administration officials said.
The Chinese Communist Party is trying to "re-trade" the agreement, said Stephen Bannon, former White House adviser. He added that rolling back earlier tariffs "goes against the grain" of the original October agreement.
"There's nothing that Trump hates more" than someone backtracking on a deal, he said.
No one inside the White House would go on the record to confirm the division, and the United States Trade Representative's office has not commented on whether or not there will be tariff rollbacks.
This is "very like" Beijing, said Christian Whiton, a former adviser in the Trump administration on East Asia issues. China's Communist Party is a using a "hyper-aggressive negotiation strategy of trying to redefine reality," he said.
"At the end of the day, Trump is the original hawk" on China trade, said Whiton. "I would be very surprised" if he agreed to this.
(Reporting by Heather Timmons and Jeff Mason; Editing by Chizu Nomiyama and Dan Grebler)
This story has not been edited by Firstpost staff and is generated by auto-feed.
Find latest and upcoming tech gadgets online on Tech2 Gadgets. Get technology news, gadgets reviews & ratings. Popular gadgets including laptop, tablet and mobile specifications, features, prices, comparison.
Business
By Sinéad Carew NEW YORK (Reuters) - Wall Street gained ground on Friday with upbeat earnings reports helping to drive optimism about the economy even as investors weighed a current surge in virus cases against hopes for successful COVID-19 vaccines. After a volatile trading week where the market was whipsawed between hopes and fears around the virus, Cisco Systems Inc led gainers among the S&P 500 after its quarterly report showed a work-from-home driven surge in demand. While the network gear maker jumped 7%, Walt Disney Co rose 2% as its rapidly growing streaming video business, and a partial recovery at its theme parks tempered its quarterly loss.
World
PARIS (Reuters) - The man suspected of knifing to death three people in a church in the French city of Nice had on his telephone pictures of the man who beheaded a middle school teacher near Paris 13 days earlier, prosecutors said on Friday. The discovery of the photos on the phone of 21-year-old Tunisian Brahim al-Aouissaoui, who was shot and wounded by police in the Oct.
Business
By David Randall NEW YORK (Reuters) - As Treasury yields rally to multi-month highs, some investors are gauging how a more sustained rise could impact equity markets. Yields on the 10-year Treasury, which move inversely to bond prices, rose to a seven-month high of 0.97% in the past week on hopes that breakthroughs in the search for a COVID-19 vaccine would eventually translate to a boost in economic growth.