Reviving growth: It's time for Narendra Modi govt to spend; fiscal deficit is not a holy cow
With some inspired but careful tax breaks and spending measures before and during the next budget, the government may yet salvage its reputation just in time for elections due in 2019
The finance minister's job is never an easy one. For Arun Jaitley, the situation is extra tough. His more-than-broad hint that the government is readying for a growth stimulus came not a day soon. Hours after Jaitley's statement, the US Fed officially signalled the definitive end of a nearly decade-long easy monetary policy by announcing an imminent reversing of bond buying. We are living in a global economy where when the US sneezes, the world catches a cold. An ease of foreign fund inflows into the Indian market may only be a sobering signal from outside compounding a domestic malaise.
The problem for the Narendra Modi-led NDA government is that for one that rode to power on ending corruption, black money and what was then called "policy paralysis", it has tied itself up in knots with its bold move to demonetise high-value currency notes and then following it up with an epoch-making, but badly spluttering, introduction of a nationwide goods and services tax (GST) regime. From farm and industrial workers queuing up desperately outside ATM machines to small businesses cribbing on everything from GST rates to computer glitches in e-filing returns to exporters seeing tax refunds amid a strong rupee hurting their trade, the BJP's economic dreams are in a right-royal mess. The next general elections are only two years away, which leaves barely a year for hard decisions.
It does not matter now that reforms in power distribution, petroleum prices, telecom spectrum allocation and coal linkages for power plants were part of an orderly long-term effort to boost investment. What matters now is meaningful growth. As the controversially departed RBI governor Raghuram Rajan said recently there are one million workers entering the labour market every month. Where are the jobs? The rough asking rate of 10 million jobs is not easy at all.
The time is now for radical solutions but the woes are not just in the hangover of demonetisation and the GST conundrum. The crushing burden of bad loans piled up in the public sector banking system makes it difficult for banks to lend and revive growth. A recent estimate by ratings firm Fitch puts India's capital needs to shore up wobbling banks at Rs 400,000 crore. Again, a new bankruptcy regime put in place to help debt-hit companies wind down is too text bookish to cut ice in a system where jobs are needed fast and it is the taxpayer who funds the banks.
All the bravado that accompanied a state of denial on demonetisation came apart at the seams as the April-June GDP growth rate slumped to 5.7 percent (In an economy elegantly marketed as the world's fastest growing major economy and the next big thing after China!).
The government is now like a batting team in a limited-overs cricket match that has lost three quick top-order wickets with not many overs to go. Not playing the shots is not an option anymore. However, here's the good news for those batting in North Block. Inflation is well under control and foreign exchange reserves are looking good at $400 billion. If some fuddy-duddy economist talks of the need for "fiscal consolidation",  now is the time to ignore such copybook fundamentalism. Jaitley has bravely spoken of the need to boost infrastructure funding. Whether it is infrastructure or bank recapitalisation, the government has to move fast and not stick to a slow-grinding routine.
This is not the crisis-ridden monsoon of 1991, when the rupee was hammered, wholesale price inflation touched as high as 17 percent and forex reserves barely covered six weeks of imports. India is not in a balance of payments or fiscal crisis.
It is true that inflation has quickened, but it is well below the danger levels. The government may try to persuade the Reserve Bank of India (RBI) to cut rates but central banks are known to follow their monetary discipline. It is for the finance minister to loosen his purse strings.
Some cribbing by orthodox credit rating agencies or conservative economists may be par for the course. Companies coping with tax reforms are like cars trying to change lanes on highways. You cannot ask them to speed up while they are figuring out new routes. It is best for the government to offer sweeteners -- be that in the form of spending or tax breaks that won't take away some basic structural changes needed in the long run.
An old maxim in economics goes: "Inflation maims but recession kills."
Given the demographic surge in India, it pays to err on the side of employment while keeping en eye on inflation in food and other such essentials. Fiscal deficit is not a holy cow. And recapitalisation of banks is an imperative, though the government must take care to avoid charges of letting go of big-time defaulters.
With some inspired but careful tax breaks and spending measures before and during the next budget, the government may yet salvage its reputation just in time for elections due in 2019.
(The author is a senior journalist. He tweets as @madversity)
Politics
Prasada's induction will further wear away whatever's left of the Congress and the Gandhis in Uttar Pradesh, even if it does not yield dividends for the BJP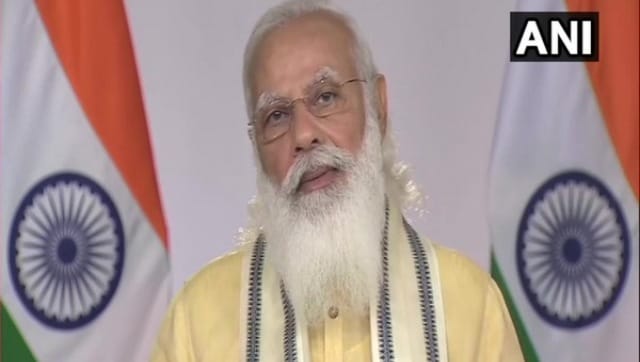 India
While the prime minister's address was no doubt a full-frontal political attack, it was in retaliation to sustained politics of slander
India
Apart from Sibal, G-23 leaders Shashi Tharoor and M Veerappa Moily have also slammed Prasada for switching to the BJP