Results decoder: Kotak Bank good show as provisions fall; South Indian sees stress
Private banks have gained in the recent quarters with their increased focus on low-risk retail lending and gains from their investment portfolios.
Private sector Kotak Mahindra Bank has come with a good set of numbers in the three months ended December, aided by strong growth in other income and a decline in provisions, even as Kerala-based private lender, South Indian bank logged a sharp drop in the earnings evidently hit by rising stress on its books.
On a standalone basis, Kotak Bank has posted a 37 percent jump on its net profit for the quarter ended 31 December at Rs 464.52 crore from Rs 339.98 crore in the corresponding quarter in the previous year. The numbers came better than Rs 439 crore estimated by an analyst poll by CNBC-TV18.
The pillars of growth for Kotak Bank in the December quarter was a strong growth in its other income segment, a mix of gains from treasury operations and fee income, which grew by as much as 65 percent to Rs 494 crore from Rs 299 crore during the quarter on a year-on-year basis.
Most banks, in the December quarter, have marked an improvement in their treasury gains on account of the falling bond yields. Bond prices move up when yields fall.
Net interest income, the interest earned minus interest expended, grew by 16 percent to Rs 1059.44 crore from Rs 912.74 crore. Provisions, mainly the money set aside to cover bad loans more than halved to Rs 29.92 crore from Rs 70 crore in the year-ago quarter.
Under norms, banks need to set aside money in the form of provisions to cover their bad loans and any depreciation on their investment portfolio.
Kotak Bank has largely maintained its healthy asset quality trend in the December quarter as well with gross non-performing assets (NPAs), as a percentage to total loans, declining to 1.87 percent from Rs 2.01 percent in the corresponding quarter last year. In absolute terms, gross NPAs, however, inched up to Rs 1,219.86 crore from Rs 1,076.18 crore.
Kotak Bank is in the process of acquiring ING Vysya Bank in an all-stock deal.
Recently, the shareholders of both entities had approved the merger. Once the deal takes place, the combined entity will become the fourth largest private bank in the country, replacing YES Bank, with a combined balance sheet size of Rs 1.60 lakh crore.
On the other hand, South Indian Bank, a medium-sized private bank based in Kerala, registered a drop in its net profit to Rs 88 crore from Rs 141 crore in the corresponding period in the previous year, burdened with heavy stock of bad loans and corresponding provisions on its books.
Gross NPAs as a percentage of the loan book grew to 1.8 percent from 1.66 percent in the year-ago period. In absolute terms, the gross NPAs grew to Rs 661 crore from Rs 551 crore. Provisions rose to Rs 86 crore from a mere Rs 2 crore in the corresponding quarter last year.
Broadly, private sector banks have gained in the recent quarters with their increased focus on low-risk retail lending and gains from their investment portfolios.
State-run banks, on the other hand, continue to be under pressure with their exposure to high-risk loans to small and medium companies and large corporations, which are yet to recover from the ill-effects of a prolonged economic slowdown.
But the scenario is likely to change going ahead with the macro-indicators pointing towards early signs of revival in economic activities on the ground.
If the Narendra Modi government fulfills its promise of faster clearances of projects and more leeway for foreign investments in capital-starved segments, that could result in overall revival in the cash flows of companies and, in turn, improvement in the asset quality scenario of banks.
This will, however, take place over a period of time, say three-to four quarters, before reflects on the ground.
For now, the pain remains on state-run banks' balance sheets while private banks have largely played safe.
(Data support from Kishor Kadam)
Find latest and upcoming tech gadgets online on Tech2 Gadgets. Get technology news, gadgets reviews & ratings. Popular gadgets including laptop, tablet and mobile specifications, features, prices, comparison.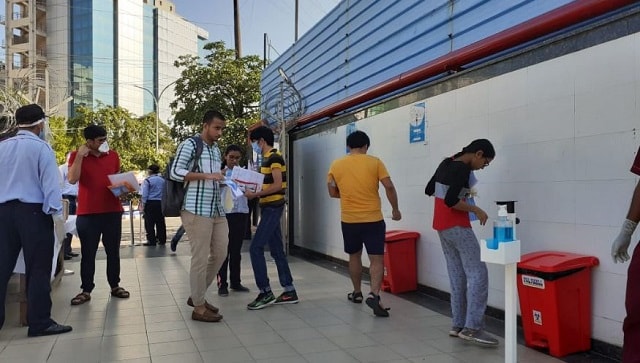 India
The top scorers from Delhi are Chirag Falor, Gurkirat Singh, Laksh Gupta, Nishant Aggarwal and Tushar Sethi. They are among the 24 candidates who have scored 100 percentile in the exam
India
The second rank is secured by Sangeeta Raghav and the third position is bagged by Jyoti Sharma. These candidates have been selected for the post of deputy collector
India
This year, the exams were conducted in the assignment format due to the COVID-19 pandemic