Rental firm walks away from Tesla order after quality dispute
FRANKFURT (Reuters) - Car rental company Nextmove has walked away from a 5 million euros ($5.55 million) order for 85 Tesla Model 3 electric vehicles following a dispute over how to fix quality issues, the German company said on Friday. Nextmove said it had ordered 100 electric vehicles in 2018 but raised objections over quality and finish after taking delivery of the first 15 Model 3 cars earlier this year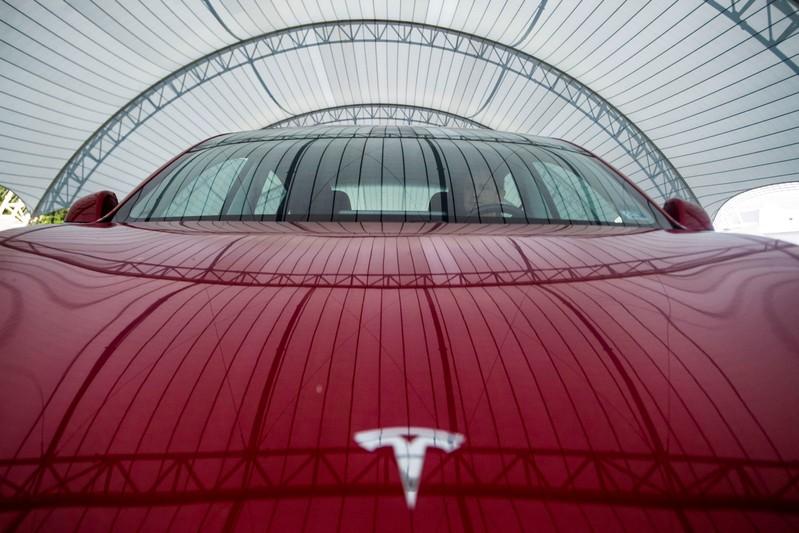 FRANKFURT (Reuters) - Car rental company Nextmove has walked away from a 5 million euros ($5.55 million) order for 85 Tesla Model 3 electric vehicles following a dispute over how to fix quality issues, the German company said on Friday.
Nextmove said it had ordered 100 electric vehicles in 2018 but raised objections over quality and finish after taking delivery of the first 15 Model 3 cars earlier this year.
The rental company said following a dispute over how to resolve the quality shortcomings, Tesla triggered a refund clause but Tesla disputes that it cancelled the order.
Tesla said Nextmove chose not to take delivery of the cars.
Nextmove said its Model 3 vehicles had paint defects, faulty wiring, scratches on the dashboard, faulty wheels and condensation in the headlights.
Offering faulty vehicles to rental customers would compromise Nextmove's reputation for quality, the German company said.
Tesla said it was in the process of resolving the issues and had provided replacement vehicles.
"We believe the customer's decision not to take delivery of its remaining Model 3 orders wasn't entirely due to quality issues, but was largely influenced by their frustration with an unrelated dispute from earlier in the year," Tesla said in a statement, without elaborating further.
Tesla said any customer who was unhappy with their car could return it for a full refund up to seven days after purchase.
It said customer satisfaction data showed that German customers have largely been satisfied with their vehicles, including the quality and condition of their cars upon delivery.
Tesla is counting on the Model 3 to help the company become profitable on a sustainable basis and transform it from a niche player to a heavyweight in the automobile industry. But Elon Musk has warned the company faced "manufacturing hell" as he has tried to scale up production of the Model 3.
Bloomberg news was first to report the cancellation of the 85 vehicles.
($1 = 0.9016 euros)
(Reporting by Edward Taylor; Editing by Jan Harvey and Jane Merriman)
This story has not been edited by Firstpost staff and is generated by auto-feed.
Find latest and upcoming tech gadgets online on Tech2 Gadgets. Get technology news, gadgets reviews & ratings. Popular gadgets including laptop, tablet and mobile specifications, features, prices, comparison.
World
By Crispin Kyala KAMITUGA, Democratic Republic of Congo (Reuters) - Kinyenye Furaha passed out from shock when he realised a mine collapse in eastern Congo had buried more than 50 fellow miners including his brother, he said on Sunday, as the hunt continued for bodies two days after the disaster. Miners searching the site near the town of Kamituga in Democratic Republic of Congo have so far recovered 18 bodies, after heavy rains on Friday caused the artisanal gold mine to cave in, burying those working below ground.
World
By Tom Balmforth and Maria Tsvetkova MOSCOW/TOMSK (Reuters) - The ruling United Russia party looked set for an array of local election wins on Sunday, but was also on course for some setbacks as stricken Kremlin critic Alexei Navalny's supporters made rare gains in city politics in Siberia. The local elections were closely watched for signs of protest voting against the ruling party that backs President Vladimir Putin amid frustrations over years of falling wages and the government's handling of the pandemic. The votes also followed the suspected poisoning by a rare nerve agent of opposition politician Navalny who had promoted a tactical voting strategy to hurt United Russia and fielded dozens of candidates for city councils in Siberia
World
By Linda Sieg TOKYO (Reuters) - Japanese Chief Cabinet Secretary Yoshihide Suga, a longtime loyal aide of outgoing Prime Minister Shinzo Abe, was poised to win a ruling party leadership election on Monday, virtually ensuring that he replaces Abe this week in the nation's top job. Suga, 71, who has said he would pursue Abe's key economic and foreign policies, is expected to get the bulk of votes from 394 Liberal Democratic Party (LDP) lawmakers and is likely to win a majority of 141 votes from the party's local chapters.