Reliance Jio extends offer: Incumbent telcos feel the heat, customers to benefit
Post the announcement, Idea Cellular, Bharti Airtel and Reliance Communications (RCom) lost 2.2% - 4%. The BSE Telecom index slipped 0.5% in late noon deals
New Delhi: In a widely expected move, Reliance Jio has extended free voice, data, video and wi-fi services for three more months. This means existing as well as new customers coming on to the RJio network will get the freebies till 31 March, 2017 now instead of having to begin paying from 1 January the same year. This brings three cheers to customers, especially data crazy customers who get a bonanza but brings grief to incumbent telecom companies which are already struggling with falling revenue market share ever since RJio entered the market in September this year.
"I want to announce today that starting 4 December, every new Jio user will get Jio data and voice, video and full bouquet of content free till 31 March, 2017," Reliance Industries' Chairman Mukesh Ambani said in his speech earlier today,
This 'Jio Happy New Year Offer ("JNO")'offers subscribers certain special benefits in Data, Voice, Video and the full bouquet of Jio applications and content – all of these services will now be free till 31 March, 2017. There is only one caveat: considering 20 percent subscribers use "disproportionately more" data than 1 GB each day, RJio has limited the high-speed-data quantity to 1 GB per day per user, following which the speed will be reduced to 128 Kbps.
In his speech, Ambani also claimed that the company has acquired over 50 million customers in just about three months. According to CNBC-TV18, this number means RJIo already has more customers than the data customers (3G and 4G) of the largest Indian telco Bharti Airtel which stands at 41 million and also leaves behind Idea Cellular at 30 million data customers.
It is no wonder then that post the announcement by Ambani, telecom stocks took a beating on Dalal Street.
Post the announcement, Idea Cellular, Bharti Airtel and Reliance Communications (RCom) lost 2.2 percent - 4 percent. The BSE Telecom index slipped 0.5 percent in late noon deals, as compared to the S&P BSE Sensex that was trading nearly flat.
In the September quarter this year, market leader Bharti Airtel had a third of the market in terms of revenue at 32.9 percent, followed by Vodafone India at a fifth or 23.4 percent and Idea Cellular at 18.8 percent. So between them, the three largest telcos had three fourths of the domestic telecom market by revenues. This is the chunk which is now feeling threatened due to RJio's entry and extension of the free offers.
Why are incumbent telecom companies worried? Well, as Deepti Chaturvedi and Akshat Agarwal of brokerage CLSA said in a note to clients, demonetisaton and the increasing competition from RJio is impacting revenues of the big three telcos. And these two events have mean its forecast for other telecom operators gets downgraded by 1-8 percent over FY17/19. The downside is more in data revenues compared to voice.
"For incumbents while we lower voice revenues by 1 percent in FY17, cuts in FY18-19 are lower as we expect this to normalise as cash comes back in the system. However we cut our data revenue forecasts by a sharper 5-8 percent in FY17 with lower 3G/4G adoption on back of twin risks and expect lower 2-3 percent hit in FY18-19. On a consolidated basis, we lower our FY17-19 revenue estimates by 1-5 percent, Ebitda estimates by 1-8 percent and earnings by a sharper 3-20 percent."
Analyst S P Tulsian pointed towards the impact of RJio entry on incumbent telcos by a simple observation: The big three have begun either monetising their tower assets or have initiated talks for monetisation as the revenue growth potential tapers off, thanks to increasing competition from RJio's free offerings.
In a note to clients, brokerage IIFL said it expects "suppressed valuations for Bharti and Idea" until R Jio's commercial launch. Now that this has been put off by three months, will the pain be more for these incumbent telcos?
IIFL analysts say Bharti and Idea would be influenced by the following factors:
1) Vodafone's aggressive rollout after the recent spectrum acquisition and equity infusion, which would arrest/reduce the extent of Bharti's and Idea's outperformance (compared with the past 18 months).
2) Continued market share gains from smaller telcos
3) We understand that subscribers have topped up their accounts (more than the usual run rate) after the government's demonetisation move. This would improve the working capital position (currently WC negative by 25-30 days), though this is difficult to quantify.
4) Jio is likely to extend its free trial by 1-2 months (today it announced extension by three months). "We view this as a negative for incumbents. We believe that until clarity emerges on Jio's commercial plans, Bharti and Idea are likely to trade at the current suppressed valuations. However, we are positive on their long-term outlook considering adequate capacity and continued RMS gains from smaller telcos that are hampered by lack of data spectrum," IIFL said.
(Disclosure: Reliance Jio is owned by Reliance Industries, who also own Network18, the publisher of Firstpost and Tech2)
Find latest and upcoming tech gadgets online on Tech2 Gadgets. Get technology news, gadgets reviews & ratings. Popular gadgets including laptop, tablet and mobile specifications, features, prices, comparison.
India
It was not just the fact that Koshyari chose to make an intervention, his manner of doing so was immeasurably crass and was a direct assault on constitutional values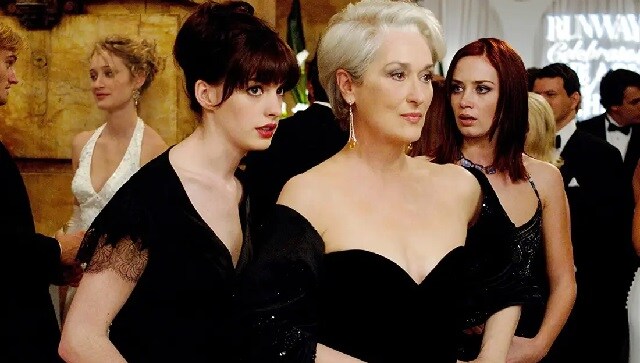 Entertainment
Despite having two women at its centre, The Devil Wears Prada ended up reaffirming and perpetuating harmful gender stereotypes for the most part.
World
Nawaz Sharif remains the most popular leader in Punjab, the province that functions like the controlling authority of Pakistan