Reliance Industries to complete Rs 2 lakh cr worth projects; 4G launch by December
RIL plans to complete projects worth over Rs 2 lakh crore in the core oil and petrochemical businesses over the next 12-18 months.
Mumbai: Reliance Industries will begin commercial operations of its much-awaited 4G telecom services by December, while it plans to complete projects worth over Rs 2 lakh crore in existing and new businesses over the next 12-18 months, chairman Mukesh Ambani said today.
Looking to reap full benefits of these investments from the financial year 2016-17 onwards, Ambani said RIL would have a unique portfolio of globally competitive petrochemical and refining business with a new age India-centric consumer business with very high growth potential.
"This will place Reliance in a select group of most valuable companies in the world," he said, addressing
shareholders at the Annual General Meeting of Reliance Industries Ltd (RIL), which also operates the world's largest crude oil refining.
The billionaire industrialist also unveiled a roadmap focused on adding capacity in core businesses and expanding rapidly in new ventures like retail and telecom.
Over a third of Ambani's more-than-one-hour-long speech was focussed on RIL's plans to use the 4G or fourth-generation telecom technology, also known as LTE or Long-Term Evolution, to offer wireless broadband as well as voice services.
Targeting 100 per cent national coverage within the next three years, Ambani said the 4G LTE smartphones will be brought to India at a price less than Rs 4,000 by December.
These phones will beam HD television, video on demand, music, news and magazines, he added.
The group's telecom arm Reliance Jio has applied for a pan-India cable television multi-system operator (MSO) license and plans to enter into broadcast TV distribution, Ambani said.
Besides, it has has partnered State Bank of India to apply for a payments bank license.
Reliance Jio, which had acquired Infotel Broadband Services within hours of that company winning nationwide wireless broadband licenses five years ago, has become the first operator to achieve wireless coverage far in excess the rollout obligation as per its license conditions, Ambani said.
Stating that the company was in the pre-launch testing and stabilization phase of the large and complex network, Ambani said extensive beta launch involving "millions of friendly customers across all markets" will be initiated over the next few months.
"This beta program will be upgraded into commercial operations around December of this year," he said.
"I am glad to announce that financial year 2016-17 will be the first full year of commercial operations for Jio."
Ambani said Reliance is investing over Rs two lakh crores in building new facilities and creating new businesses that will come to fruition in the next 12 to 18 months.
"These investments will build new capacities, strengthen our global positions, improve the return on capital and make our existing refinery and petrochemical businesses among the most competitive in the world," he said.
Ambani said Reliance's capital expenditure in 2014-15 was in excess of Rs 1,00,000 crore, the highest by any Indian company ever in a year.
The firm paid Rs 18,746 crore of Customs and excise duty during the year, almost 5 per cent of India's total revenues from this category. Also, it's the highest income tax payer in the private sector, paying Rs 6,124 crore.
Speaking on individual businesses, he said the eastern offshore KG-D6 oil and gas block has produced nearly 2.5 trillion cubic feet of natural gas and about 27 million barrels of crude oil since starting production six years ago, substituting over USD 34 billion of energy imports.
Ambani said domestic E&P business "generated shareholder returns lower than the cost of capital", less than 12-16 percent assured in other domestic infrastructure sectors such as roads, fertilisers and power.
"It's important to highlight that there is value yet to be unlocked from 5-6 tcf of resources discovered at various stages of development, appraisal and approval," he said.
He added that RIL was "constructively engaged with the government to resolve legacy issues in a timely manner with regard to our rights to cost recovery, gas pricing and other issues to create value for the nation and our shareholders".
"In this context, it is important to follow the intent, purpose and commitment of the NELP Policy i.e maximising E&P activities, getting the risk reward balance right and providing marketing and pricing freedom. This will provide predictability and certainty to investors," he said.
He hoped that the government will address policy issues in the larger interest of attracting investments in the critical E&P business.
"Though E&P today may be very small in RIL's overall portfolio, it has a high latent value-creation potential.
This is a potential that I am personally committed to unlock and create value for all of us, in line with the government's vision of reducing import dependence and increasing domestic production," he said.
Close on the heels of commissioning a fully automated polyester plant at Silvassa with a capacity of around 4,00,000 tonnes, RIL has brought on stream 1.15 million tonnes per annum of PTA capacity.
"We will be ready for start-up of another 1.15 million tonnes per annum of PTA capacity at Dahej by October this year. With this, our total PTA capacity will be 4.5 million tonnes per annum, making us the fifth-largest PTA producer in the world," he said.
Also, PX plant capacity will be doubled to 4.2 million tonnes per annum by the end of the fiscal, making RIL the second-largest PX producer globally.
In plastics business, it's building a 1.5 million tonnes ethylene cracker at Jamnagar which will start operations in the third quarter of the next fiscal.
Buoyed by deregulation of diesel prices, the company plans to re-enter auto fuel retailing business, Ambani said.
Six years ago, RIL had shut its 1,400 petrol pumps after it could not compete with subsidised fuel sold by public sector companies.
"We plan to re-commission the entire network of petroleum retail outlets by the end of 2015-16. Currently, close to 400 outlets are operational," he said.
At the Jamnagar refinery, RIL is putting up a coke gassification facility, which will convert low value petroleum coke into a clean energy source for the refinery complex.
The project will be commissioned in phases starting from early 2016. Upon completion, the project is expected to save nearly $1.5 billion annually by substituting imported LNG with the gas produced by it, he said.
(Disclosure: Firstpost is part of Network18 Media & Investment Limited which is owned by Reliance Industries Limited.)
PTI
Business
Lijjat's commitment to women's empowerment reflects its inconspicuous beginnings, when seven housewives gathered on a Mumbai rooftop one sunny morning to prepare four packets of papads. They ran the business on a shoestring budget, with annual sales in 1959 amounting to just over Rs 6,000, a fraction of their current revenue.
Arts & Culture
Xu frequently uses the lion in his work to exemplify his faith in the rise of the Chinese nation.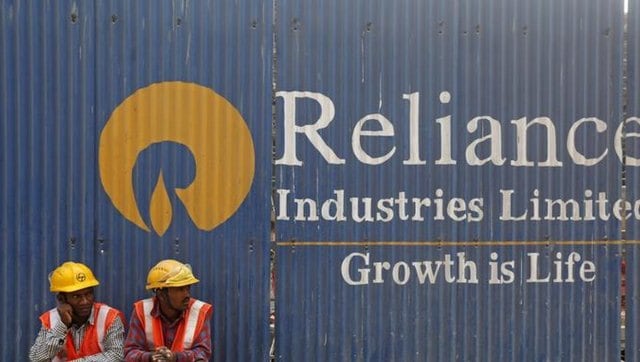 India
The supplies are being made to states like Gujarat, Maharashtra and Madhya Pradesh, which will provide relief to over 70,000 critically-ill patients every day