Reliance Industries' partner Niko puts KG-D6 stake for sale
Financially strained Niko had in February last year announced plans to sell its 10 percent stake in the KG-DWN-98/3 or KG-D6 block to pay off $340 million debt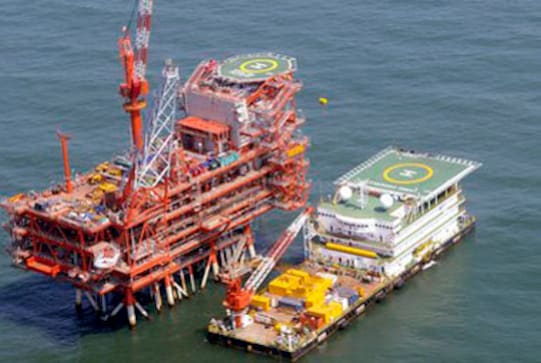 New Delhi: Reliance Industries' partner Niko Resources of Canada has put on sale its 10 percent stake in the flagging KG-D6 gas block off the east coast.
Financially strained Niko had in February last year announced plans to sell its 10 percent stake in the KG-DWN-98/3 or KG-D6 block to pay off $340 million debt. It had planned to sell off the interest by 30 April, 2015 but later extended it to 31 May and then to 15 September, 2015. It called the sale off apparently because it could not find a buyer.
The firm's interim Chief Executive Robert Ellsworth said the company had "re-launched the sales process for our interest in the D6 Block" due to "favourable developments with respect to natural gas pricing applicable to the company's undeveloped deep water fields".
While gas from existing producing fields are priced at rate equivalent to price prevailing in gas surplus economies like Russia, US and Canada, the government has given a pricing freedom subject to a cap for undeveloped gas finds in deep-sea blocks.
KG-D6 has several undeveloped gas discoveries.
"As previously communicated to shareholders, the company is in the midst of a strategic plan to enhance the value of our core assets with the objective of ultimately monetising these assets for the benefit of the company's stakeholders,"
he said in the earnings statement for the quarter ended September 30.
RIL is the operator of KG-D6 block with a 60 percent interest, while BP plc of UK owns 30 per cent stake.
Ellsworth said Niko believes the KG-D6 block offers "a number of compelling attributes to potential bidders" but the sale "will inevitably be complicated" by the $1.55 billion claim made by the government against the three firms in respect of gas reckoned to have migrated from neighbouring blocks of ONGC into D6.
"While we believe the D6 Block offers a number of compelling attributes to potential bidders, the sales process will inevitably be complicated by the recent claim made by the Government of India against the contractor group of the D6 production sharing contract in respect of gas said to have migrated from neighbouring blocks to the D6 Block," he said.
Niko, he said, believes the contractor group is not liable for the amount claimed and "is working with the contractor group to defend against the claim by invoking the dispute resolution mechanism in the D6 Block production sharing contract."
RIL says the government's claim was based on misreading and misinterpretation of key elements of the production sharing contract and is without precedent in the oil and gas industry, anywhere in the world.
"The liability of the contractor has not been established by any process known to law and the quantification of the purported claim is without any basis and arbitrary," it had stated after the government slapped a $1.55 billion demand notice for "unfairly enriching" by producing ONGC's share of gas.
(Disclosure: Firstpost is part of Network18, owned by Reliance Industries Limited.)
Tech
Jio and Google said the companies have made 'considerable progress' towards launching the smartphone
India
Ever since the COVID-19 outbreak, there has been a substantial increase in demand for single-use plastic items such as PPE, masks, gloves, etc and their incineration adds to already high pollution levels