Red eye flights: IndiGo starts from 15 Oct, SpiceJet plans for a few this winter
Late flights are popularly known as 'red eye' flights in the United States since these operate from one coast to the other and passengers arrive early morning, sleep deprived and red eyed.
New Delhi: India's LCCs finally see some merit in launching late night/early morning domestic flights. This festival season, IndiGo is launching 42 new domestic weekly flights which will operate at late hours while SpiceJet is also planning some late flights during the upcoming winter schedule.
IndiGo will start these flights from 15 October between Delhi-Mumbai, Delhi-Bengaluru and Delhi-Chennai sectors. Flight 6E 154 from Mumbai to Delhi departs a 2 am in the morning of 16 October and its scheduled landing time is 4.10 am - this flights seems to be competing with a Jet Airways flight which departs Mumbai at 2.30 am and lands in the National Capital by 4.35 am. As of now, Jet is the only airline with any late domestic connections. Jet Airways currently operates 8 late night/early morning flights. A spokesperson said fares were generally lower for these flights but did not provide specific details.
Late flights are popularly known as "red eye" flights in the United States since these operate from one coast to the other and passengers arrive early morning, sleep deprived and red eyed. Some of the flights IndiGo and SpiceJet are planning may qualify for this nomenclature. Red eye flights typically offer 40-50 percent lower fares but it remains to be seen if either of the Indian LCCs can price in such significant discounts into their late night offerings.
According to travel portal ixigo, a seat on the Bengaluru-Delhi IndiGo flight on 15 October, which is scheduled to depart at 10.15 pm and arrive at 00:55 am, was about 20 percent cheaper compared to a later flight on the same leg by the same airline. But the Mumbai-Delhi flight departing at 2 am was priced at no real significant price difference from from late morning flights on 16 October. So not really much difference as of now for the flyer. The Jet Airways 2.30 am flight from Mumbai was available for about 20 percent less compared to the price on a late morning flight.
ixigo's CEO Aloke Bajpai pointed out that this could be a smart move by IndiGo to increase capacity during the upcoming peak travel season without having to fight for slots at prime airports during the day time. "They want to create incremental capacity and it is tough to do so during day time when airport slots are limited. Normally 15 October-12 November is the peak travel season when their day flight prices may have already shot up". Using aircraft late night will also obviously improve the fleet utilisation at IndiGo.
Cleartrip CEO Samyukth Sridharan said red eye flights work only when they are priced significantly lower than day flights. He pointed out that SpiceJet and Deccan had both launched such flights some years aback but with significant price differentials. "Red eye flights increase asset utilisation (aircraft can be used for more hours) and this helps the airline in lowering its cost per available seat kilometer. For passengers, the benefit lies in significantly cheaper fares."
Sridharan pointed out that this is a good time for airlines to launch red eye flights since capacity addition has been lagging demand. For the first eight months of this calendar year, domestic passenger numbers increased by about 20 percent but capacity addition has been much slower.
Before the arrival of LCCs, a decade back, Air India was also offering domestic leg of some international flights for very low fares late night/early morning. But as LCCs arrived and unleashed significantly lower fares during day time, Air India discontinued these late night/early morning flights.
There has been some internal talk of resuming red eye domestic flights but no decision has been taken as yet by Air India. AirAsia India has earlier spoken of launching late night flights from Delhi but the airline's spokespersons remained unavailable today for comments on this.
India
Badal and his party members were protesting to demand the removal of health minister Balbir Singh Sidhu and demanded a probe by the CBI into alleged irregularities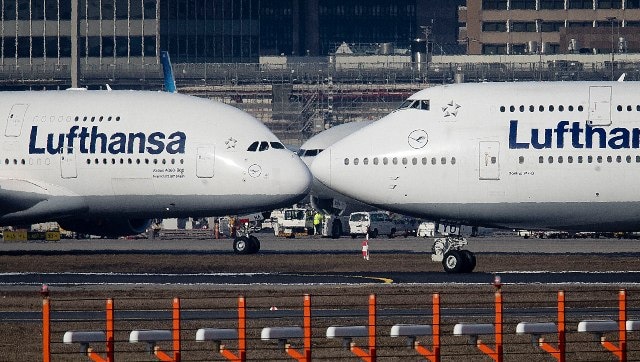 World
With this, an epic 16-year-old dispute over support for airplane makers appears to be heading for an end, at least for now