Real Estate slowdown: When to buy your house and more
A ready-for-possession property is the safest bet for end-users.
Only investors, not end-users should buy a pre-launch property
Most developers sell pre-launch properties at discount because the necessary approvals are not in place. A buyer maybe getting a 20 percent discount, but there is no guarantee of when he will get possession. Moreover developers sell flats in bulk in the pre-launch period to investors who use property as trade-able commodities and sell it when the value has appreciated. The developer, in return, uses the money to fund his near-completion projects, which delays the under-construction building even further. Eg. A builder will only take the token or initial investment amount from the buyer, say Rs 10 lakh. Within three months the price will double and the investor will sell at a 100 percent profit.
Hence buying a property in the launch phase is a safer bet for end-users as all approvals are usually in place and there is more certainty on the delivery of the project. An Economic Times report today says buyers should find out the potential for price appreciation from the pre-launch offer price to the future, consider the track record and reputation of the builder and establish whether the builder has free and clear ownership of the land on which the project is being built.
Uncertainty in expansion plans of corporates slows Blore's office market
Bangalore's office market clocked absorption of around 12 million square feet during FY 2012, translating into an increase of 10 percent over last year but the uncertainty prevailing over the growth and expansion plans of global Corporates has led the office market to witness a slowdown, said a report by realty research firm Knight Frank.
Here are the key takeways:
• The slowdown has been evident since the second half of FY 2012 where a decline of 11% was witnessed in the office space absorbed in Q3 FY 2012 over the previous quarter, which further depreciated by 25% in Q4 FY 2012 over the absorption witnessed in Q3 FY 2012
• The decline in absorption persisted in the new financial year as well and the first quarter of FY 2013 witnessed a drop of 67% in office space absorption, as compared to the absorption in the corresponding period of Q1 FY 2012
• The IT/ ITeS industry which has been responsible for the rise in Bangalore's office market remained the key demand driver for office space, even in the face of the prevailing economic scenario, and was responsible for occupying the greater part of the absorption pie
• Going forward, Bangalore office market will witness cautious delivery of projects in FY 2013 on account of the present economic situation.
DLF aims to garner Rs 3,000 cr from Mumbai land
The country's largest real estate firm DLF today said it is targeting to raise around Rs 3,000 crore from sale of its 17.5 acre prime land in Mumbai and the deal is expected to close this quarter.
DLF had bought this land in 2005 from the National Textile Mills for about Rs 700 crore. It now wants to sell the land as part of its strategy to divest non-core assets to reduce its whopping debt of Rs 22,725 crore. Earlier this week, sources had said that talks with the Lodhas are in advanced stages for a valuation of about Rs 2,700 crore and the deal could be closed shortly.
Godrej Properties announces redevelopment project in Ghatkopar
Godrej Properties, the real estate development arm of the Godrej Group, has, through its wholly owned subsidiary Godrej Projects Development Private Limited (GPDPL), signed an agreement to redevelop a private society owned property in Ghatkopar, Mumbai.
The project, spread over 2.5 acres, will offer approximately 185,000 sq. ft. of free sale area. 139 existing tenants will be rehabilitated as part of this project. GPDPL has signed a development agreement with Mukund Co-operative Housing Society Ltd. for this project.
JSW Steel's Sajjan Jindal settles Napean Sea bungalow deal for Rs 500 cr
In one of the most expensive residential property deals in India, steel tycoon Sajjan Jindal has finally completed the deal to buy Maheshwari House - a sea-facing three-storey bungalow at Napean Sea Road in south Mumbai - by paying around Rs 200 crore to Manoj Maheshwari, an Economic Times report said today.
Last year, Jindal had paid Rs 300 crore to other family members as part of the deal, taking the total value of the deal to Rs 500 crore.
Less speculation key to Chennai realty's affordability
Absence of speculation by investors and the rise in property sales in the affordability segment has made Chennai's residential market quite resilient to the looming threat of global economic turmoil, said a report by property research firm Knight Frank.
Nearly 42 percent of the absorption in FY 2012 has been in range of Rs 25 lakh to Rs 50 lakh,followed by the range of Rs 50-75 lakh at 23 percent. More importantly 14 percent of the residential units launched in FY12 belonged to the Rs 50-75 lakh ticket sizes, catering to the needs of the upper mid-end segment. "The clubbing together of these categories essentially denotes the fact that the affordable and mid-end segment has been responsible for the absorption of total 85 percent of the residential units booked or sold, said Samanthak Das, National Research Head at Knight Frank. Read more here.
Marico buys office premises in Kalina: reports
Marico Group has acquired a new office premises at a cost of Rs 130 crore in Kalina near Bandra Kurla Complex in Mumbai. Reports stated that the company is in process of drawing up plans for best utilisation of space in the existing offices together with the newly acquired space.
IL&FS buys office building in Noida for Rs 200 crore
Private equity fund IL&FS Investment Managers has bought a 300,000 sq ft office building in Noida for Rs 200 crore. The building, Express Trade Tower, which is located in Noida's sector 16-A Film City area, is currently occupied by media company TV 18 group and various consumer companies such as Amway and JC Penny, among others.
Property rally not over, Mumbai at risk: Poll
House prices, which have more than doubled in the past five years, will keep rising this year even as the economy slows, although prices in the country's financial capital, Mumbai, look ripe for a fall, a Reuters poll showed on Tuesday.
The first such survey of 19 property market analysts, consultants, developers and data firms taken over the past few weeks pointed to a median of 7.5 per cent rise in house prices this year in Asia's third largest economy.
This comes despite a slowdown in home sales and a rapid deceleration in economic growth to 5.3 per cent at the latest read, its weakest in nearly a decade, from a nearly 10 per cent pace before the global financial crisis in 2008. Yet the expectation for price rises in cities such as Mumbai coincides with some of the strongest conclusions ever in Reuters housing market polls worldwide that a property market is overvalued. Read more here.
No change in interest rate policy disheartens realty sector
There is once again disappointment from RBI. There was no change in the rates in previous policy announcement and the real estate sector was expecting a rate cut this time.
"Both, the developer community and the home buyers are unhappy with results of the policy and this will affect the already disheartened real estate sector. We don't see any positive policies from government which will boost the real estate sector and economy as well. We keep our fingers crossed and hope the next credit policy will bring some cheer to the industry," Lalit Kumar Jain, Chairman & Managing Director and President CREDAI - National, has said.
Cushman & Wakefield Executive Managing Director, South Asia Sanjay Dutt said RBI maintaining status quo may not be a very positive news as end-users, who have been postponing their purchase decision on account of still high inflation and high interest rates, cannot expect any relief in the near future .
The outlook for the sector remains cautious as persistent high inflation rates are keeping construction costs up, which are not expected to come down in the near future, Dutt added.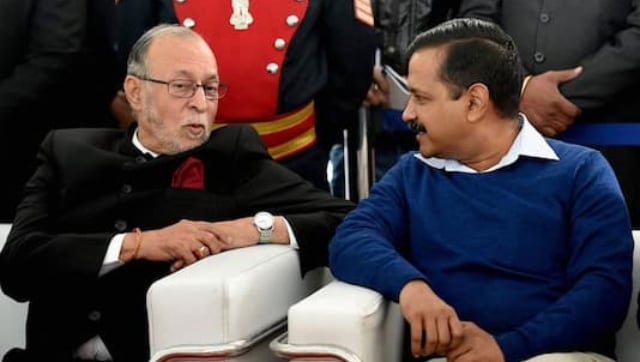 India
The Centre has maintained that the bill is in line with the Supreme Court's July 2018 ruling on the ambit of powers of the L-G and the Delhi government
Politics
She served as Delhi's chief minister for three consecutive terms - from 1998 till 2013
First Cricket News
Pant was named the captain of Delhi Capitals for the upcoming IPL after regular skipper Shreyas Iyer was ruled out of the tournament after he injured his left shoulder during the recently-concluded England's tour of India.