For real estate people, the disturbing thought is: what if the GST tax rate rides up beyond the present taxable rate.
Can the GST rate be lower than the current rate at 15 percent? India's Chief Economic Advisor, Arvind Subramanian, does not think so. So, bust that myth now. The overall impact on the sector will pivot around the GST tax rate post abatement allowed for the Land Value in property transactions states Neeraj Bansal, Partner and Head, Real Estate and Construction sector, KPMG in India.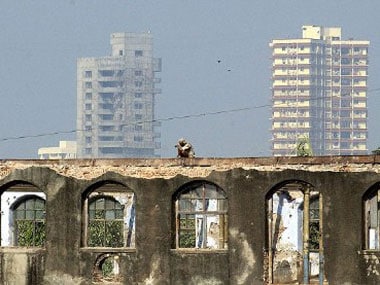 Developers think the final rate of GST would be the answer to what actual benefits of the reduced tax burden may be passed on to the property buyers.
Pankaj Kapoor, MD, Liases Foras, points out a clause in the GST bill which says input tax credit shall not be available in respect of the "goods and/or services acquired by the principal in the execution of works contract when such contract results in construction of immovable property, other than plant and machinery"- this has caused some confusion.
As GST is only applicable to under-construction property, chances of the overall cost of construction increasing for buyers stands more if the rate is higher than current applicable Service Tax rate of 15 percent.
What if a higher percentage is fixed for GST
Two principal queries arise out of this: While various levies would get rationalised how would GST bring rationalisation of prices for consumers?
And would developers be able to restructure the cost of the products in favour of consumers?
Sam Chopra, President Elect- NAR India observes: "GST would also be implemented on the raw materials used by a developer for construction which eventually trickle down to the customer through a higher cost. If at all GST percentage goes higher than the consolidated current rates of 20 percent and becomes fixed, this would not just burden the developer but buyer too, by increased cost and an additional cost of registering the property. Though, this would only happen if the GST percentage is high."
One thing that is loud and clear is the GST would not be homebuyer-friendly as the stamp duty has not been included into it. And, added to that, the absence of tax credit to developers may result in passing on some of the tax burden onto the buyers.
If the rate is higher than the existing cumulative taxes, it will certainly be dampener, remarks Neha Hiranandani, Director, House of Hiranandani, as it will increase the final cost for buying an under construction flat and defeat the purpose of the bill. While the intentions are noble and correct we feel for the bill to be successful all states must implement it together and at the same rate, else it will be cumbersome and bring additional compliance on an already strained sector.
Sanjeev Dhingra, Managing Director, Turtle Group and Dhingra Projects Pvt. Ltd says, "If the rate that is finally settled is higher than the current rates there is bound to be added pressure on the real estate sector which is already reeling under a severe slump. As a domino effect, this could mean a further slowdown in construction activities and added costs being borne by the consumer. Also, important to keep in mind that from what it seems like Stamp Duty remains out of the purview of the GST bill and would still be a considerable cost for the home buyer."
Only if the rate is relatively lower than 15 percent, GST can result in price neutral or lower price for consumer, comments Ankur Dhawan, Chief Business Officer, PropTiger. He thinks if above 15 percent gets decided this will counterpoise any possible gains on incremental credits.
Thus, the home buyer could benefit if the GST rates are moderate.
Incongruities in the GST Bill pointed out by experts
· The Model GST Law restricts credit on goods and services acquired for construction of immovable property (other than plant and machinery). This clause is interpretative which may lead to litigation and result in denial of credits in certain situations - Abhishek Jain, Tax Partner, EY India.
· Capping the rate of tax is good. However, if the rate is increased later then it will prove to be tricky. Duality of tax authorities at state and central level is not a happy situation. If the states continue to levy stamp duty, other local taxes like labour cess and municipal taxes then it will add burden to home-buyers' cost - Niranjan Hiranandani, Founder & MD, Hiranandani Group.
· Now, the major problem foreseen is the lack of co-ordination amongst states. Obtaining unanimity regarding the rate of GST and the IT infrastructural set-up required for sound implementation are the two major concerns - Pankaj Kapoor, MD, Liases Foras.
· For the developer, the aspect of valuation is a matter of concern as currently no deduction is provided under GST for value of land. This can contribute to higher tax burden considering that there is already an additional tax incidence in the form of Stamp duty on value of land - Vineet Relia, Managing Director, SARE Homes.
· Implementation of the bill will not subsume the stamp duty levied by the states, which may increase it from time to time to meet revenue targets thereby pushing costs higher for the buyer - Neha Hiranandani, Director, House of Hiranandani.
· Also, it is very important that GST be implemented at the same rate in all the states to bring in uniformity - Deepak Kapoor, President CREDAI- Western U.P.
· Moreover, there is still ambiguity whether Transfer of Development Rights (TDR) on land will be liable to service tax, and at what rate - Pankaj Kapoor, MD, Liases Foras.
· The sector should be treated separately and abatement should be allowed to calculate GST, so that the net tax incidence does not rise - CREDAI President Getambar Anand.
Still, it can be said that GST would bring about a change in real estate sector at certain layers, but it all depends on the nature of transaction and rate of tax. The stakeholders are hoping for a positive impact of GST with no high fixed percentage tax which could boost the otherwise saddened real estate market.
Firstpost is now on WhatsApp. For the latest analysis, commentary and news updates, sign up for our WhatsApp services. Just go to Firstpost.com/Whatsapp and hit the Subscribe button.
Updated Date: Aug 10, 2016 15:53:47 IST