Reading the tea leaves from Infosys' Q4 flopshow
Infosys, despite a small revival in the last quarter, is back to its lacklustre streak in Q4. Here's what theQ4 numbers suggest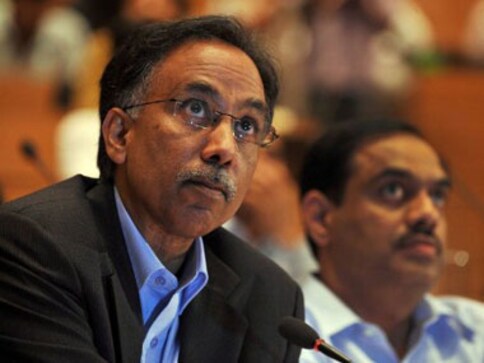 What did Infosys do, or not do, to send its share tumbling by nearly 20 percent in one day? At around 2:30 pm on Friday, the stock lost about Rs 600 wiping out nearly Rs 35,000 crore of investor wealth and crashing the rest of the market with it.
One explanation is that Infosys' results were below expectations, and its guidance for next year is below par. The US dollar guidance is for revenue growth of 6-10 percent in 2013-14, but the company hasn't given any forward-looking statement on earnings as "global economic uncertainties remain challenging for the IT industry," as CEO SD Shibulal put it.
As for the fourth quarter (Q4) results, quarter-on-quarter (that is sequential) growth was 1.4 percent in March 2013 while year-on-year (y-o-y) growth was 9.4 percent in dollar terms. The shocker was in net profit, where the y-o-y growth was negative at -4.1 percent. In the last quarter (ended December 2012), Shibulal had said that "we remain cautiously optimistic about the January-March quarter", but this optimism was obviously misplaced.
The negative profit growth in dollar terms becomes a positive growth of 3.4 percent y-o-y in rupee terms, which shows that the gains are purely from exchange rate movements. This is probably why CFO Rajiv Bansal chose to talk about his "hedging strategy" which helps him "minimise the volatility impact."
Since the company has been wringing its hands about global "uncertainties" for the last several quarters, unlike rivals Tata Consultancy, HCL Technologies and Cognizant, the conclusion is difficult to escape that the company hasn't got its act together as yet.
The surge in optimism in the last quarter, driven largely by providing consolidated results after the Lodestone purchase, seems to have been short-lived.
The following are some key takeouts from Infosys's fourth quarter and annual results for 2012-13 today.
First, the company has missed its annual rupee revenue guidance (Rs 40,352 crore achieved against the Rs 40,746 crore guidance given in January), but it improved on its earnings per share (Rs 164.87 against Rs 162.80 projected earlier).
What this suggests is that business growth is sluggish, but earnings growth is higher purely due to high cash reserves. The company's other income has shot up by nearly 24 percent between 2011-12 and 2012-13, with the latest year's figure standing at Rs 2,359 crore. Over 18 percent of the company's pre-tax income comes from other income. The current profits are thus about living on past incomes.
Second, despite the high component of other income, the company seems keen to hoard the cash. Cash and cash equivalents went up from Rs 22,501 crore to Rs 23,958 crore between Q3 and Q4. At the current market value of Rs 1,35,000 crore (or thereabouts), 18 percent represents cold, hard cash.
Third, staff costs (up 23 percent in rupee terms) are rising faster than revenues (up 19.6 percent), and revenues are rising faster than net profits (up 13.28 percent). This shows that business is hard to come by, and margins are under pressure. The net profit is being shored up by cash investments, and not by growth in the main business.
Fourth, even after having such a huge cash pile, the company remains stingy with dividends. Last year, the company paid out Rs 47 a share as full year's dividend; this year, with even more cash in the bank, it is paying out less at Rs 42, with a final dividend of Rs 27 announced today. This can mean one of two things: the company is still far too conservative with payouts, or it is too worried about lower business in the future that it wants to hoard more cash, or it is about to make some key acquisitions this year. Of these possibilities, only the last one holds out hope for the future.
Infosys 3.0, the strategic plan which is intended to take the company out of plain-vanilla legacy businesses and into higher-value ones, is still not delivering the right results.
Shibulal continues to believe that he is on course for the long term. He said: "We are progressing well on our strategic direction of building a high-quality company which is relevant to our clients. We are making all the investments necessary to differentiate ourselves in the market place...".
The stock market, though, is losing patience. Clearly, Shibulal's prime challenge is to shift the balance from organic growth to inorganic. He has to use his cash more energetically to make high-value acquisitions before the markets give up on Infosys.
(Disclosure: The author owns shares in Infosys as part of his long-term portfolio).
Business
Given that one of the biggest companies in the Indian IT space has lowered its revenue guidance, there's a very good chance Nasscom will be forced to lower its guidance as well.
Investing
Infosys gave lower-than-expected revenue guidance of $7,553 million-$7,692 million, representing a full-year growth of 8-10 percent.