RBI's MDR rationalisation may discourage retailers, undermine digitisation efforts, say experts
If the RBI ensures equitable distribution of MDR margins between all parties, then the acquirers will have enough resources to deploy the expensive POS terminals across all establishments in the country and thus help grow digital transactions
Shortly after the Reserve Bank of India's (RBI) announcement of rationalisation of merchant discount rates aimed at boosting non-cash transactions, payment gateways are crying foul stating that with no equitable distribution of MDR, the slashing of rates will only add to their pain.
The RBI, through a notification dated 6 December, 2017, has revised the Merchant Discount Rates (MDR) for debit card transactions at large format retail stores from 0.5 percent per transaction to 0.9 percent (not exceeding Rs 1,000).
In December 2016, the RBI had brought down the cap on MDR to 0.25 percent for transactions below Rs 1,000, 0.50 percent for those between Rs 1000-Rs 2,000. Earlier, MDR was in the range of 0.75 percent to 1 percent.
According to RBI Deputy Governor B P Kanungo, the move is aimed at increasing the stagnant debit card transactions but will also make sure that the acquirers get sufficiently compensated for investing in the infrastructure, a PTI report said.
In the modern day digital economy, there is no validation for the charges that are being levied for debit card transactions to this extent, especially when we consider that UPI transactions are free and IMPS, NEFT & RTGs transactions cost next to nothing, said experts.
While the RBI has mentioned in its circular that the rates have been 'rationalised' to increase the acceptance of debit cards by a wider set of merchants, the increase in the rates and the high cap set defeats the purpose as this increases cost to merchants by almost double, said Kumar Rajagopalan of Retailers Association of India.
With the MDR in countries like China at only 0.2 percent, the move favours banks and card companies such as Visa and Master Card and is detrimental to the interest of digital economy, merchants as well as consumers, who often end up bearing the burden of such increases, Rajagopalan said.
New MDR rates which will come into effect from 1 January 2018
 The maximum MDR for debit card transactions shall be as under
Sr. No
Merchant category
Merchant Discount Rate (MDR) for debit card transactions (as a % of transaction value)
Physical POS infrastructure including online card transactions
QR code-based card acceptance infrastructure
1
Small merchants (with turnover upto ₹ 20 lakh during the previous financial year)
Not exceeding 0.40% (MDR cap of ₹ 200 per transaction)
Not exceeding 0.30% (MDR cap of ₹ 200 per transaction)
2
Other merchants (with turnover above ₹ 20 lakh during the previous financial year)
Not exceeding 0.90% (MDR cap of ₹ 1,000 per transaction)
Not exceeding 0.80% (MDR cap of ₹ 1,000 per transaction)
Source: RBI
How a MDR works
MDR is the rate charged to a merchant by a bank for providing debit and credit card services. With the latest RBI notification, MDR charges for small merchants with an annual turnover of up to Rs 20 lakh has been fixed at 0.40 percent with a cap of Rs 200 per transaction by debit cards through Point of Sale (PoS) machines or online transactions.
For accepting payments via QR (quick response) code-based transactions, the charge will be 0.30 percent subject to a cap of Rs 200 per transaction. In case the annual turnover of a merchant is over Rs 20 lakh, the MDR charges would be 0.90 percent with a cap of Rs 1,000 per transaction. If transaction is through QR code, the charges will be 0.80 percent with a similar cap.
These directions will come into effect from 1 January, 2018. The RBI said that it would be the duty of the banks to ensure the MDR levied on the merchant does not exceed the prescribed cap.
No equitable distribution of MDR
The MDR cap of 0.4 percent for small and medium enterprises of turnover Rs 20 lakhs has been welcomed by the industry as they said that it will help accelerate the acceptance network in India especially of small kirana shops and roadside vendors and other small establishments. But the grouse is on the inequitable distribution of MDR between all the parties in a digital transaction – viz, the issuers, acquirers and card networks. "Currently, the interchange is heavily loaded in favour of the issuing side as they take away more than 90 percent of the MDR thereby leaving negligible margins for the acquiring side," said Vishwas Patel, Co-Chair, Payments Council of India and Founder, CCAvenue - payment gateway solution.
The current interchange leaves no room for POS companies with any margins. "We are enabling small merchants to go digital. What is the incentive for us to do this further," asks Patel.
Presently, there are only 2.9 million POS terminals against more than 800 million debits cards issued in India. If the RBI ensures equitable distribution of MDR margins between all parties, then the acquirers will have enough resources to deploy the expensive POS terminals across all establishments in our country and thus help grow digital transactions, said Patel.
According to a Kotak report, MDR reduction is marginally negative for acquirers. The RBI's move to reduce merchant discount rates (MDR) for debit card transactions for smaller merchants and QR-code based transactions will likely bode well for broad-based and asset-light adoption of cashless modes of transactions in the medium-term. However, volume is unlikely to make up for the shortfall in reduction of fees in the short term and hence, the near-term impact would be marginally negative for a few players like Axis, HDFC Bank, ICICI Bank and SBI. The debit card fee is a small, but  key area of growth for most of these, it said.
The impact on earnings for banks is likely to be negligible as fees from debit card services are lower and skewed towards a few banks such as SBI, HDFC Bank, ICICI Bank and Axis Bank, the Kotak report said.
American brokerage Morgan Stanley said the move can cause a revenue impact of up to 0.3 percent on the four lenders and a dip in profitability of up to 1.1 percent, a PTI report said.
The RBI has not made any mention so far about the split of the MDR between the issuer and the acquirer. "We hope the RBI makes a ratio of split between the banks and merchants mandatory soon," said Harshil Mathur, CEO and Founder, Razorpay. He says that the 'ideal' ratio would be 50:50 as there is 'more effort' needed to onboard merchants to digital payments. "If 50:50 ratio is not possible, then the next ideal situation would be to have a 60:40 ratio," he said, adding that when the notification comes into play from January 2018, it would be skewed against payment gateways.
(Data inputs from Kishor Kadam)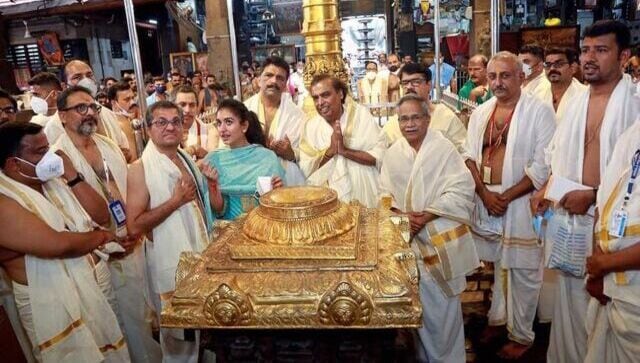 India
The Reliance Industries chairman presented a cheque — as a kanikka (offering) — of 1 crore 51 lakh rupees and expressed his desire that it be used for annadanam (food for devotees) at the temple
Business
Reserve Bank of India Governor Shaktikanta Das announced the hike today
Business
The Governor said PAs play an important role in the payments ecosystem and hence were brought under regulations in March 2020 and designated as Payment System Operators