Mumbai: The Reserve Bank of India (RBI) has imposed a penalty of Rs 5 crore ($754,000) on Bank of Baroda (BoB) for irregularities in anti-money laundering (AML) provisions that came to light in October 2015, the public sector lender said here on Monday.
"The Reserve Bank of India has imposed a penalty of Rs 50 million on Bank of Baroda. Pursuant to the internal audit of the bank, the RBI and investigative agencies in October 2015 were advised by the bank of certain irregularities observed," the BoB said in a BSE filing.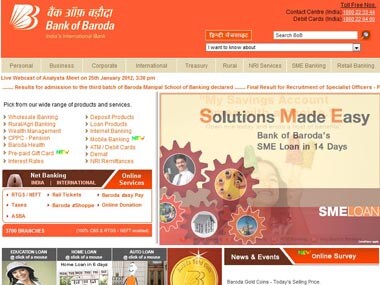 The Central Bureau of Investigation (CBI) had conducted raids in October 2015 at over 50 locations to probe the illegal transfer of Rs 6,172 crore by the BoB's Ashok Vihar branch in Delhi in the names of 59 companies in Hong Kong. The companies, it was later found, were registered on wrong addresses.
"The RBI carried out the investigation and noted the deficiencies which were reflective of weaknesses and failures in internal control mechanisms in respect of certain AML provisions such as monitoring of transactions, timely reporting to FIU (Financial Intelligence Unit), and assigning of UCIC (Unique Customer Identification Code) to customers," the BoB said.
The Bank of Baroda has implemented a comprehensive corrective action plan, to strengthen internal controls and to ensure that such incidents do not recur, it added.
It was alleged that there were 8,667 forex transactions from the Ashok Vihar branch of the bank during the period August 1, 2014, and Aug 12, 2015, which had prompted a probe.
"It was alleged that 59 current account holders and unknown bank officials conspired to send overseas remittances, mostly to Hong Kong, of foreign exchange in illegal and irregular manner in violation of established banking norms under the garb of payments towards suspected non-existent imports," the CBI had said.
The branch opened 59 current accounts during May 2014 to June 2015 through which large foreign exchange remittances were done, the bank said in a regulatory filing.
Last year, a total of 5,853 outward foreign remittances aggregating $546.10 million (around Rs 3,500 crore) were made through 38 current accounts to various overseas parties numbering some 400, mainly based in Hong Kong and one in the UAE.
The bank has admitted that the branch did not adhere to FEMA (Foreign Exchange Management Act) guidelines.
As many as six persons including two officials of Bank of Baroda -- SK Garg and Jainish Dubey -- have been arrested in this case for criminal conspiracy, cheating and provisions of the Prevention of Corruption Act.
Garg was AGM while Dubey headed the foreign exchange division at BoB's branch in Ashok Vihar.
Firstpost is now on WhatsApp. For the latest analysis, commentary and news updates, sign up for our WhatsApp services. Just go to Firstpost.com/Whatsapp and hit the Subscribe button.
Updated Date: Jul 25, 2016 15:50:56 IST