The consensus among economists from the Reserve Bank of India's (RBI) bi-monthly monetary policy today (Tuesday) is a 25 basis points (bps) rate cut in the repo rate (at which the central bank lend short term funds to banks). One bps is one hundredth of a percentage point.
Two factors -- finance minister Arun Jaitley sticking to his fiscal year 2016 fiscal deficit target (of 3.9 percent) and consumer price index (CPI) inflation sticking to the easing path so far -- assure a quarter percentage point rate cut in RBI's overnight lending rates today (Tuesday). The February CPI eased to 5.2 percent from 5.7 percent in January.
But, what consumer must note here is that even if Raghuram Rajan chooses to surprise with a status quo in policy rates, bank lending rates and deposit rates are set to drop in the approaching months. The trick is already done when the government lowered interest rates on small savings schemes recently.
A major reason banks have been hesitant to slash lending rates, so far, was the high deposit rates in the banking system. Without deposit rates coming down, banks cannot cut their lending rates since it will hit their margins. But, deposit rates couldn't be lowered on account of the comparatively higher returns on small savings schemes and post office deposits. With small savings rate coming down now, stage is set for drop in bank lending rates as well.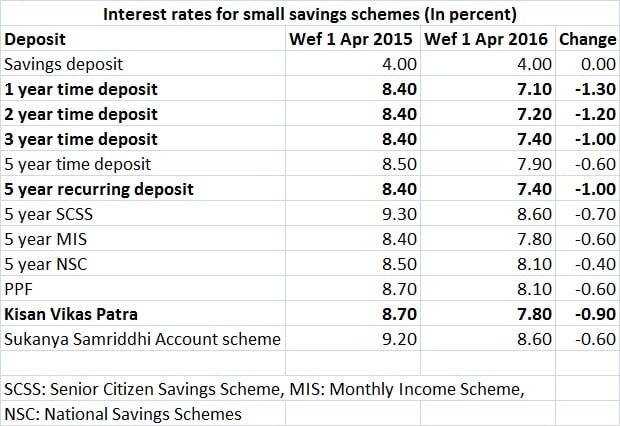 A one year post office deposit will now yield a return of 7.1 percent as against 8.4 percent before. Similarly, the rate on Kisan Vikas Patra has been revised downwards to 7.8 percent from 8.7 percent and that of Sukanya Samrudhhi account scheme has been lowered to 8.6 percent from 9.2 percent. Also, the Public Provident Fund rate has been dropped to 8.1 percent from 8.7 per cent. This gives room for banks to cut their deposit rates.
MCLR regime a boon for borrowers
A reduction in bank deposit rates will now reflect sooner and more on the lending rates. Since beginning April, banks are required to set their lending rates based on their marginal cost of funds unlike the average cost of funds in the past. What this means, in simple terms, is that when short–term deposit rates fall, banks' lending rates will be lowered accordingly in a more efficient manner.
A host of banks, including country's largest lender, State Bank of India, Indian Overseas Bank and private sector lenders, Axis Bank and HDFC Bank, have announced their lending rates — in some cases even below their base rates. SBI is now offering a rate of interest of 8.95 percent for overnight loans, 9.05 percent for one month-loans and 9.10 percent for three-month loans.
A shift to lower lending rates could help banks partially regain control of the corporate loan market since the new rates are now competitive to money markets (to which there was an exodus of corporates for cheaper funds in the last few years).
The current base rate structure as it exists today will be phased out eventually (in next 18-24 months) when customers switch their currently contracted loans to the MCLR rate structure. "In the next six months, one should see at least a reduction of 50 bps in deposit rates. This should reflect in the lending rates as well," said Vaibhav Agarwal, Vice President, research at Mumbai-based brokerage Angel Broking Pvt Ltd.
The RBI is unlikely to go for a major reduction in lending rates in 2016 since its next goal—a 4 percent CPI inflation by early 2017—will prove to be a difficult target if monsoon continues to disappoint and external shocks emerge. Also, the impact of seventh pay commission proposals will take effect in fiscal year 2017, putting pressure on inflation. The RBI comfortably achieved the January 2016 target of CPI inflation (6 percent) but, going ahead, the central bank may plan its rate-easing plan more carefully anticipating upside risks on further easing of inflation.
"Beyond this week's cut, the rate cycle is likely to enter a pause mode as impact of the higher salaries and pension and stabilisation in oil prices warrant attention. The evolving inflation outlook will remain the guiding factor, with a window to ease to re-open if the bounce in crude prices unwinds and a normal monsoon keeps a lid on food components," said Radhika Rao, economist at Singapore-based DBS bank.
With small savings rates coming down, banks do not have any excuse to hold on to high rates citing a hit on their deposit portfolio. This is what has happened in 2015. Though the RBI cut repo, at which it lend short-term rates to banks, by 125 basis points, banks passed on only half of this to the end consumer, citing pressure on their margins and high small savings rate. The lack of monetary policy transmission in the banking system had made the central bank worried. Now onwards, banks cannot rely on excuses and will be forced to pass on the rates to the customer.
The savers may be a bit disappointed with the reduction in deposit/savings rates. Even here, if one adjusts the returns to inflation, ultimately one can conclude that it's a win-win game to all customers provided inflation stays low.
One thing is clear. The banking system is set to enter a lower interest rate regime. More than the RBI monetary policy action, the drop in the small savings rate and new MCLR methodology in banking system to calculate lending rates will do the trick.
Updated Date: Apr 05, 2016 08:13 AM