Ratan Tata-Cyrus Mistry battle: War of words raises more questions on role of promoters
In its statement, the Tata Group has admitted to interfering with the operations of the Tata Sons Board.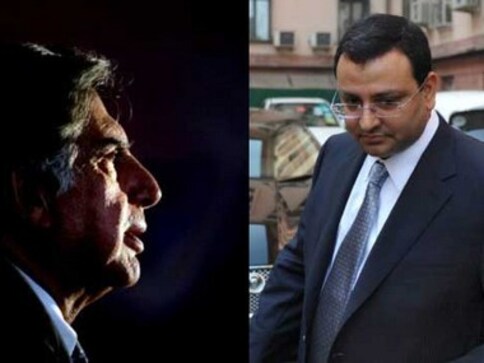 The Tata-Mistry spat has now escalated into a bitter feud of epic proportions, reminiscent of the Ambani Brothers schism that took place over a decade ago. Though the conflict has been overshadowed by recent global and domestic events, its relevance to the future of corporate governance in India has not diminished.
The deepening dispute threatens to prolong the turmoil roiling a $100 billion business empire that makes products ranging from table salt to Jaguar sports cars. The wrangling has also cost investors as Tata Group's listed companies have lost more than $10 billion in market value, underperforming India's benchmark index, since Mistry was abruptly ousted less than three weeks ago.
The Ratan Tata-led camp attempted to muscle Mistry out of the group's largest subsidiary and issued a nine-page statement where it accused the erstwhile Chairman of being a poor leader. The statement is a labyrinth of tenuous accusations all of which can be refuted by the Companies' financial records. A recent report by Bloomberg showed that insiders have said that the allegations are unsubstantiated.
The allegations under this Statement and the reasons the Tata Group has given to justify its actions prompt an exploration of the role of promoters under the Companies Act, 2013. So far as meaning of promoter is concerned, it means A person who involves in the promotion of the company.
A promoter is a person who does all necessary preliminary work, incidental to the formation or promotion of the company. To be a promoter, one need not necessarily be associated with the initial formation of the company; one who subsequently helps to arrange floating of its capital will equally be regarded as a promoter.
As per section 2(69) of the Act, 2013 defines the term 'Promoter', it means a person-
(a)  Who has been named as such in a prospectus or is identified by the company in the annual return to in section 92; or
(b)  Who has control over the affairs of the company, directly or indirectly whether as a shareholder, director or otherwise; or
(c)  In accordance with whose advice, directions or instructions the Board of Directors of the company is accustomed to act:
Provided that nothing in sub-clause (c) shall apply to a person who is acting merely in a professional capacity.
In other words, we can define the expression 'promoter' to mean a promoter who is a party to the preparation of prospectus or of a portion thereof containing the untrue statement, but does not include any person by reason of his acting in a professional capacity in procuring the formation of the company. Certain attempts have been made by the Judiciary to elaborate on the meaning of the term 'promoter'. Cockburn C.J., in the case of Twycross v. Grant, described a 'Promoter' as "one who undertakes to form a company with reference to a given project, and to set it going, and who takes the necessary steps to accomplish that purpose".
In the USA, Securities Exchange Commission Rule 405(a) defines a promoter as a person who, acting alone or in conjunction with other persons directly or indirectly takes the initiative in founding or organizing the business enterprise.
The SEBI insider trading regulations are of particular relevance to the current conundrum.
As per regulation 2 (e) of the 'Securities and Exchange Board of India Prohibition Of Insider Trading Regulations, 1999 insider means any person who, is or was connected with the company or is deemed to have been connected with the company, and who is reasonably expected to have access to unpublished price sensitive information in respect of securities of company, or who has received or has had access to such unpublished price sensitive information.
He could be a company promoter, director, executive, auditor, a lawyer, stock broker, a fund manager or even a newspaper correspondent who may be privy to a certain critical development in the company.
He may use this information to his own advantage. Price sensitive information means any information which relates directly or indirectly to a company and which if published is likely to materially affect the price of securities of company.
Examples of price sensitive information include, periodical financial results of the company, intended declaration of dividends (both interim and final), issue of securities or buy-back of securities, any major expansion plans or execution of new projects, amalgamation, mergers or takeovers, disposal of the whole or substantial part of the undertaking, and significant changes in policies, plans or operations of the company.
In its statement, the Tata Group has admitted to interfering with the operations of the Tata Sons Board. While Tata Sons is an unlisted holding company, it directly oversees the running of the group's listed subsidiaries. By making this admission the Tata Group has inadvertently opened itself up to attack.
Mistry's terse rebuttal to the Statement is reflective of a certain hubris that he will come out on top should the case go to Court. Indeed, the Tata Group's excoriation of the independent directors at Tata Chemicals who supported Mistry makes Ratan Tata out to be a despot unable to come to terms with how poorly he has handled a situation. Hopefully, better sense will prevail before it is too late and the two parties will find a way to amicably resolve this prevailing discord.
(Dr.Kumar is the founder of Hammurabi & Solomon and a visiting fellow with Observer Research Foundation)
Find latest and upcoming tech gadgets online on Tech2 Gadgets. Get technology news, gadgets reviews & ratings. Popular gadgets including laptop, tablet and mobile specifications, features, prices, comparison.
Business
The Board has decided to confer on Tata the honorary title of Chairman Emeritus
Business
Ratan Tata, has said that the biggest challenge for the $100 billion conglomerate's new Chairman Cyrus Mistry will be the country's business environment that is going to be tougher and more complex than the crisis of 1991.
Business
Rata group chief Ratan Tata on Tuesday stepped down as Chairman of Tata Global Beverages with immediate effect, making way for successor Cyrus Mistry, who has also been inducted into the board of Indian Hotels Company.