Rajan busts Jaitley's super-growth myth: Why 7.5% GDP alone is no reason to celebrate
The GDP growth is a myth unless the fruits of economic growth reaches the poorest in the country and the government has the ability to guard the farmers
The 12th NIBM convocation speech by Reserve Bank of India (RBI) governor, Raghuram Rajan, is a must read to Narendra Modi's growth-rate obsessed finance minister, Arun Jaitley. Also, to all those who are celebrating India's new-found status of China-beating, world's fastest growing economy, even when one third of Indian population still live in poverty.
The speech, titled as 'Words Matter but so Does Intent' would teach the reader/listener (here Rajan sounds more like a professor than a central banker) why one shouldn't live in a fool's paradise merely looking at the GDP growth numbers as a tool to assess the country's economic growth but not paying attention to the ground realities.
Jaitley, responding to Rajan's comment of equating India to a one-eyed King in the land of blind made in an interview to a foreign publication, said, a 7.5 percent GDP growth rate would be a reason for celebration for any other country, indirectly asking the governor why he is ignoring the high growth rate. "Compared to the rest of the world we are growing much faster, in fact the fastest. Compared to our own potential, we can do better. So at 7.5 percent growth, any other country in the world would be celebrating," Jaitley said.
In the speech, Rajan tells Jaitley and all those ecstatic about the growth figure what is wrong with uncorking the bubbly only looking at the growth number, by listing out four distinct reasons to substantiate his point. These are:
1) "Growth is just one measure of performance. The level of per capita GDP is also important. We are still one of the poorest large countries in the world on a per capita basis, and have a long way to go before we reasonably address the concerns of each one of our citizens."
2) "I cannot get euphoric if India is the fastest growing large economy. Our current growth certainly reflects the hard work of the government and the people of the country, but we have to repeat this performance for the next 20 years before we can give every Indian a decent livelihood."
3) "We are still the poorest country on a per capita basis among the BRICS. We need to change perceptions by delivering steadily on our promise for a long time – by implementing, implementing, and implementing. We cannot get carried away by our current superiority in growth, for as soon as we believe in our own superiority and start distributing future wealth as if we already have it, we stop doing all that is required to continue growing."
4) "We are often compared with China. But the Chinese economy, which was smaller than ours in the 1960s, is now five times our size at market exchange rates. The average Chinese citizen is over four times richer than the average Indian. The sobering thought is we have a long way to go before we can claim we have arrived.
No one has, so convincingly, exposed the futility of creating a mirage of a super-growing economy going by the GDP growth figure. Remember, the high numbers happened after a change in methodology in calculating the GDP and is still being contested by economists for lack of correlation with other key economic parameters. Rajan deserves credit for exposing the growth myth of his boss (technically RBI governor reports to finance ministry).
'One-eyed' controversy
Rajan's comment that India is like a one-eyed King in the land of blind hadn't clearly gone down well with senior ministers in Modi's cabinet. Besides Jaitley, commerce minister Nirmala Sitharaman and minister of state Jayanta Sinha too expressed reservations against the comment saying Rajan could have used better words. Rajan apologised—not to the ministers, but to the blind accepting that the reference would have hurt the blind.
Shortly after Rajan's comment, Sitharaman had said. "I may not happy with his choice of words. I think whatever action is being taken by this government is showing results." Here too, Rajan has a fitting reply. "How much of our language is tinged with meaning that is liable to misinterpretation? How forgiving should we be of a bad choice of words when the intent is clearly different?".
Did Rajan's words were taken out of context by media or the politicians? Rajan, in his speech, said his words are hung to dry out of context, as in a newspaper headline but agrees that 'to be fair, they (newspapers) also offered a surrounding context, but few read beyond the headline". The statement doesn't appear to take a potshot at media, nor can anyone blame the journalist for only reading the headline and not the context. It's only natural if a headline-worthy phrase from the RBI governor catches a reporter's attention.
Beyond the 'one-eyed controversy', what one must note here is this: In a scenario, where the economic growth is solely assessed looking at the GDP growth number, Rajan has busted the myth with convincing arguments. It's an eye-opener for Jaitley to look beyond the GDP numbers. The GDP growth is a myth unless the fruits of economic growth reaches the poorest in the country and the government has the ability to guard the farmers, who are still solely dependent on seasonal rains to irrigate their crop, making them vulnerable to drought.
According to this analysis in Mint, the official statistics measuring the poor in India might have understated the problem in the past with nearly half of Indians surviving on less than Rs 38 a day in 2011-12. The debate on defining the poor India is still on and we don't have any updated numbers.
But, one thing is sure. It's not yet time to uncork the bubbly just looking at the GDP figure.
With data contribution from Kishor Kadam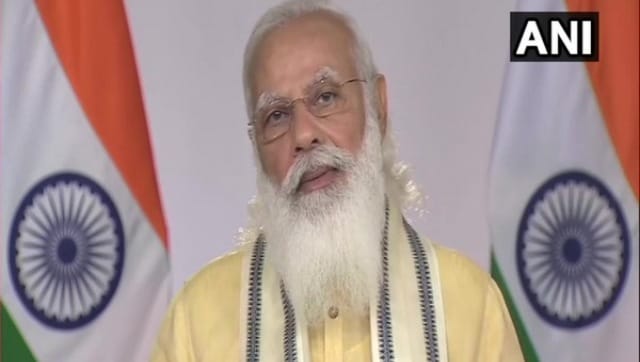 India
The survey, however, had a sample size of only 2,126 adults in India, a country of 1.3 billion people
India
The event will also include an address by Minister of State for Ayush Kiren Rijiju and a live yoga demonstration by the Morarji Desai National Institute of Yoga
India
Lidwina Joseph, a student of Kendriya Vidyalaya at Thrissur, enclosed in her letter a drawing depicting discharge of duties by the apex court where a judge is seen hammering down the coronavirus