Railways' deteriorating health: Govt misses earnings target for 3rd straight year, operating ratio worst in 15 yrs
Gross traffic earnings, which make up the bulk of revenues, would fall short of the target by over $3 billion in the fiscal year ending last month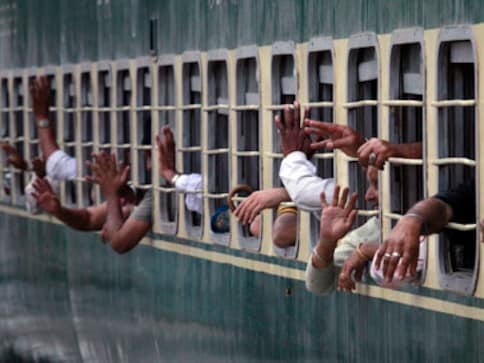 The country's mammoth state railways, much of them stuck in colonial times, have missed earnings targets for the third straight year and debts have shot up, documents seen by Reuters show, raising doubts about an ambitious modernisation drive.
The previously unreported figures will make uncomfortable reading for Prime Minister Narendra Modi, the son of a train station tea seller who set out plans to overhaul the world's fourth largest rail network after he took power in 2014.
Modi's $133 billion, five-year programme backed by private and public investment aimed to boost passenger and freight volumes, lay new tracks, introduce modern trains and drive growth to help meet ambitious economic targets.
Of that, about $32 billion, or less than 25 percent, was spent in the first two years.
Some rail officials say it takes longer for investments to bear fruit, but nearly half way through the plan, the sector's performance has deteriorated according to some key measures.
"Without surgery, the railways can't become commercially viable," said a senior government official who deals with the network's finances.
Internal government documents show that under Modi, Indian Railways' operating ratio - a gauge of efficiency measuring expenses as a proportion of revenues - has slipped to the worst level in 15 years.
The documents also show gross traffic earnings, which make up the bulk of revenues, would fall short of the target by over $3 billion in the fiscal year ending last month.
Revenues were insufficient to cover expenditure, and funding via market borrowing rose to about 22 percent last year from an average of 8 percent between 2010-15. The railways now owe $20 billion, up $7 billion in the last three years.
Investments "Take Time"
A senior railways ministry official, responding to questions from Reuters, said increased borrowing to fund new investments could not be expected to yield immediate results.
"Railway projects have a long gestation, hence revenues from projects will take time to flow," the official said in emailed answers, adding that they would generate sufficient revenues over the next three to four years to pay debts falling due.
He also said a drop in freight revenues stemmed from a strategic decision to enhance volumes by cutting charges, while passenger numbers had "increased after a gap of many years".
The official did not provide further details, and the latest passenger data for Indian Railways are not publicly available.
"These railways numbers cannot be solved overnight," said Bibek Debroy, a government adviser who has drafted a reform blueprint for the railways.
He proposes unbundling the railways into separate units to operate track and traffic, and allowing private players to run train services.
Private money has been slow to flow, however, amid uncertainty over the return on investments.
"If the railway comes out with the right project structure which allows the private sector to have adequate and assured returns, investment in the railway sector will pick up," said Rajaji Meshram, director at KPMG India.
Disintegration
Strains on the network are visible at Ghaziabad's teeming, 150-year-old railway station near New Delhi, one of northern India's busiest freight junctions.
There, managers squeeze 70-75 freight trains a day between 340 passenger trains packed with commuters.
"We can't tell our clients when their cargo will leave the station or reach its destination," said a local official. "Passenger trains determine the movement of goods trains."
Such congestion has slowed the average speed of freight trains to around 20 km per hour from 24-25 kph three years ago. In China, the average speed of freight trains is 35 kph.
Ghaziabad is one of 400 stations identified by the Modi administration for redevelopment to generate non-fare revenues. Nearly two years after the federal cabinet approved the project, work there has yet to start.
Bhartruhari Mahtab, head of a parliamentary panel on railways, said a struggle to find investors had hobbled the $15 billion programme to upgrade stations.
More broadly, he told Reuters he saw no alternative to drastic reforms, without which there could be "a disintegration of Indian Railways".
Reform won't be easy. The bulk of freight earnings still comes from transporting commodities like coal and oil, but with companies laying oil pipelines and power plants being built near coal mines, this business is under threat.
Hamstrung by some of the world's highest cargo rates, railways are also being priced out by cheaper road and air transport.
"We have lost a lot of revenue to the road sector. So, now we have to bring back that share of traffic to the railway sector," said Anil Saxena, chief spokesman of the railways.
Modi appears frustrated. His office said in a statement that he rebuked railway bosses at a meeting on Wednesday over public complaints of corruption. He also called this week for greater urgency in re-developing train stations and in finding ways to generate non-fare revenues.
Railways Minister Suresh Prabhu did not respond to a request for an interview.
India
The prime minister spent almost an hour at the site and did a first-hand inspection of the construction status of the new Parliament building.
India
The 20-day mega campaign titled 'Seva aur Samarpan Abhiyan' will begin tomorrow (17 September) and will conclude on 7 October
India
The countrywide vaccination drive was rolled out on 16 January with healthcare workers getting inoculated in the first phase