New Delhi: LocalCircles, India's largest citizen engagement platform, in a poll conducted recently said that citizens want Railways to get rid of flexi fares and instead bring in flat fare increase on trains where flexi fares are applicable. Railways had introduced flexi fares in premium trains in October and since then a lot of feedback has been received in the Make Railways Better circle, India's largest community on Railways.
In a poll conducted for the Make Railways Better circle in which over 150,000 citizens regularly give inputs to Ministry of Railways, 73 percent citizens have explicitly stated that they would rather want flat fare increase than the current flexi fare system. Further, 27 percent citizens were in support of the current flexi fare system.
Over 8,000 citizens participated in the poll where 62 percent participants were males and 38 percent were females. The poll covered citizens from over 240 districts of India. In the qualitative discussions, many people said they preferred certainty of fares and it was this uncertainty that was painful.
On the question over how people were evaluating when booking their flexi fare rail tickets, majority i.e. 66 percent of the citizens said they are now checking airfares before booking the railways flexi fare option. While 9 percent citizens said they would pick railways regardless another 10 percent citizens said they would pick airlines only due to this flexi fare. Of the polled, 15 percent of the remaining citizens said they do not have an option as there is no air connectivity on the routes they travel.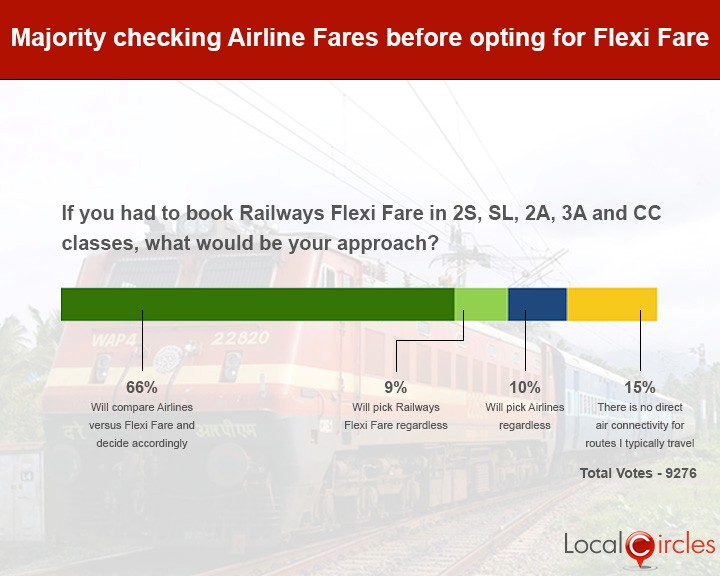 Citizens are collectively of the view that Railways must withdraw its flexi fare scheme at the earliest and instead implement a flat fare increase on the trains where flexi fares are applicable. Citizens are hopeful that the request will find due consideration by Railways alongside Budget 2017.
For full coverage of Union Budget 2017 click here.
Updated Date: Jan 30, 2017 20:08:48 IST