Rahul Yadav trolls Zomato; says will never do an Ola: Housing.com CEO's AMA was witty but not brash
He was frank, witty and surprisingly polite rather than brash. Housing.CEO's Rahul Yadav's first ever AMA ( Ask me Anything) on Redit was neither controversial nor a soap opera unlike his previous gimmiks.
He was frank, witty and surprisingly polite rather than brash. Housing.com CEO's Rahul Yadav's first ever AMA ( Ask me Anything) on Reddit was neither controversial nor a soap opera unlike his previous gimmicks.
While he was candid about his war of words with Sequoia Capital and why he asked Ola CEO Bhavesh Aggarwal and Zomato CEO Deepinder Goyal to allot half their shares to employees, he refrained from answering questions related to his resignation, except for saying that quitting at the time was a 'well calculated tactical move.'
He, however, did troll Zomato CEO Deepinder Goyal while also taking a dig at Ola Cabs and the media.
"Didn't face any corporate thugs, just crazy media," says Yadav.
Here's a snapshot of Yadav's best responses during the Redit AMA
On the entire row with Sequoia Capital?
Rahul: We decided a slided deal between 10-15% (depending on performance)for 1mn$. After 2 months of due diligence, when they realised we were running out money, they said they want to do a flat equity deal. I said 'Okay. Let's do it at 12.5%. They said 14.75%. When I requested more, they said "Let's not waste each others' time." We were left with no option.
I came to know they have done it with lots of other ventures (TFS, Ola, Dexetra, LetsBuy..)
So to cut it short, I think they're culturally a very cutthroat VC and sometimes I think that's why they're more successful than others. But I still condemn their practises because I feel they're inhuman and for me, people are the 'why' for everything I do.
On Zomato CEO Deepinder Goyal and the company
Rahul: I really don't know him much but his sense of humour sucks.
Zomato is a company scanning menus from last 7 years and doing no innovation. And the CEO says 'Aww. So cute
On why he challenged Ola and Zomato CEOs to allott shares 
Rahul: Success of a venture is a team work. Although all startups give ESOPs to their employees but the problem is it's not PROPORTIONAL to the value creation. Value is being created at x rate and is being given to the employees at y rate. x not being equal/proportional to y is the real issue. So these two names came up in my mind and I just nominated them.
On beating Common Floor and Magicbricks based on 'bullshit metric like site visits and app downloads? '
Rahul: Yes we have beaten them in bullshit metrics. But the market (brokers, builders, investors, media) somehow cares about all these things. And perception matters. So unfortunately, we have to play by THIS (India) market's rules.
On Housing providing the legal status of an apartment apart from just photos
Rahul: On it! We just acquired a legal and due-diligence company, they are working on cross checking all new projects that are on Housing's platform.
On whether one needs to be mean to make a startup successful? 
Rahul: There are no rules! I play by the situation.
On what he would do if he left Housing 
Rahul: Never thought about it. But I love animation and visual effects and wanted to pursue it from Vancouver Film School but couldn't afford their high fees at the time.
What start-ups does he respect and why. And what startups does he personally follow and love what they are doing? 
Rahul: Flipkart, for maintaining relative quality (in product, service and culture)... They have earned respect in terms of implementation and execution and not because of the idea.
Yadav follows Uber and Twitter, says both are slick products solving big problems. "Will never do an Ola 'because that problem was already solved by UBER and in a brilliant way'.
On How Housing.com recruits people
Rahul: All teams have their own style of hiring because they have full freedom. My personal hiring style is : I hire smart people ( Smartness can be judged by their past track records or by asking few tricky questions ) and ask them to commit that they will deliver. I really make people commit because everything is simple and if you're smart & committed, it's done.
On what is he doing about the high attrition rate at Housing
Rahul: Our entire tech team (100%) consists of freshers, so people do go for MS/MBA etc. Other than that its one of the lowest in the industry.
New joinee asks if  he will also get a portion of shares or was that only for existing employees
Rahul:At Housing, we are increasing ESOPs pool as well simultaneously. One thing I can promise that there will never be dearth of rewards at Housing. Welcome to Housing!
On Defining success
Rahul: Life's purpose is to be happy! So if you are happy, you are successful in life.
Are his actions distracting employees? 
Rahul: Yes, it is distracting. But it's actually fun if it's there only for a few weeks. Beyond that, it's really distracting and does not help.
Are start-ups over-valued ?
Rahul: Indian market is an elephant. It's gonna run/grow slowly. People/companies with patience over a period of 5-10 years will be able to leverage the opportunity. Companies which will survive in this period, for them the current valuations are nothing, given the opportunity size.
What makes a great product?
Rahul: A great product solves a problem in a fun and engaging manner. And all other answers can be derived from this. Other than solving problems in a fun and engaging manner, there are no rules!
On tips for entrepreneurs
Rahul: Be Obsessed about solving the problem, Work hard and Be Optimistic. Surround yourself with great people, rest is just a cake walk. VCs, PR etc will automatically follow if you are doing good.
On creating even 1% of Housing.com without funding from VC 
Rahul: I can create 100% of housing but then it will be a different type of housing. You can always create business without money, sometimes it can be slow, sometimes it can be really hard but it's never impossible.
On abusive language becoming a part of corporate communication?
Rahul: The way boundaries between emails and chats are fading, I see professional diplomacy and frank conversations merging together. That's the future of conversation: quick and efficient.
On whether he would ever be a VC
Rahul: I don't like money at rest. Putting money to work is very important. And I'll keep doing so in whatever roles/formats are right at the moment.
How do you justify your statement, "it's too early in life to get serious about money etc." When you own a Porsche Cayenne ?
Rahul: I 'want' to buy and media made it 'bought'. I use a rented car.
 Why 'Look Up' ?
Rahul: Because when you Look Up you only see people who are ahead of you in terms of greatness and achievements. No matter how much you have achieved in your life, the moment you Look Up, everything gets reset and you find yourself again at level 0.
To Look Up means to always keep chasing the best! To Look Up means to always keep asking 'What's next'. To Look Up means getting ready for the action. To Look up means to never settle.
On dropping out of  IIT Bombay 
Rahul: I think I mentally dropped out of IIT in 2nd year. Physically in my 4th year. And on papers, I think I'm still an IITB student.
 On Myntra going app only 
Rahul: Key people's focus in the company is very important, so its great that they have decided to go app only. Thumbs up for their bold decision.
Afraid of what others write?
Rahul: Perception matters and does have impact on your success but i think i can handle all these things smoothly. So not really afraid.
 Post the AMA, here are some personal tidbits we just got to know about Yadav
1. He does not own a Porsche
2. He has no time for fun and wakes up rather late between 8:30 am and 10 am
3. He loves butter milk
4. Has not watched television since the past 11 years
5. Is no longer a crorepati
6. If you want to get hired at Housing, just send Yadav an email explaining to him in three lines why he should hire you
7. Has never read a book in his life
8. Will never do a me-too thing. Thinks it is a waste of time
9. Thinks success is about solving problems, innovation and great teams and culture
10. Left coding three years ago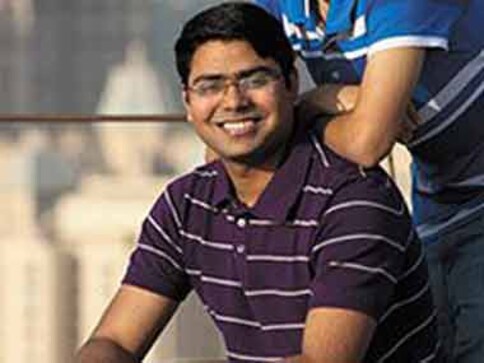 Business
Housing.com CEO Rahul Yadav today withdrew his resignation following the conclusion of the company board meeting earlier today.
Business
Despite the holiday in Ladhak, rumour has it that Rahul Yadav is in talks with Paytm founder Vijay Sekhar Sharma for possible investment in his new venture.
Business
Looks like Yadav's brash attitude has taken a toll on his company