Rahul Yadav just won't give up his antics: Now Housing.com CEO to hold AMA session on Reddit
Housing.com CEO Rahul Yadav, the the unconventional, maverick and at time totally unpredictable, has now agreed to an 'Ask Me Anything' session with Reddit less than a week after he decided to 'gift' all his shares in the company to employees.
Housing.com CEO Rahul Yadav, the unconventional, impulsive and unpredictable  maveric, has now agreed to an 'Ask Me Anything' session with Reddit less than a week after he decided to 'gift' all his shares in the company to employees.
"Hey /r/India,
Rahul Yadav has agreed for an AMA session with us. He's been in the headlines quite a lot recently, and has even been coined as the "monk who sold his Ferrari" by a few media outlets.
So get your questions ready and let's have an interesting AMA here on /r/india. Please keep in mind that it will be [R]eddiquette enforced so we will be moderating to ensure civility," says the Reddit page
The AMA will be held on Tuesday, 19 May at 6 PM.
Typically, an AMA session is an open and transparent medium where the person doing the AMA can present himself and his vision in the most honest way. AMAs are open to all, and use the site's comment system for both questions and answers. It is similar to a press conference, but online.
First Yadav resigned, and took it back the same evening, then he started another controversy over his profile picture on Facebook where he is seen showing his middle finger. Then on May 13, he released a press release about offloading all his shares to the 2251 employees of Housing, following which he challenged the the CEOs of Zomato and Ola to follow in his footsteps.
Arvind Kejriwal must be SO elated to have found a companion/comrade in tech startups.

— Deepinder Goyal (@deepigoyal) May 15, 2015
Yadav's AMA comes at a time when founders of restaurant aggregator Zomato and taxi app Ola have mocked him for suggesting they follow his lead and give away stock to employees.
"Now I challenge Deepinder Goyal of Zomato and Bhavish Aggarwal of Ola to continue this noble act and give away HALF (not full) OF THEIR SHARES to their employees. And I hope both of them spread the nominations further," Yadav said in his note. As a comment on Yadav's post, Deepinder Goyal said, "Awww. So Cute."
"Give that man a cookie," wrote Ola's Bhavish Aggarwal in a Facebook post.
Rahul Yadav thinks he is in a start-up reality show, where all the contestants go home after they break-even. pic.twitter.com/5abv85LFpl

— Sruthi Radhakrishnan (@sruthirk) May 15, 2015
Last week, Yadav gave away all his stake amounting to Rs 150-200 crore to his 2,251 employees, saying, "it is too early in life to be serious about money etc".
A press statement sent out on Wednesday said, "Rahul Yadav, CEO of Housing, took everyone by surprise when he announced that he has allotted his personal shares worth Rs 150-200 crore to all the 2,251 employees of Housing who will get approximately one year of their annual salaries worth of company stocks."
Yadav holds the highest shares among the founding team, which is now down to nine members from 12 when Housing began operations in 2012.
Sit back, relax, get that popcorn and enjoy that show for whether you love him or hate, Rahul Yadav is here to stay.
Comments on the Reddit page suggest viewers are really anticipating the AMA, with some commentators even taking a jibe at Zomato co-founder  and CEO Deepinder Goyal over his failed AMA session that was held in March 2015.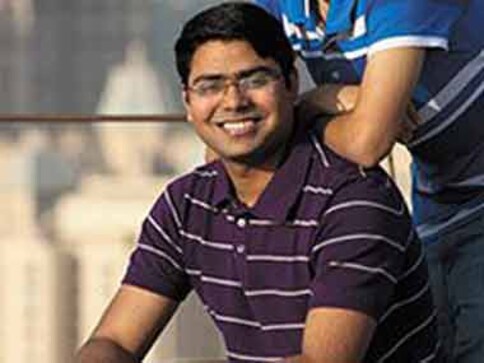 Business
Housing.com CEO Rahul Yadav today withdrew his resignation following the conclusion of the company board meeting earlier today.
Business
Despite the holiday in Ladhak, rumour has it that Rahul Yadav is in talks with Paytm founder Vijay Sekhar Sharma for possible investment in his new venture.
Business
Looks like Yadav's brash attitude has taken a toll on his company