Raghuram Rajan mentally not fully Indian, terminate him: Swamy writes to Modi
Wonder who will knock some sense into Swamy's head
BJP Rajya Sabha member Subramanian Swamy has taken his battle against Reserve Bank of India governor Raghuram Rajan to the next level, so to say. Swamy has now written to prime minister Narendra Modi asking him to terminate his tenure, say media reports.
"The reason why I recommend this is that I am shocked by the wilful and apparently deliberate attempt by Dr Rajan to wreck the Indian economy," he wrote adding his concept of raising interest rates to contain inflation was "disastrous.
Also, bad loans with public sector banks has doubled to Rs 3.5 lakh crore in two years, he said.
Rajan was appointed RBI Governor by the previous UPA government in September 2013 for a three-year term, which can be extended.
"These actions of Dr Rajan lead me to believe that he is acting more as a disrupter of the Indian economy than the person who wants the Indian economy to improve.
"Moreover he is in this country on a Green Card provided by the US government and therefore mentally not fully Indian. Otherwise why would he renew his Green Card as RBI Governor by
making the mandatory annual visit to the US to keep the Green Card current?" he wrote.
Swamy in the letter to Modi said the BJP came to power under his inspiring leadership. "I cannot see why someone appointed by the UPA Government who is apparently working against Indian economic interests should be kept in this post when we have so many nationalist minded experts available in this country for the RBI Governorship."
He urged Modi "to terminate the appointment of Dr Raghuram Rajan in the national interest."
According to Swamy, Rajan is a disrupter of the Indian economy and he doesn't want the country's economy to improve.
He has also said that Rajan is not fully Indian mentally, the NDTV report said.
This is the third time Swamy is speaking against Rajan. The first time he spoke was before the general election of 2014. "We can make it worthwhile for him to leave," Swami had told Reuters, in a veiled threat that once the BJP comes to power Rajan may be shown the door.
Just less than a week ago, Swamy again trained his guns on Rajan saying that Rajan is not fit to be the RBI governor.
"I think the RBI governor is not quite right for our country. I don't want to say much about him, but his decision to increase interest rates so as to cut down inflation and stabilize the economy, has backfired and has badly affected the nation," Swamy had said.
He also alleged that all the industries have collapsed because of Rajan's mistakes and unemployment has increased.
Swamy's comments come at a time when Rajan's tenure is ending in September and there is speculation in the media as to whether the Modi government will indeed give and extension. Neither Rajan nor the government has commented on the issue.
Finance minister Arun Jaitley on Monday refused to answer a pointed question on Rajan's extension, however, said his ministry and RBI share a mature relationship.
However, there are not many who is taking Swamy's comments seriously.
In fact, there are many like Firstpost financial editor Dinesh Unnikrishnan, who think Swamy's comments are an embarrassment to Modi and also an insult to the RBI.
Swamy's main contention is that Rajan made a mistake by raising interest rates to rein in inflation.
Swamy, who was earlier this month nominated to Rajya Sabha by the BJP government, said Rajan's concept of containing inflation by raising interest rates was "disastrous."
"When the Wholesale Price Index (WPI) started to decline due to induced recession in the small and medium industry, he shifted the target from WPI to the Consumer Price Index (CPI) which has not however declined because of retail prices. On the contrary it has risen.
"Had Dr Raghuram Rajan stuck to WPI interest rates would have been much lower today and given huge relief to small and medium industries. Instead they are squeezed further and consequent increasing unemployment," he wrote.
After assuming charge as RBI governor in September 2013, Rajan gradually raised the short-term lending rate from 7.25 per cent to 8 per cent and had retained the high rates throughout 2014.
He kept the rates high, citing inflationary concerns despite intense pressure from the Finance Ministry and the industry for softening them with a view to boosting growth.
It is to be remembered that had he not raised the interest rates at that point in time, the country would not be in as comfortable a situation as now.
However, the Governor began the process of lowering the rates in January 2015 and since then it has come down by 1.50 per cent to 6.50 per cent.
Wonder who will knock some sense into Swamy's head.
With inputs from PTI
India
Modi's visit to his Lok Sabha constituency in UP comes as political activities gather pace in the BJP-ruled state which goes to Assembly polls early next year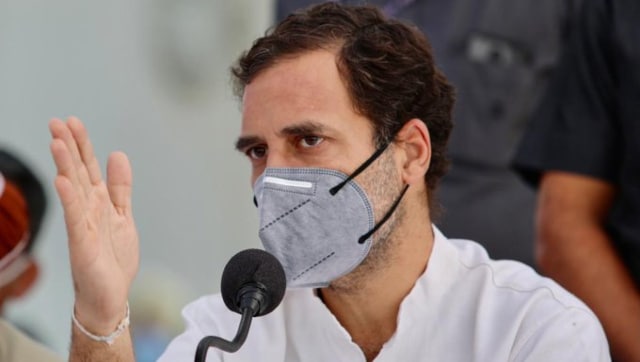 India
The former Congress president also shared a video on Twitter highlighting the alleged slow vaccination rate and media reports where people were not getting vaccines
India
Modi noted that on the coming 15 August, India will enter its 75th year of Independence and highlighted that Amrit Mahotsav is being celebrated throughout the country to mark that year