Purdue Pharma seeks to halt opioid suits against company, Sacklers
(Reuters) - OxyContin maker Purdue Pharma LP on Wednesday asked a U.S. bankruptcy judge to halt for roughly nine months more than 2,600 lawsuits alleging the company and its controlling Sackler family helped fuel the U.S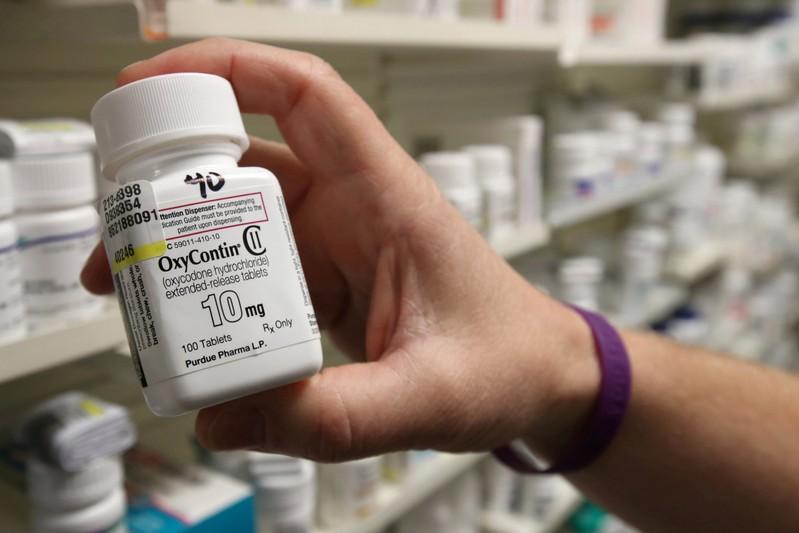 (Reuters) - OxyContin maker Purdue Pharma LP on Wednesday asked a U.S. bankruptcy judge to halt for roughly nine months more than 2,600 lawsuits alleging the company and its controlling Sackler family helped fuel the U.S. opioid crisis, according to court documents.
In addition to seeking a pause in widespread litigation against it, Purdue also asked U.S. Bankruptcy Judge Robert Drain to shield the wealthy Sacklers from related opioid lawsuits they face.
Purdue filed for Chapter 11 bankruptcy protection on Sunday after reaching an outline of a deal it estimated to be valued at more than $10 billion with states and local governments that brought the bulk of the cases. They allege the company deceptively marketed opioids by overstating benefits and downplaying risks.
Purdue has been accused of contributing to a public health crisis that has been marked by nearly 400,000 overdose deaths between 1999 and 2017, according to the latest U.S. data. Purdue and the Sacklers have denied they are liable for the opioid epidemic.
(Reporting by Tom Hals in Wilmington, Delaware; Additional reporting by Mike Spector in New York; Editing by Noeleen Walder and Cynthia Osterman)
This story has not been edited by Firstpost staff and is generated by auto-feed.
Find latest and upcoming tech gadgets online on Tech2 Gadgets. Get technology news, gadgets reviews & ratings. Popular gadgets including laptop, tablet and mobile specifications, features, prices, comparison.
Business
RIYADH/ISTANBUL (Reuters) - The head of Saudi Arabia's Chambers of Commerce has called for a boycott of Turkish products amid reports from merchants that animosity between Ankara and Riyadh is hindering the flow of goods between the two regional powers. Saudi Arabia and Turkey have been at odds for some years over foreign policy and attitudes towards political Islamist groups. The murder of Saudi journalist Jamal Khashoggi in Saudi's Istanbul consulate in 2018 escalated tensions sharply
World
By Nailia Bagirova and Nvard Hovhannisyan BAKU/YEREVAN (Reuters) - Azerbaijan's President Ilham Aliyev demanded on Sunday that Armenia set a timetable for withdrawing from the enclave of Nagorno-Karabakh and surrounding Azeri territories, and said Azerbaijan would not cease military action until that happened.
World
ROME (Reuters) - Five bodies were discovered in northwestern Italy on Sunday, including four washed up on the shore close to the border with France, officials said, in deaths thought to be caused by severe storms in the region. At least some of the corpses might have been swept down the coast from France.