Public sector bank strike today, around 10 lakh employees to participate; services impacted
The strike has been called to protest against the proposed amalgamation of Vijaya Bank and Dena Bank with Bank of Baroda.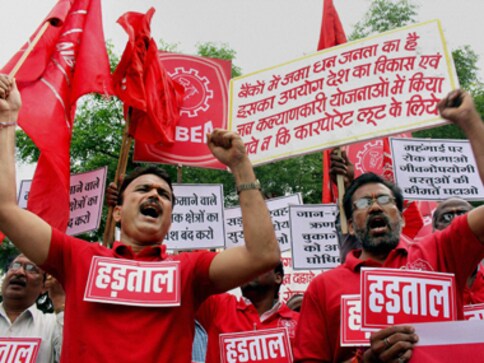 After the bank officers' union of state-run banks observed a day-long strike last Friday (21 December), close to 1 million employees of various banks, including private lenders, have called for a one-day strike today (26 December) to protest against the proposed amalgamation of Vijaya Bank and Dena Bank with Bank of Baroda.
The strike is being organised by the United Forum of Bank Unions (UFBU), an umbrella organisation of nine unions, including the All India Bank Officers Confederation (AIBOC), the All India Bank Employees' Association (AIBEA), National Confederation of Bank Employees (NCBE) and the National Organisation of Bank Workers (NOBW). The UFBU claims membership of 10 lakh officers and staffers.
In September, the government had announced merger of state-owned Vijaya Bank and Dena Bank, both under the prompt corrective action (PCA) framework of the Reserve Bank of India (RBI), with larger peer Bank of Baroda, creating the third largest lender.
"This amalgamation is not in the interest of banks or bank customers. It is rather detrimental to both," the United Forum of Bank Unions (UFBU) said.
According to AIBEA General Secretary C H Vekatachalam, the strike is effective across the country and employees are fighting for a right cause.
However, branches of new generation private sector banks remain unaffected by the strike called by UFBU, which claims to have membership of nearly 10 lakh bank employees and officers across 21 public sector banks.
The UFBU is an umbrella organisation of nine unions, including the All-India Bank Officers Confederation, the All- India Bank Employees Association and the National Organisation of Bank Workers, among others.
The unions claim that government wants banks to grow in size by this amalgamation but even if all public sector banks are bundled into one, the merged entity cannot find a place among the top 10 globally.
The unions say post-merger, a large number of branches will be closed and customers will be have to face hardships as already banks are burdened with various government schemes such as , social security insurance, and PM's housing scheme, among others.
On 26 December, the unions will take out a rally and hold a demonstration at the Azad Maidan in South Mumbai.
Around 3.20 lakh officers from various state-run banks were on a one-day strike on 21 December, seeking immediate wage revision and opposing the proposed merger.
The nation-wide strike had partially impacted banking operations affecting services like deposits and withdrawal at branches, cheque clearances and issuance of demand drafts, among others.
Bank managements have mandated the industry lobby Indian Bank Association (IBA) to negotiate for scale 1-3 but unions want this to be raised up to scale 7.
The wage talks are on for the past 13 months between the unions and IBA, the latter has offered a wage revision of 8 just percent.
In the past wage settlement, which was for the period 1 November, 2012 to 31 October, 2017, the employees got a 15 percent hike.

Banks' merger
On 17 September the government announced the merger of state-owned Vijaya Bank, Dena Bank and Bank of Baroda to create the country's's third largest lender in a bid to clean-up the banking system which has been overburdened by bad debts. Post-this merger, the number of PSU banks will come down to 19. The three banks will continue to work independently post-merger.
Finance Minister Arun Jaitley also assured that no employees will face a service condition which is in any way adverse in nature to its present condition.
"The consolidation will help create a strong globally competitive bank with economies of scale and enable realisation of wide-ranging synergies. Leveraging of networks, low-cost deposits and subsidiaries of the three banks have the potential of yielding significant synergies for positioning the consolidated entity for substantial rise in customer base, market reach, operational efficiency, wider bouquet of products and services, and improved access for customers," he said.
The merged entity will be third largest lender of the country after State Bank of India (SBI) and HDFC Bank. The government owns majority stakes in 21 lenders, which account for more than two-thirds of banking assets in Asia's third biggest economy.
As at June-end, the total business size of the three entities together was Rs 14.82 lakh crore.
Of the three banks, Dena Bank is the weakest, with non-performing asset (NPA) ratio of 11.04 percent and business of Rs 1.72 lakh crore, as compared to 5.4 percent NPA and Rs 10.2 lakh crore business of Bank of Baroda and 4.10 percent NPA and Rs 2 lakh crore worth business of Vijaya Bank.
Bank Unions said the move is anti-people and will not help solve the bad loan problem facing the banking system. They fear the mergers will lead to job cuts and allow private sector banks to dominate the industry.
AIBOC Joint General Secretary Ravinder Gupta said the unions are demanding wage revisions based on minimum mandated wages by the government and not asking for it to be linked to profitability of the banks or their paying capacity, which could be higher.
--With agency inputs