PSA calls supervisory board meeting for Tuesday for possible FCA deal review - sources
By Gilles Guillaume PARIS (Reuters) - French carmaker PSA could discuss a merger deal with rival Fiat Chrysler at a meeting of its supervisory board it has called for Tuesday, two sources familiar with the situation told Reuters on Thursday. Peugeot SA - the maker of Peugeot and Citroen - and Fiat Chrysler (FCA) are finalising talks after they announced in October a plan for a $50 billion (£38.97 billion) tie-up that would create the world's fourth-largest automaker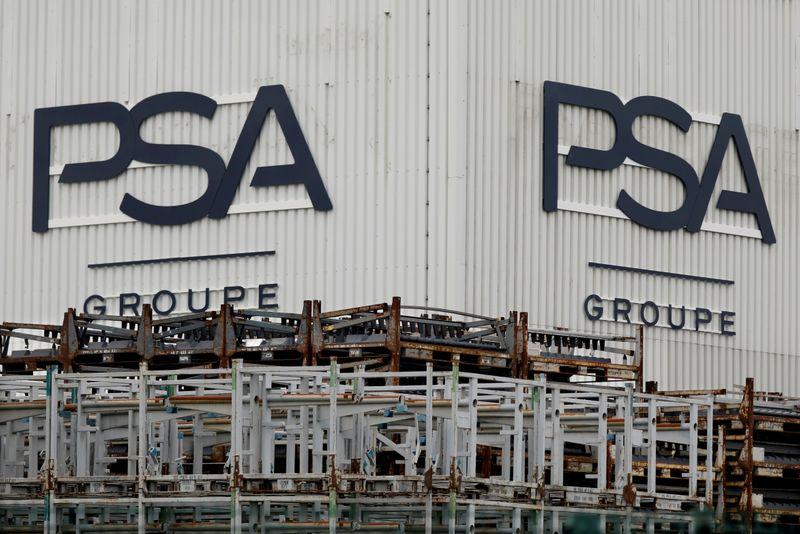 By Gilles Guillaume
PARIS (Reuters) - French carmaker PSA could discuss a merger deal with rival Fiat Chrysler at a meeting of its supervisory board it has called for Tuesday, two sources familiar with the situation told Reuters on Thursday.
Peugeot SA - the maker of Peugeot and Citroen - and Fiat Chrysler (FCA) are finalising talks after they announced in October a plan for a $50 billion (£38.97 billion) tie-up that would create the world's fourth-largest automaker.
The sources said a planned Memorandum of Understanding between the two groups could be presented to the PSA board at Tuesday's meeting, but one of the sources also said details were not yet finalized and discussions were still ongoing.
A PSA spokesman declined to comment.
A third source close to the matter said the two groups were working to sign a deal before Christmas, possibly by the end of next week.
Both FCA and PSA have said they are confident of reaching a merger deal by year-end.
FCA Chairman John Elkann said last month, when a shock lawsuit from General Motors emerged, that it did not worry him and he was confident of signing a deal with PSA by the end of this year.
(Additional reporting by Giulio Piovaccari in Milan; writing by Giulio Piovaccari and Geert De Clercq; Editing by Elaine Hardcastle)
This story has not been edited by Firstpost staff and is generated by auto-feed.
Find latest and upcoming tech gadgets online on Tech2 Gadgets. Get technology news, gadgets reviews & ratings. Popular gadgets including laptop, tablet and mobile specifications, features, prices, comparison.
World
By Carl O'Donnell and Jonathan Allen NEW YORK (Reuters) - The governors of New York and Florida sought to accelerate the slower-than-expected rollout of coronavirus vaccines by warning hospitals on Monday that they would reduce future allocations to those that fail to dispense shots quickly enough. In New York, hospitals must administer vaccines within a week of receiving them or face a fine and loss of future supplies, Governor Andrew Cuomo said. "I don't want the vaccine in a fridge or a freezer, I want it in somebody's arm," the governor said
World
By Michael Holden LONDON (Reuters) - A British judge ruled on Monday that WikiLeaks founder Julian Assange should not be extradited to the United States to face criminal charges including breaking a spying law, saying his mental health problems meant he would be at risk of suicide. U.S. authorities accuse Australian-born Assange, 49, of 18 counts relating to the release by WikiLeaks of vast troves of confidential U.S
World
By Steve Holland and Aziz El Yaakoubi WASHINGTON/RIYADH (Reuters) -A breakthrough has been reached in Qatar's three-year-old dispute with Saudi Arabia and three other Arab countries and an agreement aimed at ending their rift is to be signed in Saudi Arabia on Tuesday, a senior Trump administration official said. The development is the latest in a series of Middle East deals sought by Washington - the others involving Israel and Arab states - aimed at building a united front against Iran. As part of the deal, Saudi Arabia will reopen its airspace and land and sea border to Qatar as of Monday, Kuwaiti Foreign Minister Ahmad Nasser al-Sabah said on Kuwait TV ahead of a Gulf Arab summit in Saudi Arabia on Tuesday.