New Delhi: The government continues to treat flying as a rich man's mode of transport, levying fresh taxes on jet fuel and this is where its fatal policy flaw lies. The potential for economic development of India is linked with growth in its aviation sector and unless the government sheds this mindset – which has propelled it to further increase the excise duty on jet fuel in 2016-17 from 8% to 14% - the true potential of aviation may never be realized.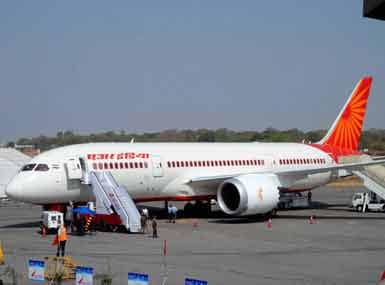 Heck, government's own objective, of getting the common man to fly, will remain a pipe dream unless air fares are further reduced significantly. And this can only happen with sensible taxation on aviation turbine fuel (ATF) – not by jacking up taxes while comparing taxation of petrol and diesel to justify the increase. India holds the dubious distinction of being the least appreciative of its airlines since it taxes ATF the highest, with jet fuel prices 60-70% higher here. Since fuel accounts for almost half of an airline's operating cost, it automatically means airlines are neither able to pass on the full benefit of benign global prices to consumers nor are they able to offer cheaper fares to entice first time flyers.
Now let us see how lowering taxes on jet fuel connects with privatizing Air India. A study conducted jointly by Ficci and KPMG has underlined the need for privatization of this white elephant, saying the Rs 30,000 crore being injected into the airline under a bailout package should be directed elsewhere. "Voices for privatization of Air India become louder: The airline business requires split second operational, commercial and financial decisions which is not possible in the government environment. The industry also requires significant empowerment of junior officers which again is difficult in the government environment where employees are often worried about a backlash in case a bonafide decision taken with good intent goes wrong. Air India needs to be privatised for its own benefit. The Rs 30,000 crore bailout package for Air India is heavily criticised. This money can instead be used to reduce VAT on ATF and reimburse the states for their losses for 3-5 years". So added to all other operational reasons for the government to exit the business of flying is another one, where the industry would benefit through lowering of taxes on jet fuel!
According to the study, PM Modi's home state Gujarat levies the highest sales tax on ATF at 30%, followed closely by Tamil Nadu and Karnataka at 29% and 28% respectively. Delhi-NCR and Maharashtra follow with 25% and 24% levy whereas Andhra Pradesh levies just 1% sales tax on ATF. The study has noted that the pricing structure of ATF in India is "opaque" and the fuel faces multitude of taxes such as excise, customs, VAT. "Calling it a subsidised fuel for the well-off is misguiding. ATF can be called 'subsidised' if it is sold cheaper than global prices," the study notes. Not just AP, Jharkhand, MP, Chhattisgarh, West Bengal are some other states which have drastically reduced taxes on ATF at all or most of their airports.
The study noted that comparing taxes on ATF and other auto fuels is unfair – a reference to the Economic Survey which had said that since taxation on ATF was less than that on petrol and diesel, this amounted to a government subsidy on jet fuel. The Budget subsequently increased the excise duty. "Each (fuel) has different utility and economic multiplier. A 20% reduction in bus and train fares may not create a revolution, but in aviation it can. If India has to grow, we need to gradually shift people from trains to aircraft. Imagine the loss of national productivity if corporate executives spend 18 hours to go from Delhi to Mumbai by Rajdhani Express - something they can do in 2 hours flat by flight," the study notes.
And then goes on to say what aviation industry veterans have known all along – that this simple fact about keeping jet fuel price affordable was understood by countries in the Gulf and ASEAN region decades back and the results thereof are visible and measurable. In fact, high ATF prices have led to flying becoming the preserve of the well-off. Sample this: Since international ATF prices are low, at times an all-expense paid flight to Thailand or Malaysia turns out cheaper than flying within India.
India's skewed pricing policy on ATF has actually done more damage to Indian trade and tourism than good. The study suggests that there needs to be a flying revolution in India, much like the telecom sector. "Just like the telecom revolution, a drastic reduction in the airfares will help take flying to the masses and expand the national air grid. It would give a fillip to economic growth, tourism and job creation. The follow on taxes from the economic activity generated will be far in excess of the small tax foregone on the raw material ATF".
State governments have been persuaded for long regarding the need to reduce sales tax on inputs like ATF. Many have done it, while the larger states are holding back. One option before the government is to add ATF to the list of declared goods with a uniform levy of 5% across the country. The states may be compensated for the revenue loss for 3-5 years by way of a special fund created for the same. Whatever the states lose by way of the huge tax rates levied on ATF will be more than made up by the resultant increase in economic activity, tourism and jobs.
India is currently the ninth largest civil aviation market in the world with a market size of $16 billion and aims to become the 3rd largest market by 2020 and the largest by 2030. This is possible due to a host of factors including increased competition, low cost carriers, modern airports which are expanding, improved technology in both air side and city side operations, Foreign Direct Investment (FDI) and increased emphasis on regional connectivity.
International passengers grew by 7.6% during the period from April 2015 to January 2016 to 45.4 million. Domestic passengers grew by 20.6% over the same period last year to touch 138.8 million passengers. Cargo grew by 6.1% to 2.2 million tonnes while Air Traffic Movements (ATM) for the period were 1.48 million, an increase of 10.9% over the same period last year.
Firstpost is now on WhatsApp. For the latest analysis, commentary and news updates, sign up for our WhatsApp services. Just go to Firstpost.com/Whatsapp and hit the Subscribe button.
Updated Date: Mar 17, 2016 16:12:43 IST