Prime Minister Modi tells Trump hopeful India, U.S. will meet soon to discuss trade
NEW DELHI (Reuters) - Indian Prime Minister Narendra Modi told U.S.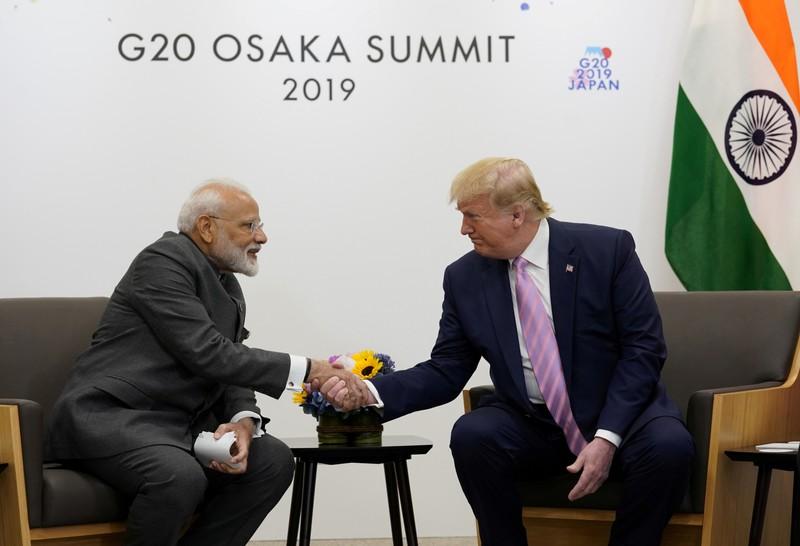 NEW DELHI (Reuters) - Indian Prime Minister Narendra Modi told U.S. President Donald Trump that he is hopeful that representatives from the two countries will meet again soon to discuss trade issues, the government said in a statement on Monday.
Modi expressed hope that India's commerce minister and the U.S. trade representative would meet soon to discuss bilateral trade prospects, the government said.
Washington confirmed the leaders had spoken on Monday. "The two leaders further discussed how they will continue to strengthen United States-India economic ties through increased trade, and they look forward to meeting again soon," the White House said.
U.S. and Indian trade negotiators ended talks in July without making major progress on a range of disputes over tariffs and other protectionist measures imposed by both sides that are straining bilateral ties, officials have told Reuters.
The two sides had resumed trade talks after Trump and Modi met on the sidelines of the G20 summit in June and agreed to seek to deepen the two countries' relationship.
Trump also stressed the need to reduce tensions between India and Pakistan, the White House said. India and Pakistan, neighbors and nuclear rivals, are embroiled in fresh tensions over Kashmir and Jammu.
(Reporting by Aditi Shah; Additional reporting by Jeff Mason in Washington; Writing by Makini Brice; Editing by Hugh Lawson and Jonathan Oatis)
This story has not been edited by Firstpost staff and is generated by auto-feed.
Find latest and upcoming tech gadgets online on Tech2 Gadgets. Get technology news, gadgets reviews & ratings. Popular gadgets including laptop, tablet and mobile specifications, features, prices, comparison.
Business
By Howard Schneider WASHINGTON (Reuters) - A rebounding stock market and massive federal aid payments pushed the net worth of U.S. households back to pre-coronavirus levels in the second quarter, the Federal Reserve reported on Monday, with savings accounts and equity portfolios both rising sharply despite the pandemic
Business
By Rodrigo Campos NEW YORK (Reuters) - Stocks across the world hit their lowest in seven weeks and other risk assets sold off on Monday on concerns over renewed lockdown measures in Europe and Britain, as well as the United States' inability to agree on fiscal stimulus that would support millions of unemployed. Oil prices fell nearly 5%, the dollar rallied and an index of emerging market currencies fell by the most in six months. The MSCI world equity index , which tracks shares in 49 countries, touched its lowest since Aug.
Business
By Rodrigo Campos NEW YORK (Reuters) - Stocks across the world hit their lowest in seven weeks and other risk assets also sold off on Monday on concerns over renewed lockdown measures in Europe and Britain, as well as the United States' inability to agree on fiscal stimulus that would support millions of unemployed. Oil prices fell more than 3%, the dollar rose against a basket of peers and an index of emerging market currencies fell by the most in six months. The MSCI world equity index , which tracks shares in 49 countries, ended at its lowest since Aug